In what was an all Egyptian final, Ramy Ashour has defeated Mohamed Elshorbagy to win his third world title in a thrilling final held in Doha.
The world's number four player, Ashour, beat the world number one, Elshorbagy, 13-11, 7-11, 5-11, 11-5, 14-12 in a match that lasted 90 minutes.
"It was dramatic and brutal," said Ashour regarding the match and how he came back form 2-1 down to claiming his third World Open squash title and ending Elshorbagy's 23-match winning streak.
"It was a fight and we tried to get inside each other's game. We both tried to produce the best of our best squash."
Ashour, 27, had reached the final after defeating France's Gregory Gaultier, while Elshorbagy made it after beating the 2013 champion Nick Matthew.
This year's final was a repeat of the all Egyptian 2012 final, in which both Elshorbagy and Ashour played for the title.
Squash at the Olympics?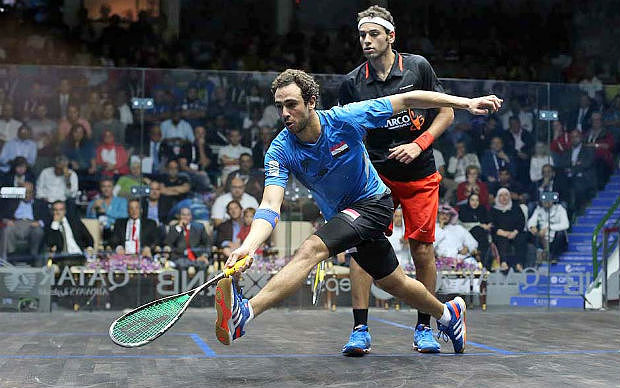 Meanwhile, Ashour's victory came amid hopes that squash will feature in the 2020 Olympics which will be held in Tokyo.
An extraordinary session of the International Olympic Committee (IOC) at Monte Carlo will be held in December to approve changing the number of athletes at the Games, instead of the number of sports.
The World Squash Federation (WSF) is hopeful that this will open a door for the sport to be held at the Olympics.
"The WSF hopes that squash will be in, and I believe that we deserve to be in," Mohamed El Menshawy, an Egyptian WSF Vice President, told the crowd in Doha.
Earlier this year squash officials were dismayed after wrestling was ejected and then reinstated for the 2020 Olympics at the expense of squash, softball and baseball.