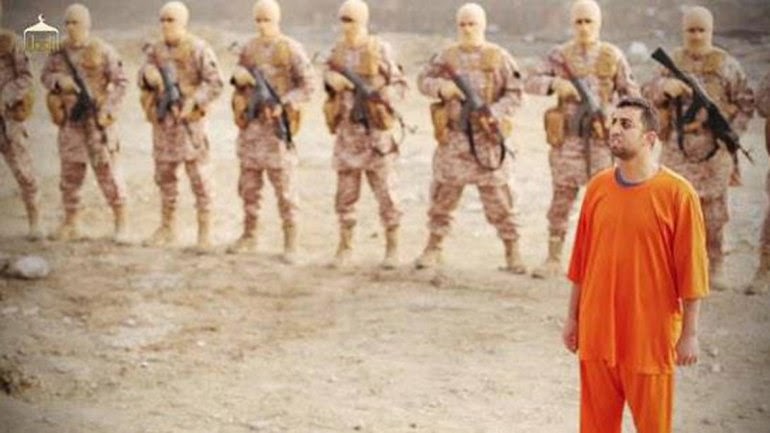 The world's top Sunni Islamic authority has strongly condemned the killing of Moaz al-Kassassbeh, who was burned alive by his Islamic State captors.
In a statement released by the Grand Imam of Al-Azhar, Ahmed Al-Tayeb condemned the killing of al-Kassassbeh, declaring that "Islam prohibits the taking of an innocent life" and does not allow the mutilation or burning of anyone, even enemies at times of war.
Continuing, the Grand Imam said that the Islamic State terrorists, who are fighting God and the Prophet Muhammad and are unjust and corrupted, deserved to be punished by death, crucifixion and dismemberment of their hands and feet:
"The recompense of those who make war against Allah and His Messenger and spread corruption in the land is that they are to be killed or crucified, or have their hand and a foot cut off on opposite sides, or be expelled from the land. For them is shame in this world and a great punishment in the everlasting life," prescribes Verse 33, Almaa'eda of the Qur'an.
The Grand Imam also called on the international community to stand against this terrorist group that has been committing barbaric and inhumane acts that are not representative of Islam.
Muslim and Arab leaders across the globe have also condemned the Islamic State's latest brutal killing saying it highlights the need to continue the fight against the Islamic State.
Jordanian pilot burned alive
The statement comes after the Islamic State released a video showing the killing of the 26-year-old Jordanian pilot. The video shows the Islamic State terrorists setting the young man on fire as he stood in a black cage with armed men watching him.
However, Jordanian television has reported security sources stating the pilot was killed on January 3. Jordanian security sources say this is why ISIS had refused to provide proof that al-Kassasbeh was alive.
The 26-year-old First Lieutenant was taken hostage in Syria's Raqqa after his F-16 jet crashed.
The Islamic State had demanded the release of Sajida al-Rishawi in exchange for Kassabeh's life to be spared. Earlier this week, ISIS executed a Japanese hostage after al-Rishawi was not handed over.
In response to the killing of Moaz, Jordan executed al-Rishawi and Ziad Al-Karbouli, an aide of Al-Qaeda's Abu Musab Al-Zarqawi.
Al-Rishawi has been in prison after being sentenced to death since 2005. The female terrorist was found guilty of carrying out terror attacks after a triple bomb attack in Amman killed at least 60.
During the November 2005 attack, known as Jordan's 9/11, al-Rishawi's suicide vest malfunctioned after she watched her husband blow himself up in the middle of a wedding at the Radisson SAS hotel.
The terror attack killed the parents of the bride and the father of the groom. Both the bride and the groom had supported the exchange of al-Rishawi for Kassabeh's release.
---
Subscribe to our newsletter
---