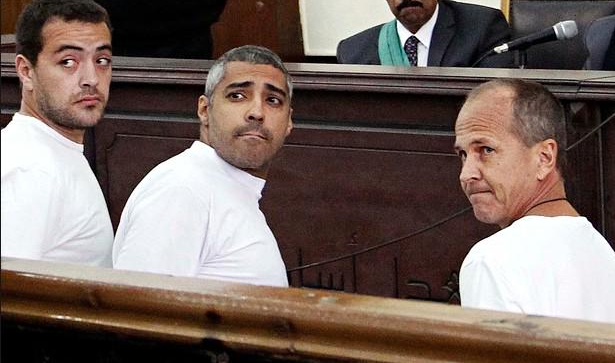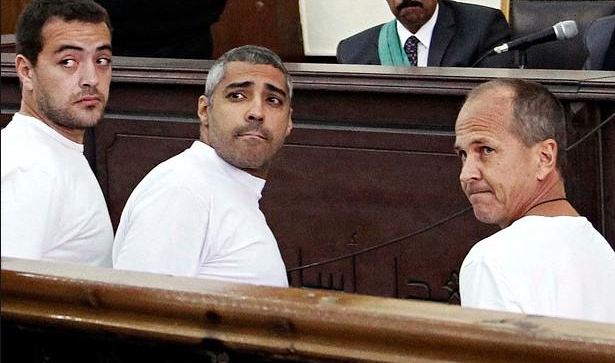 An Egyptian appeals court ordered on Thursday the release of two journalists from the Qatari Al Jazeera news network on bail pending their retrial.
Al Jazeera's Canadian national Mohamed Fahmy and Egyptian national Baher Mohamed are being retried for defaming Egypt and spreading false news, after the Cassation Court dropped their seven to 10 years in prison sentences last month.
Fahmy was released on a financial bail worth of 250 thousand Egyptian pounds. Baher and four other defendants in the case were released without financial bail.
The case was adjourned until February 23.
The two journalists remained behind bars after their colleague, Australian Peter Greste was released and deported last week.
The three journalists were arrested in Cairo while working for the Qatari network in December 2013. They had initially been sentenced to prison in June 2014 but a court ordered their retrial in January.
CALLS FOR FAHMY'S RELEASE
During Thursday's session, Fahmy's lawyer Khaled Abu Bakr called for his defendant's release on medical grounds. He noted that Fahmy is suffering from a shoulder injury as well as Hepatitis C.
Greste was released from prison on February 1 after spending 400 days in prison.
The Australian national was deported to Australia as per a presidential decree issued in November that allows deportation of foreign defendants and convicts "whenever the [state's] supreme interest necessitates so."
Greste's release raised speculations that the release of Fahmy would follow since he held both Canadian and Egyptian citizenships at the time. Fahmy revoked his Egyptian citizenship shortly after his colleague's release, in the hopes of benefiting from the same presidential decree.
Fahmy asked for a chance to explain the circumstances which drove him to revoke his citizenship during Thursday's trial session.
The jailed journalist said he did not request having his citizenship revoked but was asked to do so by a "high-ranking security official" twice. He refused the first time, he told the court, but the second time he was told "nationality is in the heart and not on a piece of paper," and that the authorities want the case to be over, prompting him to revoke his citizenship.
Fahmy denied the accusations leveled against him and his colleagues. He described the journalistic reports produced by his team as "balanced" and denied that any fabrication or violation was exercised.
AL JAZEERA'S SUSPENSION
Fahmy said he celebrated, in jail, with his colleagues Al Jazeera Mubasher Misr's decision to suspend its broadcast last December.
Jazeera suspended on December 22 the broadcast of its Egyptian channel, Jazeera Mubasher Misr, two days after Egypt and Qatar "responded" to the late Saudi monarch's invitation "to consolidate relations between them".
The suspension will last until the "circumstances are appropriate" for return, the channel said. It added that it is seeking the conclusion of necessary permits for broadcasting in Egypt, in coordination with the authorities.
During his first interview since his release, aired on Al Jazeera, Greste said he feels "incredible angst" at leaving his colleagues behind.
The New York-based Committee to Protect Journalists (CPJ) called for Al Jazeera journalists' release from custody ahead of the trial.
"Mohamed Fadel Fahmy and Baher Mohamed were doing their jobs as journalists and there is no reason that either of them should have spent a single day in jail," said Sherif Mansour, CPJ's Middle East and North Africa programme coordinator. "We call on Egyptian authorities to drop the charges against the two Al Jazeera journalists and release them, as well as all of their colleagues in prison, and reform the laws that put them there.
---
Subscribe to our newsletter
---