Seven leading FIFA officials have been arrested in Zurich over corruption charges and face extradition to the U.S., reported the New York Times on Wednesday morning.
According to the New York Times' report, which was later confirmed by US and Swiss officials, the suspects were arrested at the Baur au Lac hotel, a five-star hotel in Zurich, for allegedly accepting bribes worth up to $US 100 million since the 1990s.
Those arrested include Jack Warner, a former FIFA Vice-President, Jeffrey Web, head of the confederation for North and Central America and the Carribean (Concacaf), Eduardo Li, who was due to join FIFA's executive committee at a FIFA summit on Friday and who is Costa Rica's national football chief, Eugenio Figueredo, the President of South America's football governing body Conmebol, and Brazil's Jose Maria Marin, a member of the FIFA's committee.
According to the NYT, charges have also been filed against Julio Rocha, Costas Takkas, Rafael Esquivel and Nicolas Leoz. Meanwhile, charges are expected against sports-marketing executives Alejandro Burzaco, Aaron Davidson, Hugo Jinkis, Mariano Jinkis and Jose Margulies.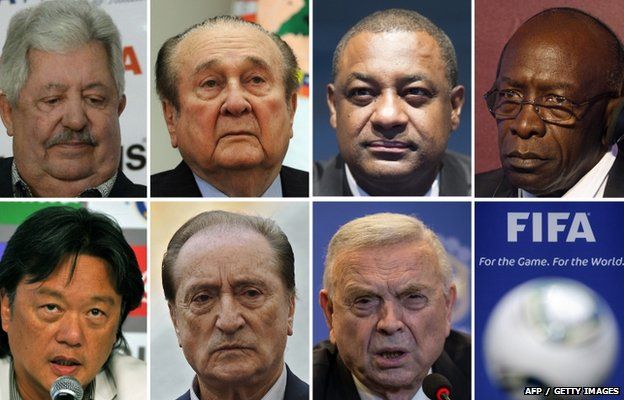 The US Department of Justice, in a statement, said that several officials have pleaded guilty, including former head of Concacaf and former FIFA executive committee member, Charles Blazer.
Shortly after the arrests in Zurich, Swiss prosecutors launched a second criminal case into the 2018 and 2022 World Cups that are to be held in Russia and Qatar. The two World Cups, particularly the one in Qatar, had previously been the subject of an investigation after allegations of fraud.
In response to the arrests, Prince Ali bin al-Hussein of Jordan, who is challenging Sepp Blatter for the Presidency of FIFA, said that it was a "sad day for football."
Meanwhile, Sepp Blatter, who was not among those charged with corruption, said that it plans to go ahead with the elections for a new President on Friday and that there would be no re-run of the bidding processes for the 2018 and 2022 World Cups.