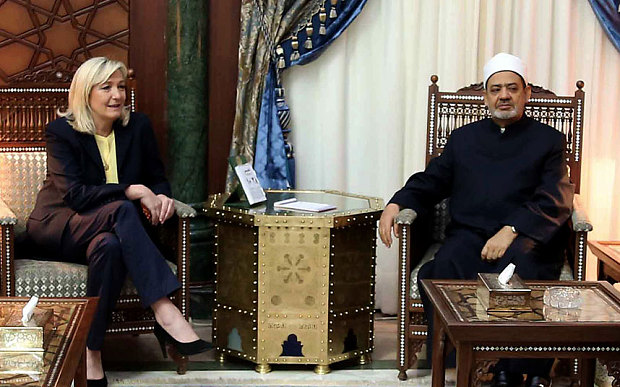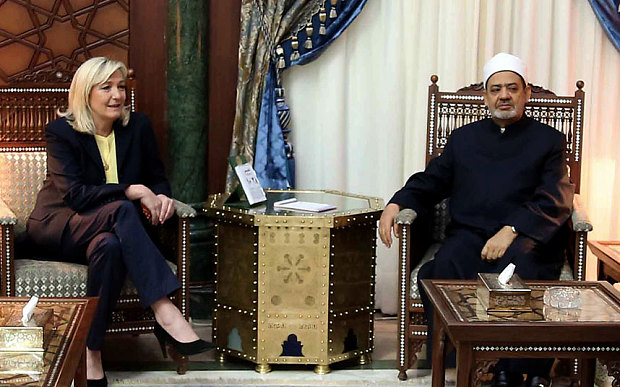 In a surprise visit, French far-right leader Marine Le Pen, who heads the Front National party, has met with the Grand Imam of Al-Azhar, Sheikh Ahmed el-Tayeb.
During the talks at Al-Azhar's headquarter's in Cairo, the Grand Imam of Sunni Islam's top Islamic authority told Le Pen that Al-Azhar has been seriously concerned by the Front National's views on Islam.
Le Pen, who has often warned against the 'radical Islamization' of France and has urged French authorities to crackdown and 'eradicate' fundamentalists, was told by Sheikh el-Tayeb that the Front National must correct its opinions about Islam.
In a statement, Al-Azhar said it questioned the FN's "hostile opinions towards Islam and Muslims," and urged the party to review and correct such opinions.
While Le Pen has recently said in an op-ed in the New York Times that "Islamist terrorism is a cancer on Islam, and Muslims themselves must fight it at our side," Le Pen's views towards immigration and monitoring of mosques, including her party's rhetoric after the Charlie Hebdo massacre, have attracted fierce criticism. In an interview with Al-Jazeera, Le Pen also criticized Saudi Arabia and Qatar, stating that France must review its foreign policy and "stop rolling out the red carpet for countries we know to be funding fundamentalism, countries like Saudi Arabia and Qatar."
During the meeting, Le Pen and Sheikh el-Tayeb agreed that action must be taken to tackle "erroneous ideas and concepts about Islam and extremist ideologies" while also confronting "racism that some Muslims in Europe" suffer from.
Meanwhile, Le Pen also agreed that there is a need not to confuse Islam with the violent acts committed in its name by fundamentalists, said a statement by Al-Azhar. Confirming these statements, Le Pen tweeted that there had been "strong agreement" on the fight against extremism and radicalism.
According to Al-Azhar, the talks between Le Pen and the Grand Imam came after Le Pen's request to discuss matters relating to Islam in Europe.
Le Pen also met with Coptic Pope Tawadros II, tweeting that the talks were "moving" and exemplified her solidarity with the Christians of Egypt and the Middle East.
---
Subscribe to our newsletter
---