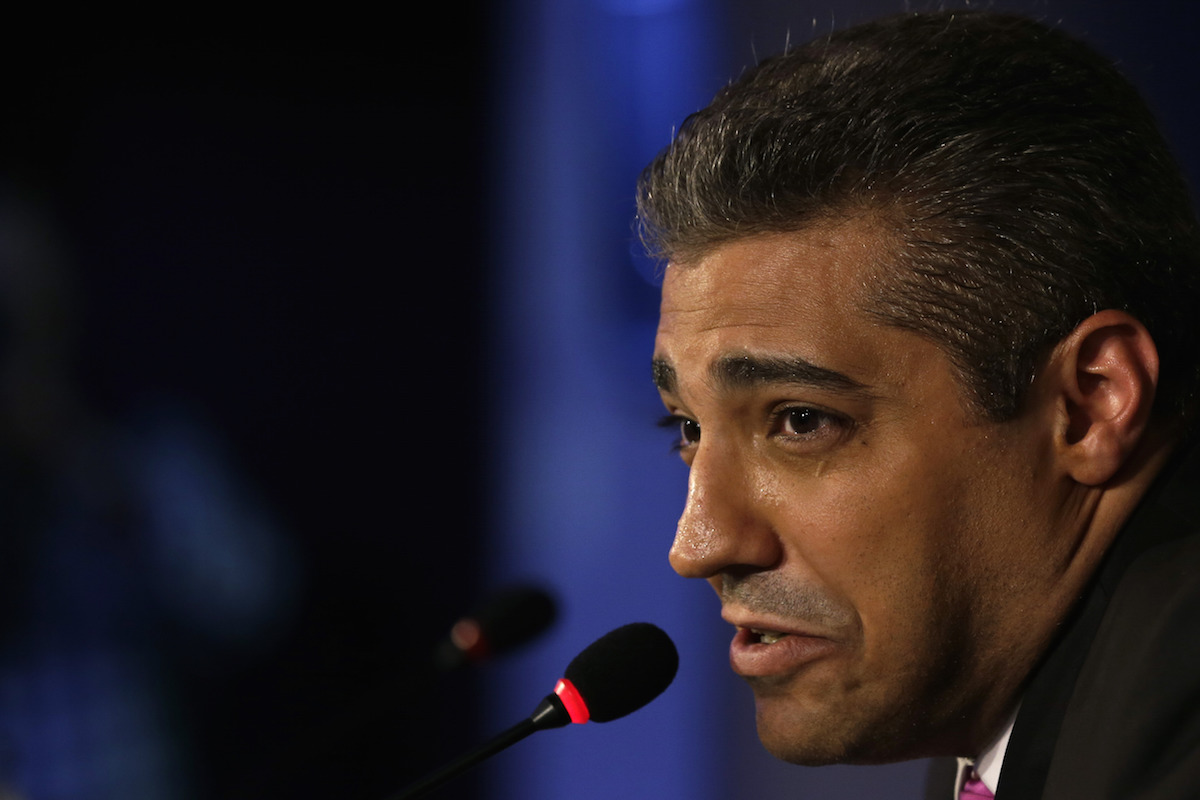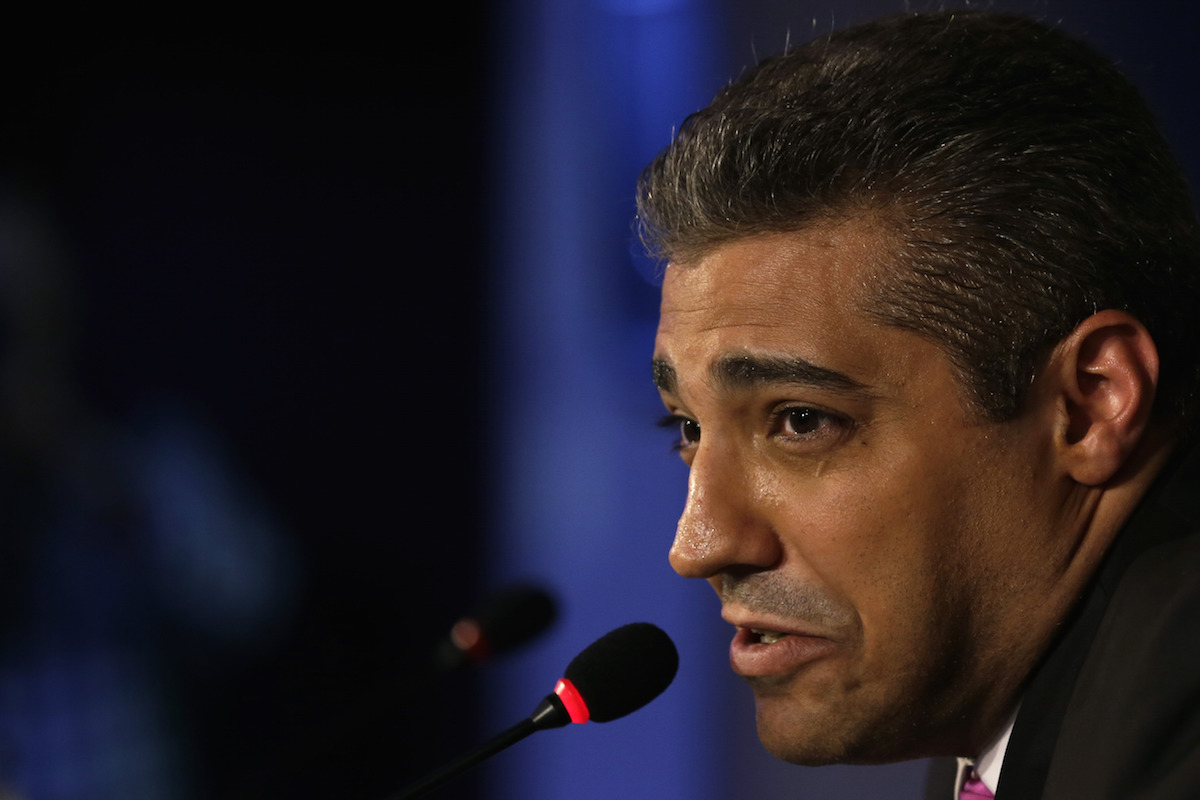 In June 2014, Canadian-Egyptian journalist Mohamed Fahmy was sentenced to seven years imprisonment, which he is currently appealing, on charges of aiding the outlawed Muslim Brotherhood, broadcasting false news and operating without an equipment and operational license. He is now suing Al Jazeera in a Canadian court for $100 million for negligence, misrepresentation and breach of contract. In an exclusive letter to Egyptian Streets, Fahmy explains his decision to take legal action against his employer. Don't forget to check out Egyptian Streets' exclusive interview with Fahmy by clicking here.
To Start Off
My legal case is against my employer, Al Jazeera Media Network.  The Network – which is chaired by Sheikh Thamer Bin Hamad Al Thani, cousin of Qatar's Emir – owns and operates AJ Arabic, AJ English ("AJE") and many other channels.  At the time of my arrest in December 2013, the Network was also illegally operating an Egyptian anti-government propaganda channel called Al Jazeera Mubasher Misr (AJMM), which it eventually shut down under international pressure in December 2014.
AJE had — and in some circles still has — a strong reputation for journalistic independence and integrity.  I relied on this reputation when I agreed to become AJE's Cairo Bureau Chief in September 2013.  I was repeatedly assured that AJE's legitimate journalism wouldn't be undermined or tainted by the Network's other channels.  I had expected the Network to respect AJ English's independence and integrity.  It didn't.
So in short, while I once drew a distinction between AJE and the Network's other channels, my experience has shown that any distinction is illusory and that the Network will use any means at its disposal to attain Qatar's foreign policy objectives. What I learned in prison and throughout the trial about Al Jazeera's actions in Egypt cannot be forgiven by any man who has dignity.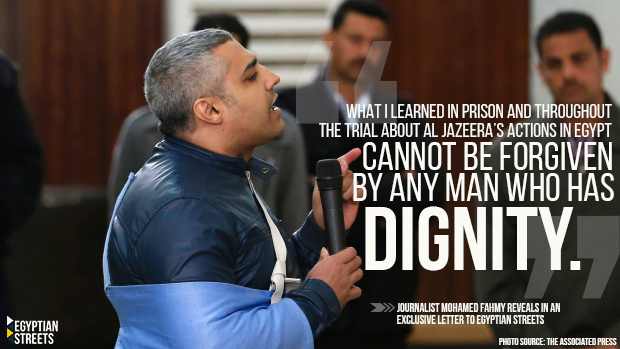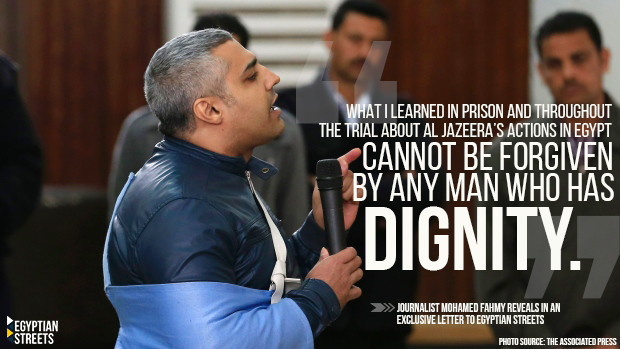 I am suing the Network for punitive and compensatory damages in the amount of $100 million. As I state in my lawsuit, the Network was not only grossly negligent in the way it treated my AJE Cairo Bureau colleagues and me, but it also lied to us and kept us in the dark about the fact that it was knowingly breaking Egyptian laws and antagonizing the Egyptian authorities.
My metamorphosis and preparation for the lawsuit started in prison after I interviewed many prisoners and read the full case documents, including the interrogation of my colleagues and the students bundled in the case, and realized the network's serious and unforgivable contribution to our wrongful detention. Indeed, I have been the most outspoken critic of the foggy Egyptian prosecution, both through my statement in prison and in my speeches in court.
The same integrity I brought to my modest 15-year career is what drives me today to be balanced in my critique of Qatar's treachery. The world has spoken loudly about Egypt's questionable trial, but Al Jazeera's respected Cairo-based press pack knew about the network's shortcomings, and its breach of journalistic ethics, but said nothing until our release on bail. In reality, the judge put three innocent journalists in the cage instead of placing Al Jazeera on trial.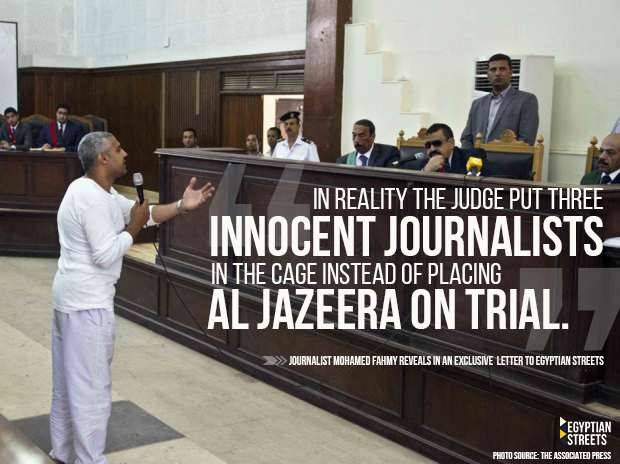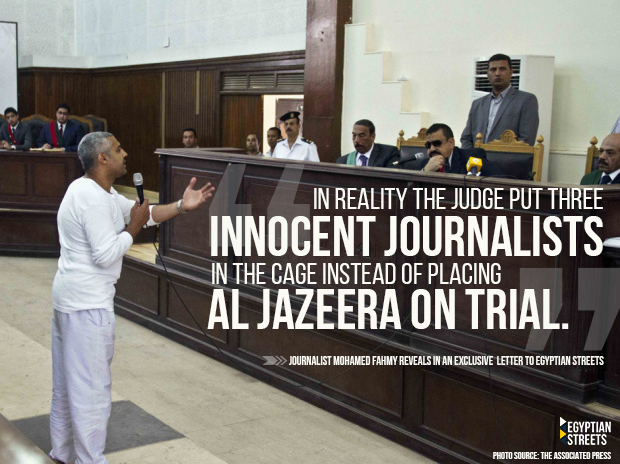 Negligence and Breach of Contract
I asked the network repeatedly – in writing and orally – upon arriving to work on the first day at the Marriott Hotel if our operation was legal. The response was that we were legal, and to leave the legalities to the headquarters in Doha and focus on editorial. When raising the question again, the network stated that we would be returning to our offices soon, giving us the impression they were handling business, as any network should do. I even offered to meet prosecutors, lawyers, and officials to better understand where we stood when I realized the Al Jazeera Mubasher Misr channel was officially shut by a court order days before I accepted the job. I learned from the staff that the former bureau chief of Al Jazeera English had fled town abruptly without telling his employees.
I was told by managers that all was well when it wasn't. It turns out, as Baher Mohamed and I learned in court last March, that the channel did not have the proper operational broadcast licenses. It's a misdemeanor that could result in one to three years behind bars and/or a fine. When your bosses tell you they're taking care of business when they are not, this is unacceptable. Employment law number one is to provide a safe working environment for your staff. I am not talking about the assumed risk we journalists are accustomed to on the front-line; I am talking about the basics. They told me time and again not to make any enquiries, that they were taking care of it and that I shouldn't worry.  I believed them and I relied on them to take these most basic steps to ensure our safety.  They didn't, and I ended up in jail because of it.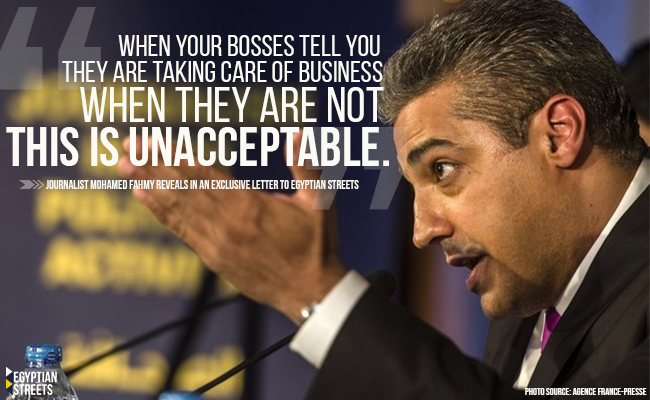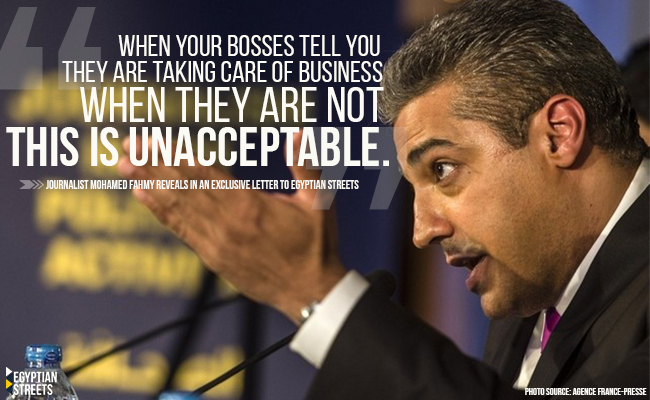 I insisted that my team conducts their own news gathering, sourcing and booking, and became obsessed with making this distinction. However, not only was the Network illegally broadcasting anti-government propaganda on Al Jazeera Mubasher Misr, which was shut down by a court order that classified it as "biased towards the Muslim Brotherhood and a national security threat", they were also taking our AJE journalism and rebroadcasting it with Arabic voice-overs, basically in support of the anti-government, pro-Muslim Brotherhood message.  This was very obviously endangering myself and my AJE colleagues, so I repeatedly asked the Network to make sure the practice stopped.  Each time, the Network told me not to worry and that it wouldn't happen again; that they would respect the independence and integrity of AJE.  But they didn't honor these promises.  Instead, they kept re-purposing our AJE content for illegal broadcasting.  They even continued to do it after the government declared the Muslim Brotherhood a terrorist organization on December 25, 2013.  Just a few days after that, I was arrested and subsequently convicted of supporting a terrorist organization: the Muslim Brotherhood.
Unfortunately, this meant it was hard to argue with the prosecutor, who heard the lead investigator testify under oath in court that "Fahmy, the main suspect, works for the banned Mubasher Misr channel." The journalist Robert Fisk interviewed me while I was in prison and confronted the network on the matter. The network lied in their response to my allegation, documented in his Independent article, claiming that they "cannot find evidence of this happening."  Upon my release, the network changed their statement in response to Jonathan Miller's Channel Four documentary "Al Jazeera in Egypt: the inside story", stating that "no-one has been able to provide specific instances following Fahmy's email of 27 September 2013 where this may have happened."  On March 7 2015, Al Jazeera responded once again to an online CBC News (Canadian Broadcasting Channel) story where the rebroadcast videos were actually displayed. They replied by saying: "This may have happened on a very small number of occasions over the course of three months."
Cooperation with the Muslim Brotherhood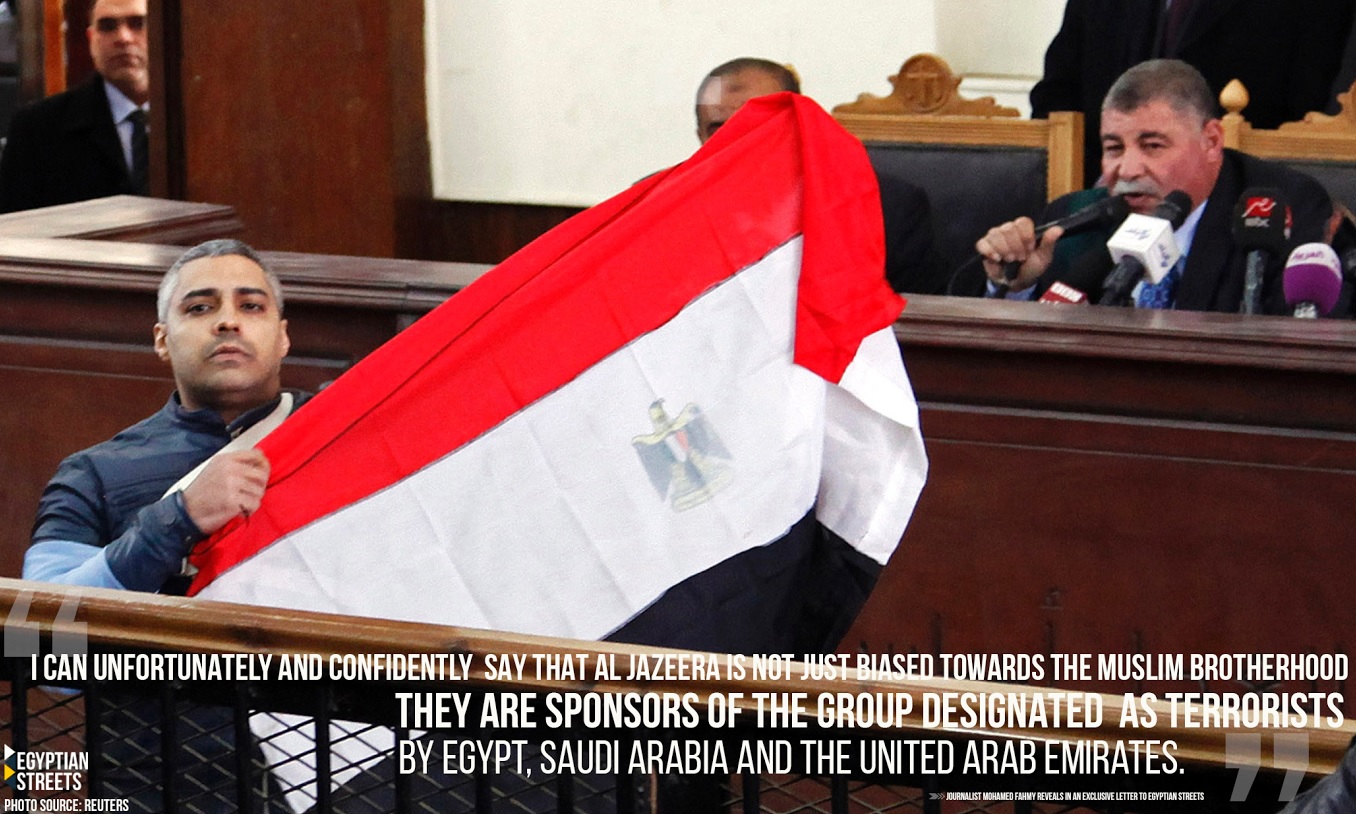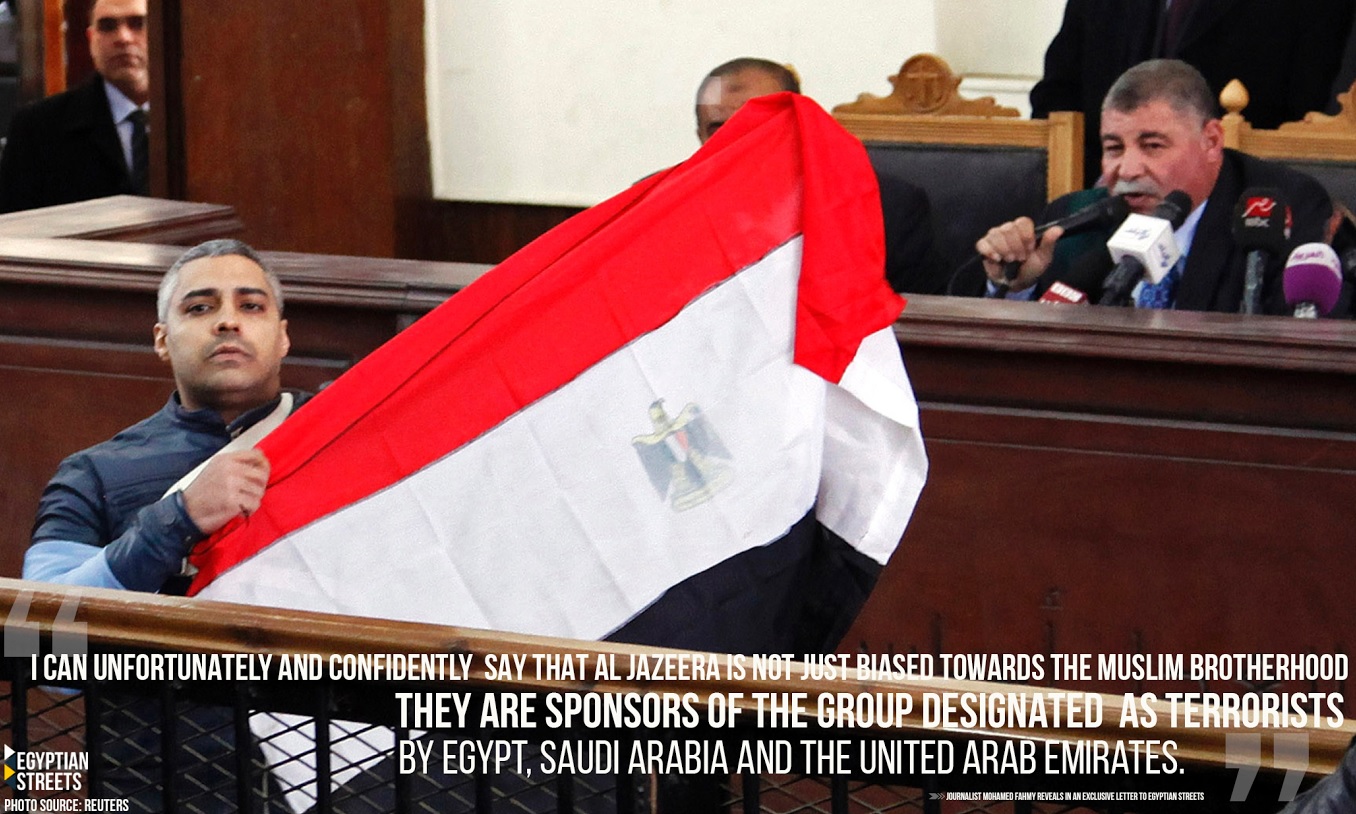 As I discovered during my first trial, whilst I was working for AJE, the network was secretly paying anti-government Muslim Brotherhood protesters to go out on the streets and produce video footage and other content, which was then broadcast without attribution on the propaganda channel AJMM.
In prison, I interviewed a number of Muslim Brotherhood members, as well as activists affiliated with the group, who surprisingly confessed to receiving cameras and live equipment from – and to selling footage to – the banned Al Jazeera Arabic and Mubasher Misr channels. Upon my release, I also acquired their official interrogation documents from their lawyers in order to double check this. I realized the fury of some of the families of those young Brotherhood and opposition activists at the fact that Al Jazeera used content from their sons without telling them that they were in fact breaching the law. My research was even corroborated by Brotherhood fugitives residing in Turkey and Qatar. My favorite testimony that wrapped it all up came from the former accountant of the Al Jazeera Mubasher who has moved on with his life in one piece.
This is not citizen journalism! Broadcasting footage that is not sourced and that has been filmed by a banned political group designated as terrorists by the government where you operate is simply breaking the law. If Qatar – and its most valuable foreign policy tool, Al Jazeera – does not consider the Brotherhood to be a terrorist group, then that is their business. However, the sovereign state where you operate tells you so and it ends there. Unfortunately, Peter Greste, Baher Mohamed and myself had no say in this. Al Jazeera had become part of the story rather than reporting it neutrally. We journalists producing balanced reports in the Marriott Hotel should have been given the choice to accept or reject such nonsense orchestrated by managers of the Arabic network and signed off by the director general, who fueled the struggle rather than reported it.
Some of the activists I interviewed in prison informed me that they used money they acquired from Al Jazeera to print posters for the pro-Brotherhood protests and to buy food for the protesters, who were their friends. It gets worse, but I will keep that for court. None of the veteran reporters who worked with me in the Marriott Hotel – such as Sue Turton, Dominic Kane and Mohamed Fawzy – who have been sentenced to ten years imprisonment in absentia would have accepted such propaganda if they had known it was taking place in Egypt at the time.
I can unfortunately and confidently say that Al Jazeera Media Network is not just biased towards the Muslim Brotherhood, they are sponsors of the group designated as terrorists by Egypt, Saudi Arabia and the United Arab Emirates.
The Al Jazeera Lawyer, False Testimonies and Refusal to pay Legal Fees
I rejected the lawyer Al Jazeera appointed for my defense from day one of the arrest. I told Peter and Baher to join me but they didn't. A month before the verdict, the lawyer abruptly quit in court and handed us on a gold platter to the judge. He told the judge, who was known as the "executioner", in the press that Al Jazeera is suing Egypt in a $150 million compensation claim, and that the network was out to defame Egypt and had fabricated his quotes on the banned Mubasher Misr channel. I wrote to the network from prison demanding an explanation, and received none. This is one example of the political score settling that left us as pawns in a cold war between Egypt and Qatar.
If this is not negligence then what is? This lawyer had represented Al Jazeera for years. I interviewed him upon my release – his testimony and his email communications with the network literally gave me high blood pressure.
Al Jazeera also refused to pay for my legal fees throughout the course of the trial, as is documented in the emails exchanged between them and my family while I was in prison. Only after intervention from the Committee to Protect Journalists (CPJ) and the Media Legal Defense Initiative (MLDI) did the network partially reimburse me. The latter donated toward my fees after conducting a thorough investigation and inspecting all my receipts and contracts. I raised some of the fees through an ongoing crowd-funding campaign. I am thankful to each donor who supported me at the most difficult times.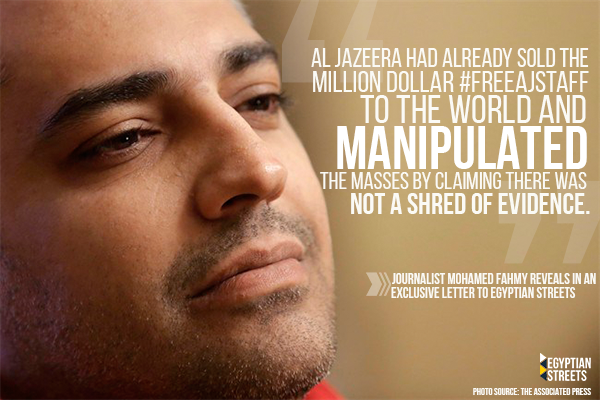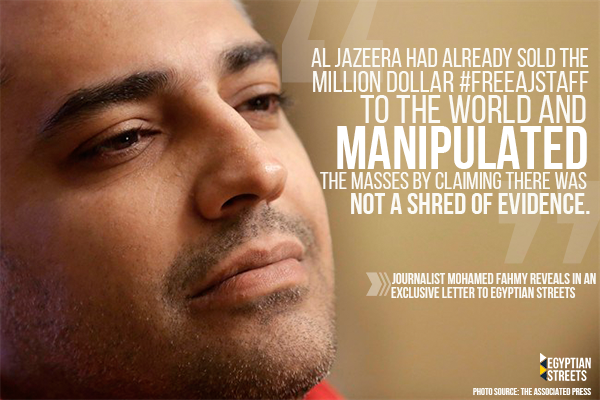 Unfortunately, an Al Jazeera English colleague had confessed under duress, as he claims. The twenty pages of horrific testimony married perfectly to the accusation brought against us. The questioning was attended by the lawyer, and took place in an air- conditioned room adjacent to mine at State Security, while we were served coffee and tea and allowed to smoke. He stated that Al Jazeera requested he film empty streets during the June 30 protests, and that Al Jazeera English fabricated the numbers of protesters reported on the screen, took direction from Brotherhood leaders specifically named in the interrogation, that his bosses altered his translation of a Sisi speech to portray a call for civil war, that Peter brought in bags of unclaimed cash and that he was always asked to defame Egypt and focus on negative issues in his reporting on the constitution. I don't believe that Al Jazeera English would do that. Unfortunately, the general prosecutor who sent us to court only reads written investigations and testimonies, just like the judge who sentenced us.
I wrote to Al Jazeera from prison demanding that their lawyer dismiss this false testimony, have the judge question my colleague again and show videos in court to prove that the network never fabricated reports. They sent us the head of deployment at the time to visit us in prison. She informed us that the testimony would "disappear" and not to worry. Of course it didn't. The prosecutor described the confessions in detail to a courtroom which journalists were coincidently delayed entrance to.  The judge also cited the testimony in his verdict as part of his explanation of the 7-10 year sentence.
Al Jazeera had already sold the million dollar #FreeAJStaff campaign to the world and manipulated the masses by claiming there was not a shred of evidence. Their lawyer later explained to me that he was ordered by the network not to contest the testimony in court and to avoid any queries around their campaign and the questionable headlines that would surely follow. The prosecutor cannot fabricate our testimonies because we respond orally to his questions, as he repeats our words out loud to a clerk who writes down our exact words. We then sign on each paper of the testimony as my colleague did and the lawyer signs the confessions as well.
The Riyadh Agreement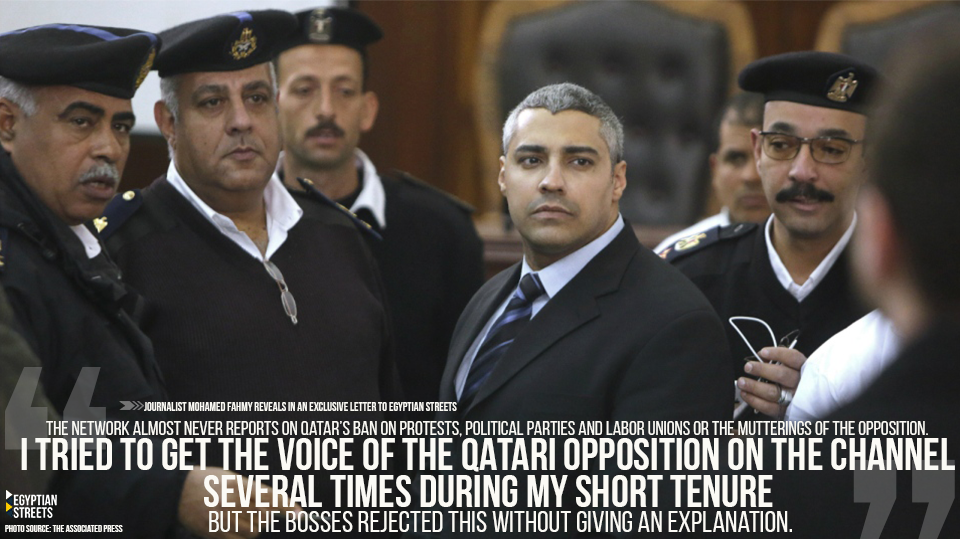 We were kept in the dark about the ongoing negations between Qatar, Kuwait, Bahrain, Saudi Arabia, Egypt and the United Arab Emirates. The tension leading to the negotiations started before our arrest. This means Qatar had prior knowledge from diplomats that there was official discontent with the network's position on Egypt. The issues surfaced publically while we were in prison when the Riyadh Agreement was brokered by Saudi Arabia, forcing Qatar to shut down Mubasher Misr in December 2014 – a month before the appeal court overturned our sentence citing procedural errors. The Qatari Emir signed the agreement and promised that Al Jazeera would review its editorial line to limit the hypercritical programming against Egypt and the Arab states. They were on the brink of reconciliation when the late King Abdullah of Saudi died, and so did the agreement.
The fact that the Emir signed the deal regarding Al Jazeera's future is so telling of who calls the shots in the channel that was shut down in most of these countries. Their slogan – "the Opinion and the Other Opinion" – is a tad off. The network almost never reports on Qatar's ban on protests, political parties and labor unions or the mutterings of the opposition. I tried to get the voice of the Qatari opposition on the channel several times during my short tenure but the bosses rejected this without giving an explanation.
Looking to the Future
I am very grateful to the millions of people around the world who supported the #FreeAJStaff campaign while we were in prison which became a life line  during the most horrendous times in solitary confinement and throughout the 412 days. The noise resonated through the cracks of the thick concrete walls. It was a reason to keep going knowing we were not forgotten.
It's my duty to share with our supporters what I learned in prison in regards to Al Jazeera's recklessness that contributed immensely to our incarceration. I can't be a journalist for the time being while my case is ongoing but I can surely highlight the plight of others wrongly imprisoned for doing their job. I hope by suing Al Jazeera that the network will finally listen and protect my fellow staff members. No journalists should be jailed.
However, its seems that there are no neutral grounds for us with more than 200 reporters jailed and 60 killed in the past sixteen months globally. I believe both governments and media corporations alike should invoke more transparent regulations to protect members of the media from prosecution.
A Q&A with Mohamed Fadel Fahmy will be published on egyptianstreets.com on June 4, 2015.
Edited by Mohamed Khairat and Dalia Gebrial. Image quotes by Nour Abdel-Ghani.
Note: Egyptian Streets has contacted Al Jazeera for a comment and will publish a response if one is sent.
---
Subscribe to our newsletter
---