At a press conference on Saturday Minister of Justice Ahmed Al-Zind announced the appointment of a group of Egyptian women as presiding judges in the Courts of First Instance – only the third such occurrence in Egyptian history.
As per the Egyptian legal system, the Courts of First Instance are where legal proceedings are first heard or initiated.
During the press conference, entitled "Female Judges in the Arab World," Zind stated that in addition to taking on the role of presiding judges, "women will be appointed as aids to the Minister of Justice, in recognition of women's role in society."
The conference, held by the United Nations Development Program (UNDP) and the Arab Women's Organization (AWO), debated the ways in which the Arab region may work on increasing cooperation for the goal of women's empowerment and gender equality.
According to Daily News Egypt, an adviser to the Minister of Justice, Ezzat Khamis, stated that, "the exact hiring appointment is not known yet, but it is very soon."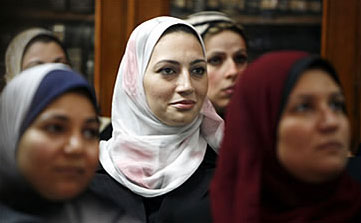 Egyptian women will now take on the same role Tahani Al-Gebali first took back in 2003.
Al-Gebali was the first woman to hold a judicial position in Egyptian history. Former president Hosni Mubarak gave direct orders for her appointment.
Furthermore, until 2007, Al-Gebali held the position of Vice President of the Supreme Constitutional Court, the highest court in Egypt.
That year, the first group of Egyptian women, consisting of thirty-one members, was appointed as court judges. The second group came in 2008.
However until recently women still faced discrimination. During January 2014, a number of women faced issues while attempting to apply for judicial positions in the State Council after their applications were rejected by the Council Board.