In honor of the late Egyptian General Prosecutor Hisham Barakat, a heavy guarded military funeral has taken place following the noon prayers at El-Mosheer Tantawy mosque in New Cairo on Tuesday.
Attended by Egyptian President Abdel Fattah al-Sisi, Prime Minister Ibrahim Mehleb and several high profile military and judiciary personnel, the funeral took place on the second anniversary of June 30 marking the street protests which led to the ousting of President Mohamed Morsi.
President Abdel Fattah al-Sisi and top Egyptian figures march in a brief military funeral honoring General Prosecutor Hisham Barakat
Hisham Barakat passed away at the age of 65 on Monday afternoon as a result of injuries in his lungs and abdomen following a car bombing that targeted his convoy earlier on the same day.
The Egyptian Presidency had paid its condolences to Barakat's family in an official statement, stating that Egypt has lost a great judiciary figure who has always honored the moral and ethical codes of the profession, in addition to his notable dedication to the responsibilities of his position.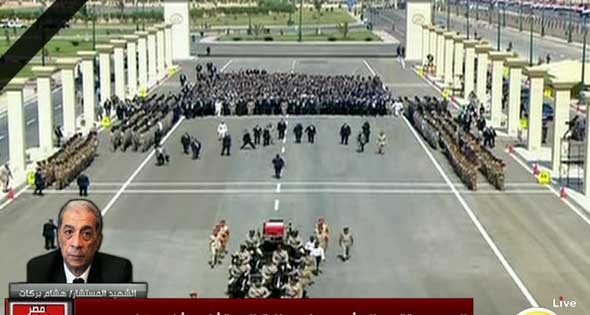 In a televised comment following the funeral, President al-Sisi vowed to amend the criminal laws to curb terrorism and achieve "rapid justice."
"We will make amendments to laws so we can achieve justice in the swiftest possible time," El-Sisi said, adding that the mentioned amendments are due to take place within days.