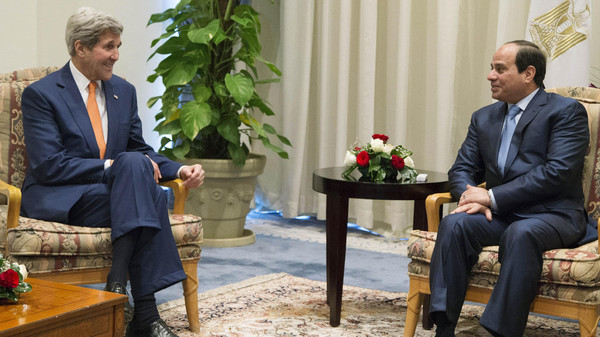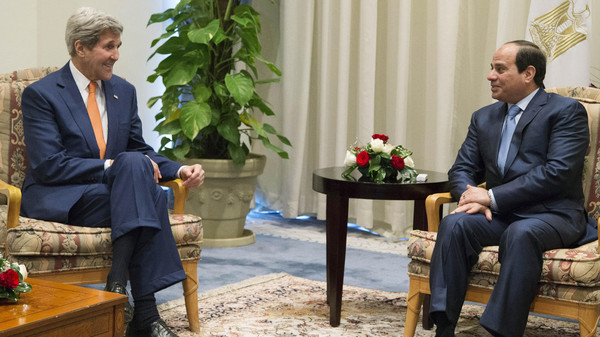 The American people are committed to the security and prosperity of the Egyptian people, said United States Secretary of State John Kerry from a press conference in Cairo on Sunday.
Kerry is leading an American delegation to Egypt, where the two countries are holding strategic dialogue.
He said his country has provided Egypt with security assistance in the form of F-16 fighter jets, Apache helicopters and armoured vehicles.
The U.S. will continue to deliver "aid and training … in an effort to build capacity," Kerry said at the joint press conference held with Egyptian counterpart Sameh Shukri and aired live on Egyptian television.
The U.S., which provides Egypt with $1.3 billion annually in aid, delivered eight advanced F-16 fighter jets to Egypt last week.
Egypt's Shukri said his country "looks forward to the continuation of the close cooperation in a vital sector, the military cooperation" in a manner that achieves security for the two countries and encourages the U.S. to make use of economic opportunities in Egypt.
The top American diplomat listed several ways in which the U.S. wants to work with Egypt to support its economy, including attracting capital, creating job opportunities and supporting small and medium enterprises.
The Egyptian and American delegations will spend the day in meetings, after which Kerry will meet with Egyptian President Abdel Fattah al-Sisi, later on Sunday.
It is important to start rebuilding Egyptian-American relations based on the strategic dialogue, Kerry said, adding that ties between the two countries are built on "opportunities", not threats.
Similarly, Shukri said bi-lateral ties require "new thinking in management."
Kerry's visit is part of a tour the U.S. secretary of state is conducting in the Middle East and South Asia regions. He will head to the Qatari capital on Monday.
His tour also includes Singapore, Malaysia and Vietnam.
Egypt's relations with the U.S. turned tense when the U.S. temporarily halted its military aid to the Middle Eastern country following the military ouster of former Islamist President Mohamed Mursi in July 2013, after mass protests against his rule.
---
Subscribe to our newsletter
---