A celebratory mood presided over Cairo's streets from the early hours of Thursday, as the nation braced for the inauguration of the "New Suez Canal".
Scores of citizens took to the streets, flaunting Egyptian flags of different sizes as well as posters of President Abdel Fattah al-Sisi.
Sisi meanwhile arrived to Ismailia on Thursday afternoon donning military fatigues aboard the 150 El-Mahrousa Yacht, the first ship to pass through the Suez Canal after its inauguration in 1869.
The president later changed into a civilian suit as he attended the inauguration ceremony.
Meanwhile in Cairo, dozens of Egyptians gathered in downtown's iconic Tahrir Square in celebration, amid heavy security presence.
"The canal is a new national project for us and among the march of progress and achievements announced by President Sisi, which will be complete with eradicating terrorism," said Nasser Mohamed, a 40 year old worker celebrating in Tahrir Square with his four children.
At the garden in the centre of the square, the 50 year-old Um Mohamed sat, with the Egyptian flag printed over her cloak.
"I am proud of my country and its army and president," Um Mohamed told Aswat Masriya. "President Sisi said the digging of the canal will be concluded in a year and indeed it's been a year and we have inaugurated the canal. I say the project sends a great message to the west that when Egyptians set their minds on something they achieve it."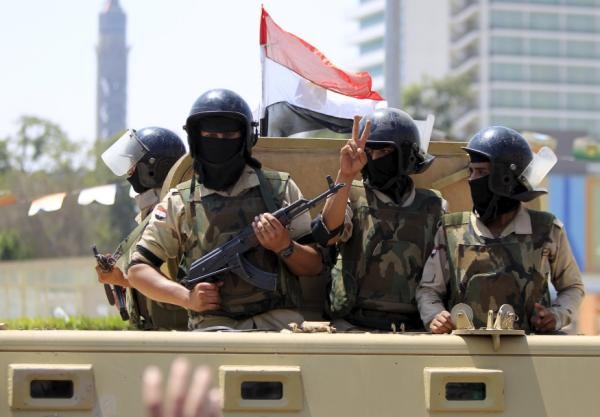 Dubbed by Sisi's government as the "New Suez Canal", the project is made up of two aspects.
One involves building a 35 –kilometre-long canal parallel to the current Suez Canal, to minimise the amount of time ships spend crossing the canal. Additionally, the Suez Canal was made deeper and wider to admit larger ships.
The other aspect of the "New Suez Canal" is meanwhile the longer-term development of the canal region. It is due to be concluded in 2045.
The Suez Canal Authority says the deepening of the canal and drilling a parallel junction to it would double the Suez Canal revenues from $5.3 billion to $13.3 in 2023.
The authority expects around 97 ships to daily cross the canal after the expansion by 2023, while the number of ships daily crossing the canal before the project was launched was nearly 49 ships.
Analysts are meanwhile skeptical about the authority's expectations, especially amid slowing world trade and competition from an expanded Panama Canal.