A video has gone viral showing the use of excessive force by a number of policemen at Dar El Salam Metro Station in Cairo.
Shared initially on Facebook and then picked up by Egyptian media outlets, including Youm7 and El-Balad, the video appears to show a male being beaten by a policeman while being held by another as other policemen and civilians watch.
In the video, a policeman is heard hurling insults at the helpless male while punching, slapping and kneeing him in the head and abdominal areas. At one point, one woman tries to intervene and the policeman responds "Enough! You daughter of a whore!" A third party, apparently a conscript, is then heard responding "Her mom is a whore, sir."
The unidentified policemen then twist the man's arm before leading him out of the metro station as dozens of pedestrians watch the incident unfold. As the man is led up a staircase, the policeman continues to insult him and smack him on the head, shouting "You son of a bitch!"
What led to the beating?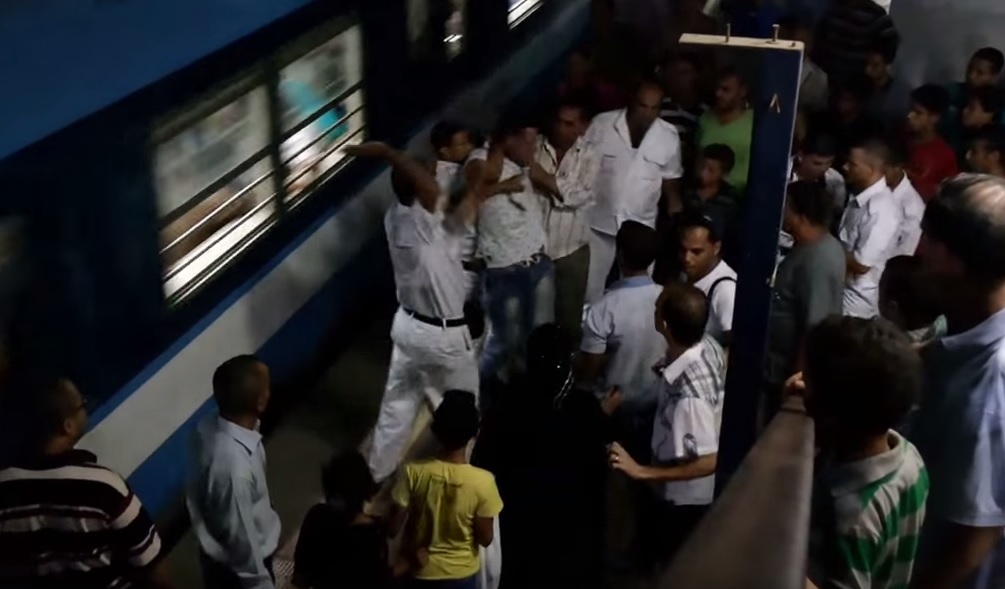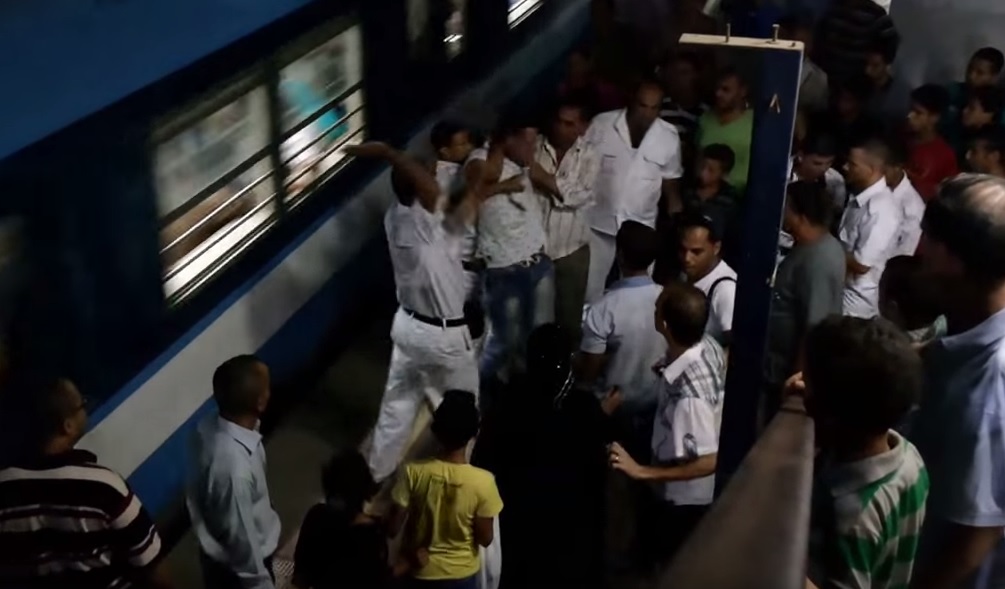 According to a source in Egypt's Ministry of Interior, an investigation was commenced to identify when the video was taken and all those involved in the incident.
Meanwhile, in statements to Aswat Masriya, Abu Bakr Abdel Kareem, Deputy Interior Minister for Media Affairs, said that the incident "cannot be accepted by the Ministry," and that all policemen held accountable will be summoned for an investigation.
At the end of the video, the policeman shouts at the man, declaring "the conscript didn't get you your rights! I will get them for you!"
While it remains unclear exactly what this refers to, social media users claim that the man had attempted to complain to a police conscript when his fiancee was sexually harassed by a group of males. The claims then go on to say that the conscript insulted the man and refused to do anything. This was then followed by the policeman allegedly arriving and telling the man to just leave, before insulting him and then commencing the incident that was captured on video.
#Egypt interior ministry now saying it's investigation the police officers seen beating a man at a metro station https://t.co/b1XqbCPfjo

— Abdirahim Saeed (@AbdirahimS) August 12, 2015
However, Egyptian Streets is unable to substantiate this version of the story. Moreover, the video does not appear to show the man's fiancee involved at any point. The exact circumstances behind the incident are therefore yet to be confirmed.
Nevertheless, the incident has been decried on Facebook, Twitter and other social media outlets as a violation of human rights and as an example of police brutality. Social media users have urged the Ministry of Interior to ensure that those involved are held accountable for their actions.
#Ferguson Police member in #Egypt brutally assaults a citizen in a Metro station with no feedback punishment !!! pic.twitter.com/BBe6A2ctQD

— زمبؤلك 🙂 (@pharaohtako) August 12, 2015
---
Subscribe to our newsletter
---