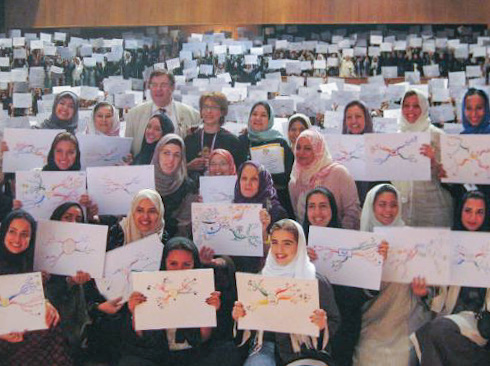 In celebration of Global Mental Literary, and in an attempt to be the first institution in the Arab region to set a world record in the field, 1380 students and staff members filled the auditorium in Dar Al Hekma University in Jeddah, Saudi Arabia,  to join a seminar by Dr. Manahel Thabet, reported the Saudi Gazette.
Dr. Thabet, who is a proud holder of three PhDs and a Genius of the Year award from the World Genius Directory, is also the youngest winner of Woman of the Year in 2000 from the Women's Federation for World Peace. She is also the sitting vice chancellor and vice chairman of the Gifted Academy board, a UK-based academy for the gifted.
According to Dr. Suhair Hassan Al-Qurashi, president of the Dar Al-Hekma University, the project aims to enhance the teaching approach instead of the materials that are taught in order to help develop more creative and critical thinkers. Thus, Dr. Thabet, who pointed out the importance of mind mapping in enhancing productivity, performance, memory and creativity, was invited to the university to help staff members and students alike, understand the initial concept of mind maps.
Chris Day, the General Secretary of the World Memory Sports Council, stated Dr. Thabet was able to fully evaluate each mind map presented by the participants in three seconds.
Students and staff members who packed the auditorium celebrated this mind blowing achievement of how to create mind maps along the period of two hours.
"The experience was amazing and wonderful. It was something very challenging but the students were very cooperative and the event was very organized," Dr. Thabet told Saudi Gazette.
"I feel honored, privileged, and thrilled to be the one leading this initiative and to be the one breaking the global record with the assistance of Dar Al-Hekma students, the faculty and the board of directors."
---
Subscribe to our newsletter
---