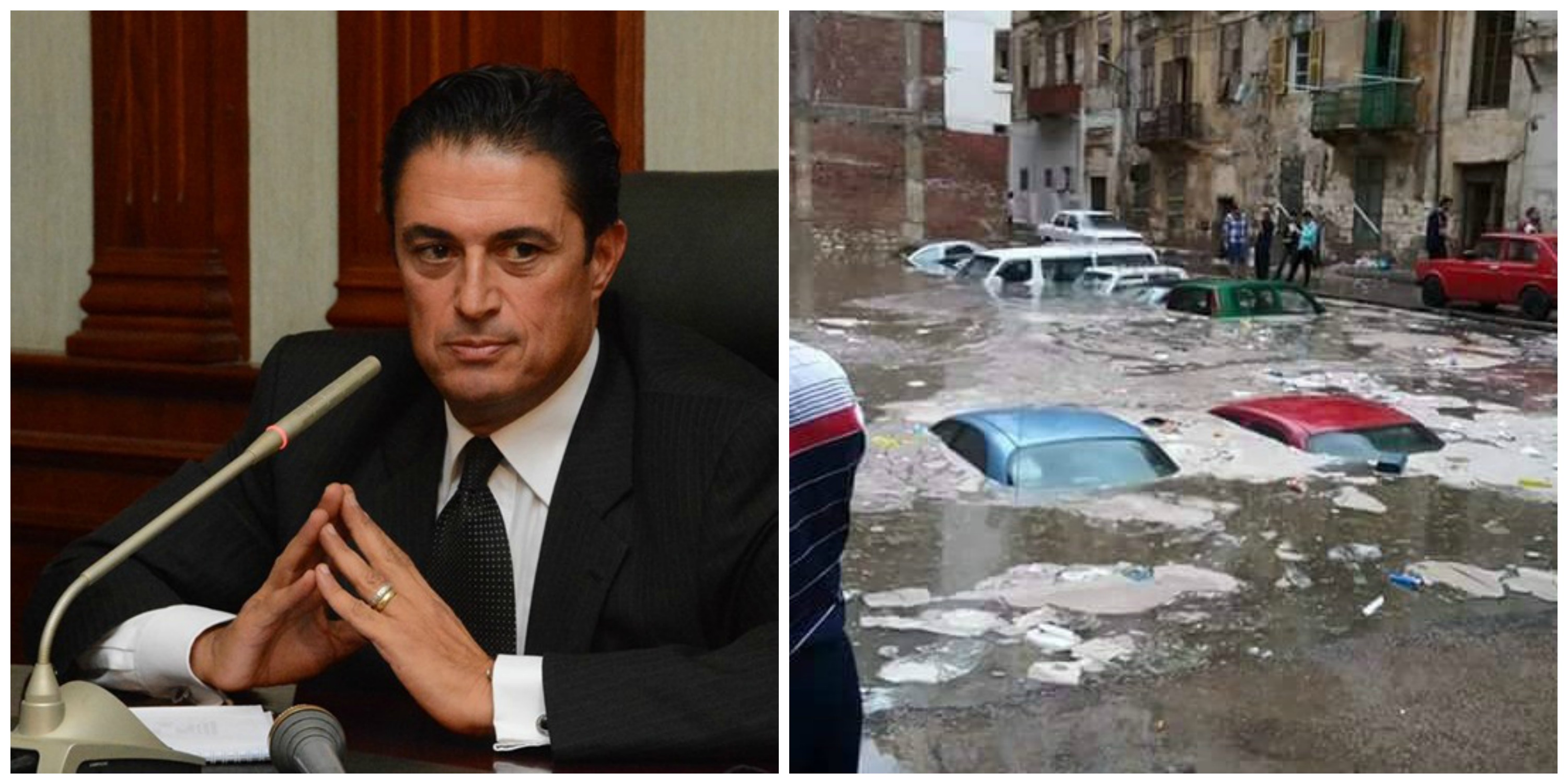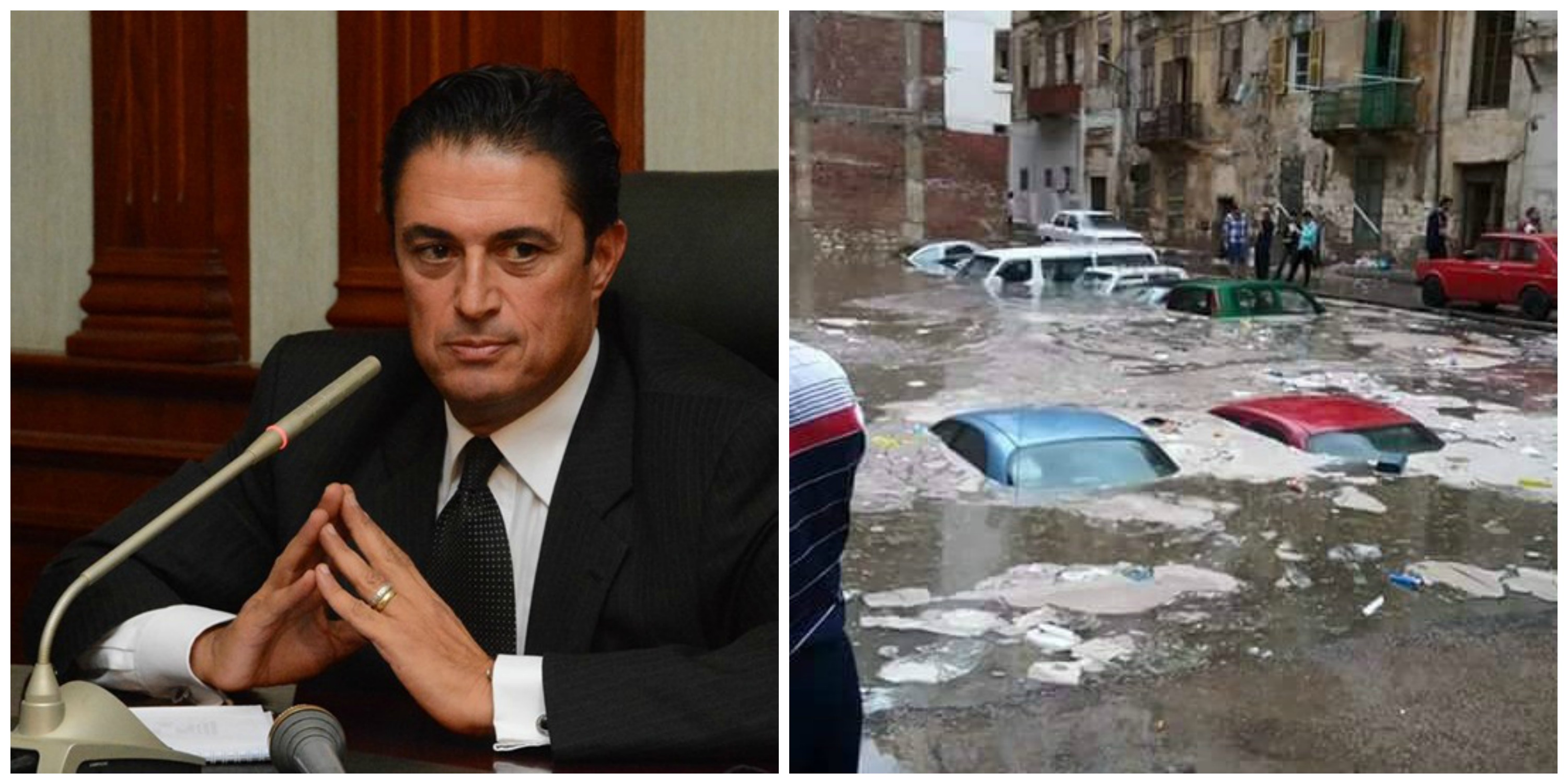 Egyptian Prime Minister Sherif Ismail submitted a report to President Abdel Fattah El-Sisi exonerating Alexandria's former governor Hany Elmessiry after devastating floods paralyzed the coastal city and left seven dead.
According to independent media Youm7, Ismail submitted the report following his visit to Alexandria on Sunday to assess the situation and examine the official response. The PM said authorities were caught off guard when Alexandria suffered from pouring rain and hail for nine consecutive hours.
According to other reports, the rainstorm resulted in around 10 inches (25 cm) of water – five times the normal amount of rain in Alexandria – within only three hours.
In the midst of the heavy rain, a power cable feeding the tram line in Moharram Bey was reported on Sunday to have fallen in the rain water flooding the streets, causing seven people and a horse to die of electric shock, reported Youm7.
As the situation escalated, Elmessiry stepped down as governor in the face of widespread criticism of the city's lack of preparedness. Major General Youssry Henry, the head of the Sewage Authority, followed Elmessiry's lead and also resigned in the wake of the crisis.
However, Elmessiry did not have any authority over the sewage systems of the city during his tenure as governor.
Sewage systems, which have not been operating at a proper capacity for many years, are managed and under the full authority of the Sewage Authority, an Egyptian government body that is separate from the governor's powers.
On 5 October 2015, in a meeting with the Sewage Authority's officials, Elmessiry warned officials of the need to act immediately to address potential future flooding after a smaller incident on 4 October. During the meeting, the President of the Sewage Authority said "this [bad] flooding will never happen again and the situation next time will be a lot better."
In response, Elmessiry asked the Sewage Authority to identify which areas require urgent attention and to address these weak points. Elmessiry added that the Authority, if needed, should ask the government for greater resources and that the governorate would support the Authority in all its efforts.
Also in October, Elmessiry warned the Egyptian cabinet that Alexandria's sewage infrastructure had not gone any significant infrastructural development for 15 years.
Despite his efforts, reports have surfaced that suggest the governor was doomed to fail from the beginning of his tenure, as he was undermined by a number of different parties.
Ismail allocated a sum of EGP 75 million (USD 9.7 million) to address Alexandria's sewage systems after meeting with Elmessiry – prior to his resignation – and witnessing the extent to which the floods had paralyzed the city.
CLICK HERE TO SUPPORT THE ALEXANDRIA FLOOD FUND CAMPAIGN
---
Subscribe to our newsletter
---