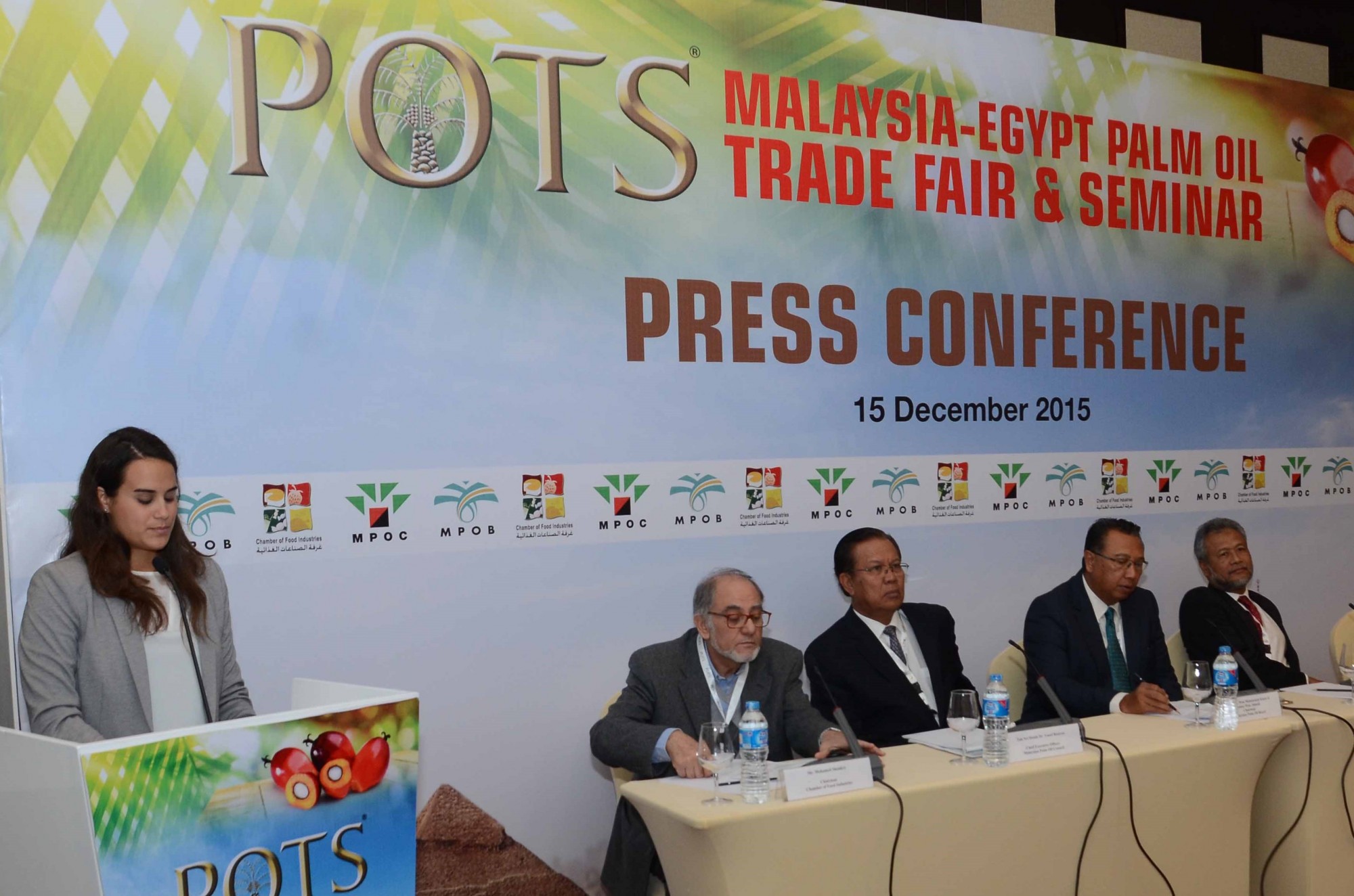 Seeking to expand Egypt's foreign trade in Asia, Datuk Amar Douglas Uggah Embas, Malaysian Plantation Industries and Commodities Minister, officiated the third Malaysia-Egypt Palm Oil Trade Fair and Seminar (POTS) at Royal Maxim Palace Kempinski Hotel on Tuesday.
Themed 'Meeting Egypt's Emerging Oils and Fats Diversity through Malaysian Palm Oil', the event addressed several issues impacting Egypt's oils and fats development, in addition to providing solutions to issues affecting palm oil industry in the Middle East region.
With a total of 881,000 tonnes recorded in 2014, palm oil is considered the most imported edible oil into Egypt. Malaysian palm oil share stood at 350,000 tonnes, which translates to 39.7 percent of the total palm oil imported. With RBD (refined, bleached and deodorized) palm oil, RBD palm olein and RBD palm stearin being the major types of palm oil imported, the trade is valued at $US 150 million.
"The event is designed not only to showcase Malaysian products but also to disseminate the latest information about palm oil and global oils and fats, and most importantly to bolster business ties between Malaysia and Egypt," said Embas in commentary on POTS Egypt 2015.
During the first quarter of 2012, Egyptian-Malaysian bilateral trade amounted to $US 628 million, marking an approximate 50 percent increase in comparison to the previous year's figures standing at $US 348 million.
In its latest report, HSBC Global Connections listed Malaysia among Egypt's most promising markets for bilateral trade. With a forecast of nine percent of Malaysian imports to Egypt, and 11 percent of Egyptian exports to Malaysia per annum by 2030, the report referred the two markets' promising relations "to their fast growth and historically close connections."
"I strongly encourage the relevant business people at this event to take the opportunity to establish smart partnerships which can result in profitable trade collaborations. Apart from further enhancing trade relationships of this important commodity, POTS Egypt 2015 is an excellent venue for the existing, as well as new entrepreneurs to reinforce palm oil trade in meeting the demand."
POTS Egypt 2015 paves the way for other collaborative initiatives to countries within the region.  It is also aimed at increasing Malaysian palm oil market share by leveraging on Egypt's economic growth. This comes in addition to ensuring that the Egyptian oils and fats industry members receive consistent and reliable supply of Malaysian palm oil with continuous quality assurance and sustainably produced products.
Malaysia-Egypt POTS is the 35th of its series since its introduction in 2006.  This event is jointly organized by Malaysian Palm Oil Council (MPOC) and Malaysian Palm Oil Board (MPOB), supported by the Egyptian Chamber of Food Industries.
---
Subscribe to our newsletter
---