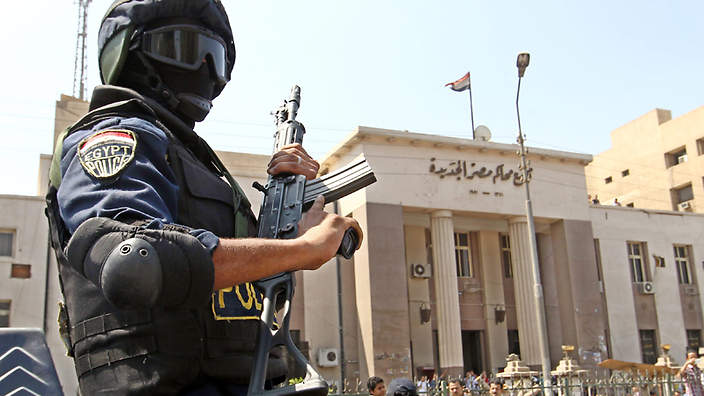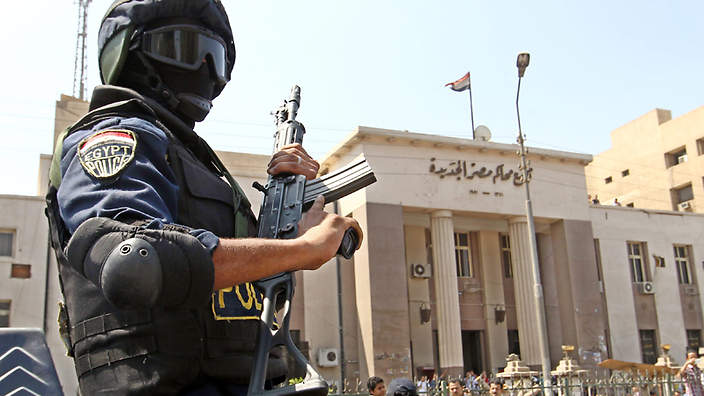 An Egyptian criminal court sentenced a police officer and a low-ranking policeman to life in prison on Saturday after they stood accused of torturing a detainee to death and using force against another one.
The incident dates back to October 2014 and took place in Tanta city to the north of Cairo, where one detainee was beaten to death to extort confessions from him and the other was injured after sustaining electric shocks.
Typically, policemen are accused of "beating that led to death" in torture cases like this one but this case marks a significant development because it is the first this year in which policemen are accused of violating Article 126 of the Penal Code, according to Al-Haqanya Centre for Advocacy and Law.
Article 126 states that any employee who orders or carries out the torture of a defendant to extort confessions is punished by high security prison of between three to 10 years, or handed the same penalty as murder if the defendant dies.
Al-Haqanya Centre, which is defending the surviving detainee, said the two detainees were arrested on Oct. 18, 2014 and were asked to sign five complaints of theft, which they refused to do.
The two policemen, and "others", "tortured them, taking turns," Al-Haqanya said, in a statement posted on its website on Dec. 22.
The health conditions of one of the detainees deteriorated and he was taken to hospital, where he died.
Al-Haqaniya said a forensic report stated that the deceased detainee was "subjected to physical attacks" and that he died "as a result of electrocution", confirming earlier statements by the other detainee who was questioned by prosecutors as a witness.
Today's court decision comes at time when a slew of cases of alleged police torture have recently caught the public's attention.
On Dec 12., two Egyptian Homeland Security police officers were sentenced to five years in prison for "torturing to death" a lawyer in custody last February.
Earlier this month, several Egyptian civil society organisations said 37 people died as a result of torture while in custody throughout the past 11 months.
Organisations including the Egyptian Initiative for Personal Rights (EIPR), the Egyptian Center for Economic and Social Rights (ECESR) and El Nadeem Center for Rehabilitation of Victims of Violence told a press conference they were able to document 625 torture cases in Egyptian prisons, out of which 51 were cases of collective torture in the period between January and November 2015.
Police brutality was one of the triggers of the Jan. 25, 2011 uprising, sparked by protests on Egypt's national police day, aimed to draw attention to the police's use of excessive, at times fatal, force. Next month will mark the fifth anniversary of this uprising.
---
Subscribe to our newsletter
---