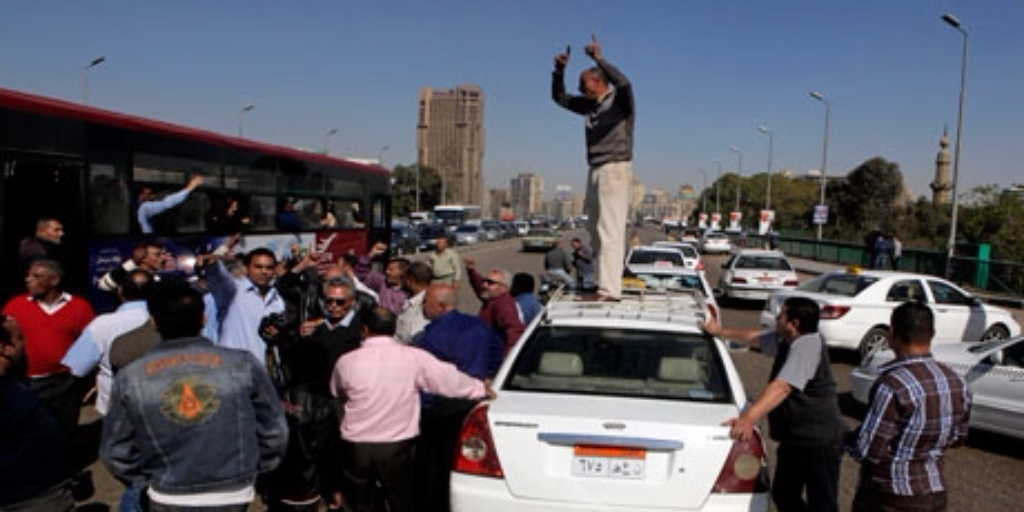 As private taxi services Uber and Careem have stirred anger among regular Cairo taxi drivers over competition for costumers, a lawsuit is expected to be filed against the increasingly popular companies by rights lawyer Khaled Ali, who will be representing the taxi drivers.
During a press conference at the Egyptian press syndicate on Wednesday, organized by the Egyptian Center for Economic and Social Rights, the taxi drivers reiterated their demands that Uber and Careem be banned.
Taxi representatives contended that the foreign on-demand car-sharing services are creating "strife between Egyptian drivers and riders" and called on Egyptian President Abdel Fattah al-Sisi and Prime Minister Sherif Ismail to issue a ban on the companies.
According to state-owned Ahram Online, whose reporters attended the presser, the taxi drivers hope that a new initiative launched on Wednesday by the name of "We're the real taxi, not the outsiders" will prompt the San Francisco-based Uber and Dubai-based Careem to end their operations in Egypt.
A video posted on YouTube on Wednesday showed disgruntled taxi drivers holding banners that said "we are against the companies that are stealing our livelihoods" while attempting to get Uber drivers arrested by handing them over to a traffic authority officer.
Mahmoud Abo-Ali, one of the taxi drivers who spoke at the press conference, said that the private taxi services have expanded to Egypt in order to "steal our bread."
Another driver, Sherif El-Sayed, said, "There is an organized campaign against us on social media to portray us as horrible drivers who are sexual harassers with rigid taximeters."
Egyptian taxi-riders have for long complained about regular taxis taking over-priced fees in the absence of – or with rigged – taximeters and, especially for women, fears of sexual harassment from the drivers.
Frequent Uber user Yasmine Hawary described the service as a "godsend," saying, "Getting in a taxi in Egypt as a woman, you never know what you're getting into. I've had taxi drivers jerk off or show me their [private parts] and tell me all kinds of exceptionally inappropriate things while they were supposed to be just driving me from A to B. I felt unsafe in taxis so many times, but never with Uber."
Due to the fact that Uber requires its drivers to register their names and contact information and that taxi riders can rate the drivers with one to five stars in the Uber phone application, many feel safer using Uber than regular taxis which can get away with high prices or inappropriate behavior.
Last week, taxi drivers organized a protest near Mostafa Mahmoud mosque in Cairo, publically expressing their dissatisfaction with Uber and Careem.
Speaking with privately owned Daily News Egypt, one of the participants in the demonstration said that the protesters were not demanding the private taxi companies to be shut down completely but only that they should abide by the same rules and regulations imposed on regular drivers.
"If those companies are going to share the market and compete against us, then the rules must be fair for all. They should also be required to have taxi licenses, like we are," he said.
On Wednesday night, two disgruntled taxi drivers appeared on Khairy Ramadan's television show, "Momken" and claimed that the private taxi companies are operating outside of the law. However, a representative whose limousine company leases cars to Careem, denied these allegations and reaffirmed that all of his cars have the correct licensing.
The drivers are now escalating their demands by taking legal action against Uber and Careem. The lawsuit, which is expected to be filed shortly by rights lawyer Khaled Ali, will be the first time the private car services have faced a lawsuit by taxi drivers since their launch in the Middle East.
In France, Uber executives are facing criminal charges for "deceptive commercial practices" following protests by French taxi drivers over competition from the non-traditional car services.
---
Subscribe to our newsletter
---