By Dara Denney, The Traveller's Cookbook
When I first moved to Cairo I was told a lot of things.
"Egypt is not safe for women!"
"You cannot go around Cairo alone. You should always have a man with you."
"You shouldn't even travel there, let alone live there."
The reality, however, was different for me. And after some trial and error of dress and behavior I learned that I actually did feel safe travelling throughout  Cairo as a solo gal. (And I should know: I am on the road 3+ hours per day!)
In fact, travelling around the city by myself is one of my favorite things to do. This is how I discovered the best shopping districts, my favorite cafes, and some of Cairo's hidden oddities.
But can you experience (and enjoy!) Cairo as a solo gal? YES! 
How Should I Dress
First things first: Do I need to wear a hijab in Egypt? Nope. Will it help guard against the infamous sexual harassment I have heard so much about? Nope. Will it help me blend in? Not really.
Moving on…
When I step out the door, whether it is to a nearby cafe or across the city, I always make sure I have three things: scarf, sleeves, and sunglasses.
Scarf: Always keep one on you in case you want to check out a mosque. Even if you think you won't, do it anyways. I always keep one on me to help feel more "covered-up" when on the go. (I'm a lady with a large chest. It helps). Sometimes I use it to cover my hair if I feel like the pollution is really bad. (And even though logically I know if doesn't really help in any way, sometimes I cover my hair when going to a very touristy area to gain some SLIGHT anonymity. I have red hair. You can spot me a mile away).
Sleeves: When you are heading out for the day wear long sleeves and long pants. But make sure they are breathable and comfortable! It will likely be very hot, so the lightweight fabric helps to protect from the sun. In the winter it is fine to wear jeans!
Sunglasses: This is something I had to learn the hard way, as a person who compulsively stares at others. Eye contact is flirting in Egypt. Sure, you can talk to your cab driver or the guy selling you something, but do NOT make eye contact with people on the street. Even a glimpse. Again. Sunglasses really help with this and also help with the sun.
A note about weather: Egypt has a legitimate winter season from November to March. No, you will not see snow. But it is COLD. Bring your winter jackets, jeans, and sweaters during this time. When I first moved here last February I was severely mistaken on this point and froze my ass off for weeks. Bring wool socks too for the hotel: central heating does not exist here.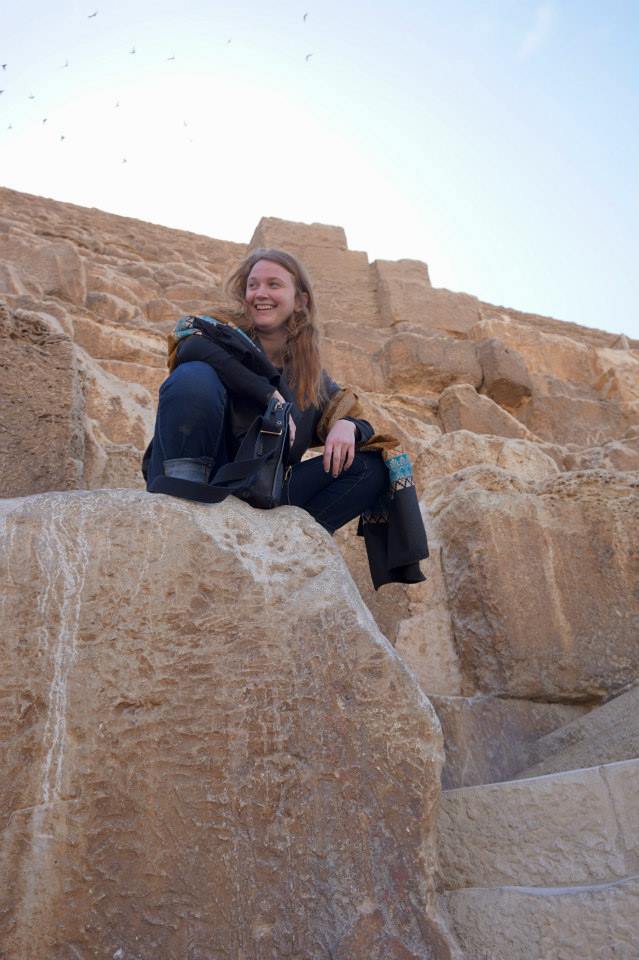 How Do I Get Around?
There are a few ways to get around the city; by taking the metro, minibuses, city buses, taxis, and now UBER.
Metro: Many people do this without any problem, but I don't. Why? Firstly, there is not one near my apartment. So while it is cheap (1 Egyptian pound per ride to anywhere in the city) it just isn't convenient for me. So plan your route carefully. There are separate cars for woman, but I have heard that the starring makes some solo female travelers feel uncomfortable.
Minibuses: Avoid if you don't speak Arabic, don't know where you are going, and if you feel uncomfortable with verbal sexual harassment. A hijab or nicab will not save you. (Hijabs come in many colors and covers the hair, leaving space for the whole face; Nicabs are black and cover the face, with a small slit open for the eyes).
Taxis: Easily the most convenient option, and one you will likely have to take. Cairo 360 has a great article on how to take a taxi in Cairo as a woman. The hard and fast rules are to ALWAYS ask for the meter before you get in, agree to a price (or meter) before you get in, and only pay once you have gotten out of the taxi. I use a taxi everyday and have only had one minor problem.
UBER: This is a great option for many reasons. 1. It is cheaper than a taxi. (And you will NOT be cheated) 2. The cars are almost ALWAYS air-conditioned, and are often of nicer quality than the taxi cabs. 3. Sometimes the drivers speak English. I have met some great UBER drivers in Cairo. Hell, one guy even drove around a fellow traveller for the entire day and showed her the city. Naturally, keep your wits. But a great option for the solo female traveller.
Where Do I Sleep?
There are many options for lodging in Cairo varying from budget-style hostels to opulent resorts with excellent swimming pools. Feel free to take your pick, as prices for tourists are still pretty low right now.
However, do not stay in Downtown. The site of the 2011 Revolution might seem like a good launch-pad to explore Cairo, but it is incredibly noisy and not a good place to spend walking around after dinner alone.
As a solo female, I would opt for a hotel in Zamalek, a central residential neighborhood filled with expats and the Egyptian elite. To be honest, as a traveller, the idea of hanging out with a bunch of rich westerners and locals doesn't thrill me. But I am still recommending it. Why? It is in a central location in the city. It's an island in the Nile, which as a first-timer to Egypt, is pretty thrilling. There are many cafes and a few bars to occupy yourself at night, and you will be able to walk home safely.
If you are really craving the local-vibe I would go with Airbnb. You can even rent a houseboat on the Nile from there, which is pretty fucking cool.
How To Deal With Sexual Harassment
You might be yelled at. Young men, regardless of your dress or demeanor, might say something wholly innopropriate to you. If you can, pay it no mind and walk out of the situation as quickly as possible.
But if you feel like you are in danger or if someone touches you, make a scene. Yell at them. Scream. Egyptians are very attracted to drama and you will likely have several people to come to your aid. Don't worry if you don't speak Arabic; they will likely figure out what happened very quickly.
Note from the author: While I was writing this article I traveled around solo to some of the tourist hotspots to see if there was anything else I could advise for solo girls. At one point I wandered far from Khan El Khalili on foot and had an incident where a young man realized I was foreign and obviously lost. He said "How are you" in Arabic and I stupidly answered back. He began to follow me down the street a few paces behind me and was yelling things to me. Telling me to talk to him and to stop. A shop owner realized what was going on and yelled at the guy to go away. A car of young Egyptian men stopped and got out to help. The guy ran away and the shop owner helped me to find a taxi to go downtown.
This kind of thing is not uncommon. Do not answer anyone who calls out things to you on the street. Do not look at them. If they follow you, yell at them and get the attention of others. If possible, walk into a shop. They will help you.
Other Tips and Tricks
Get a sim card! It is very easy and cheap to get an Egyptian sim card. Go to any Vodaphone store with your passport. Expect to pay around $5 USD (40 Egyptian pounds) for the sim itself and $3 USD (20 LE) for 1 GB of data.
Hylke Hettema is originally from the Netherlands, but has lived in Egypt since the 2011 Revolution. She has a Masters in Middle East Studies and two Bachelors: Arabic Linguistics and Politics of the Middle East. She has some GREAT advice for solo female traveller's below:
THINK footwear. Most people think of warm weather and loads of sun and want to wear their flip-flops. I advise against that idea not only because it is considered "baladi" (shabby) but also because it is completely unpractical in a city like Cairo. At the end of the day your feet are exhausted and, most of all, black.
When you visit the fancy suburban areas around Cairo such as New Cairo and Sheikh Zayed you will step into a whole different world. Egyptian ladies wear tank tops and skirts that barely reach over their knees. They are dressed in the latest fashion trends and are loaded with over the top accessories. As a foreigners those are places where I have always felt most comfortable. Not so much because it is like home (my home is in Cairo now) but because people don't make nasty remarks, they mostly don't even notice you, and if they do, they aren't shocked. The same goes for the enormous malls throughout the city, where the world's most famous brands are featured.
As a high blonde I have experienced that using public transportation isn't as fun as it should be. Given the current political situation and safety issues riding the metro is maybe not the smartest choice anymore, although thousands of people ride the metro everyday. There are line busses , the big green ones that are fairly okay to ride for foreigners as they are marked with signs telling you their destination.
 Would you travel to Egypt as a solo female traveller?