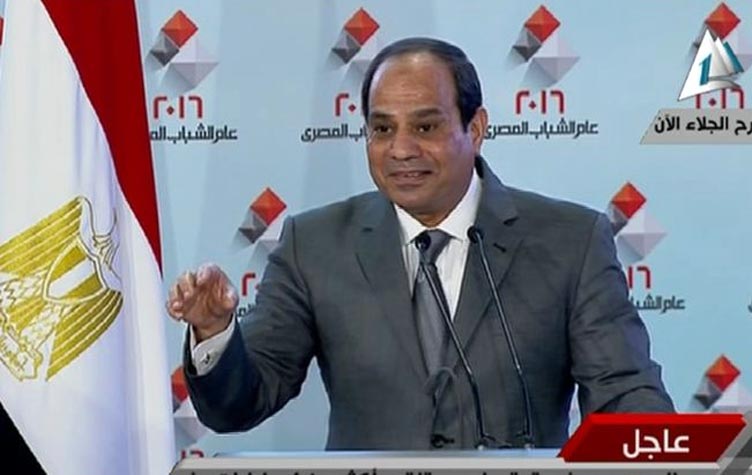 By Nourhan Fahmy and Sara Khourshid
"Do not listen to anyone else but me," Egyptian President Abdel Fattah al-Sisi said on Wednesday in a ceremony held in Cairo for the launch of the country's sustainable development strategy, Egypt's Vision 2030.
He raised his voice as he vowed to "wipe off the face of the earth" those who want to "bring down Egypt" and work toward driving Egypt toward a "fate similar to that of other" states.
Set up by the Ministry of Planning, the strategy lays out the state's long-term plan across three dimensions: Economic, social and environmental.
In his speech, which was broadcast on state-run television, Sisi listed projects established by the government during his tenure, which started in mid-2014 after he won a sweeping victory in the presidential elections garnering more than 96 percent of Egyptian votes.
Earlier in July 2013, Sisi, who was the defense minister at the time, led a military ouster of then-President Mohamed Morsi of the Muslim Brotherhood after mass protests against his rule.
He praised projects established under his rule, such as the Suez Canal mega project, housing projects and the establishment of "133 bridges in 30 months."
But he noted that details should not be said "like this on air … for all people to hear" because "there are people who spend a lot of time and a lot of effort gathering this information to figure out where you are headed."
According to the sustainable development strategy's official website, which was launched on Wednesday, "Egypt will possess a competitive, balanced and diversified economy, dependent on innovation and knowledge, based on justice, social integrity and participation, characterised by a balanced and diversified ecological collaboration system, investing the ingenuity of place and humans to achieve sustainable development and to improve Egyptians' life quality."
During the speech, Sisi referred to last year's Russian plane crash in Sinai, saying that it was a planned attack intended to damage Egypt's tourism industry and its relations with Moscow.
The comments marked the first official Egyptian indication that the plane was deliberately downed, Reuters reported.
Additionally, Sisi said that there is "a real weakness in the country's infrastructure" and stressed that preserving the state as well as conducting further construction defines the state's currently adopted strategy.
The president further addressed concerns regarding the independence of the judiciary, saying that there is rule of law and denying any interference in the judiciary. He added that the current parliament is in place to propose amendments to the laws.
The event was attended by many public figures, including top state officials.
---
Subscribe to our newsletter
---