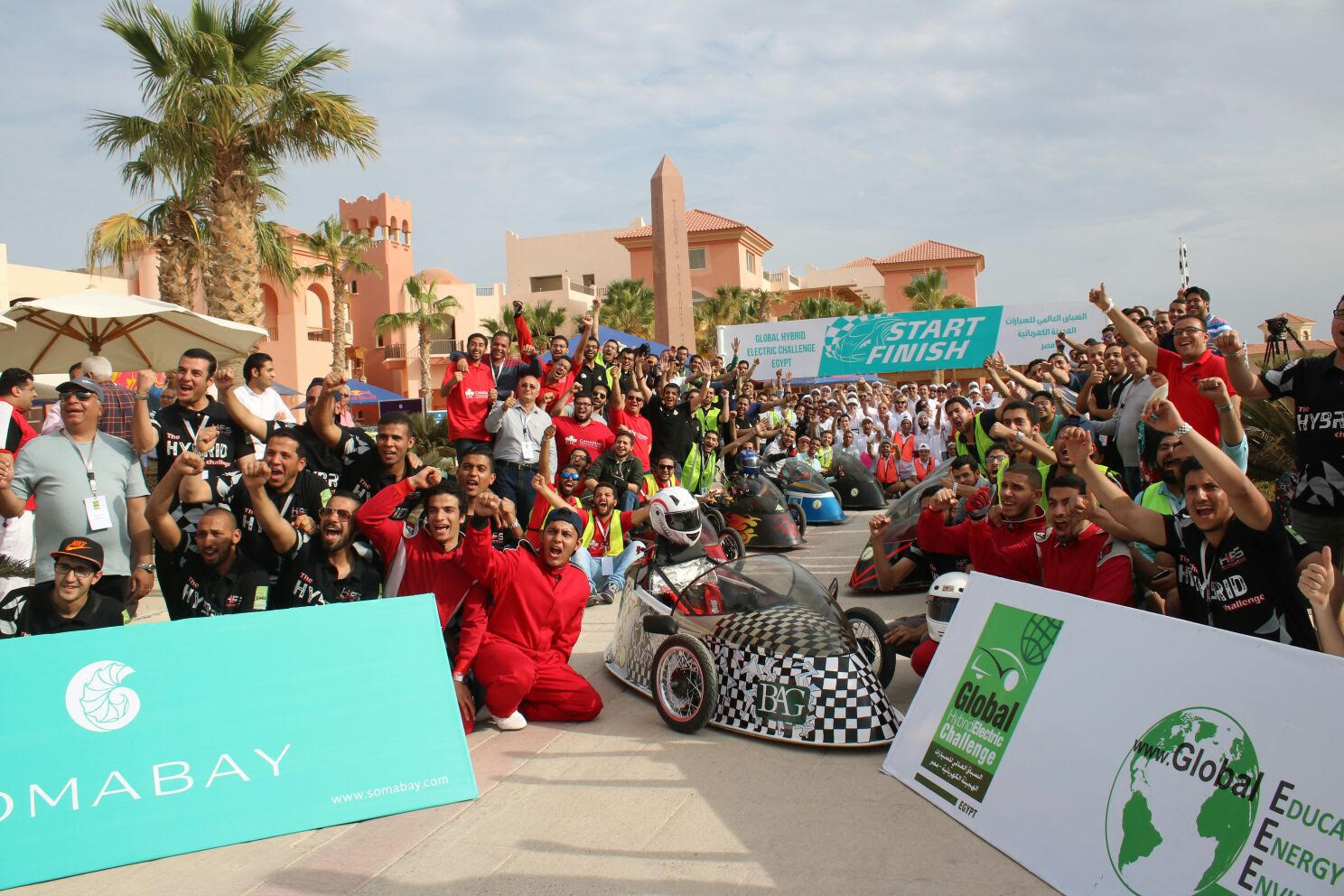 The air at Soma Bay's Marina had a different feel to it last week. Lined parallel to the floating boats was a garage, housing nine racing cars built by students from nine universities. Global Education Energy Environment had brought to Egypt its first hybrid electric car challenge. The breeze buzzed with energy as screwdrivers clinked and engines came to life in preparation for the two-day racing event.
Every team was left to shape and mould their cars the way they saw fit to be fast, stable and energy efficient, each with their competitive edge.
"The track is hot!" was heard repeatedly for two days, as Khaled Mostafa, Global EEE's director of operations, would announce the ongoing races.
Everyone had to pass inspections before they were allowed to race. For that purpose, there were practicing sessions and qualifying sessions. The only team that qualified on the first day was Helwan University's team.
"We have always wanted the idea to be brought to Egypt," said Helwan University's Mostafa Mohamed, who had taken part in another contest in England. "We suffered a lot from travel."
Yet, Mostafa saw promising talent. "There is a lot of hard work," Mostafa said. "We can get competitive teams to participate in international events."
Brian Ignot, a technical inspector from the United States, also found exceptional potential in the Egyptian students.
"I owe everything in my career to projects like this one," he said. Coming to Egypt is paying it forward, to give others the chance to gain the same experience, he added.
"With the amount of time these teams have gone from parts in a box to a vehicle is amazing."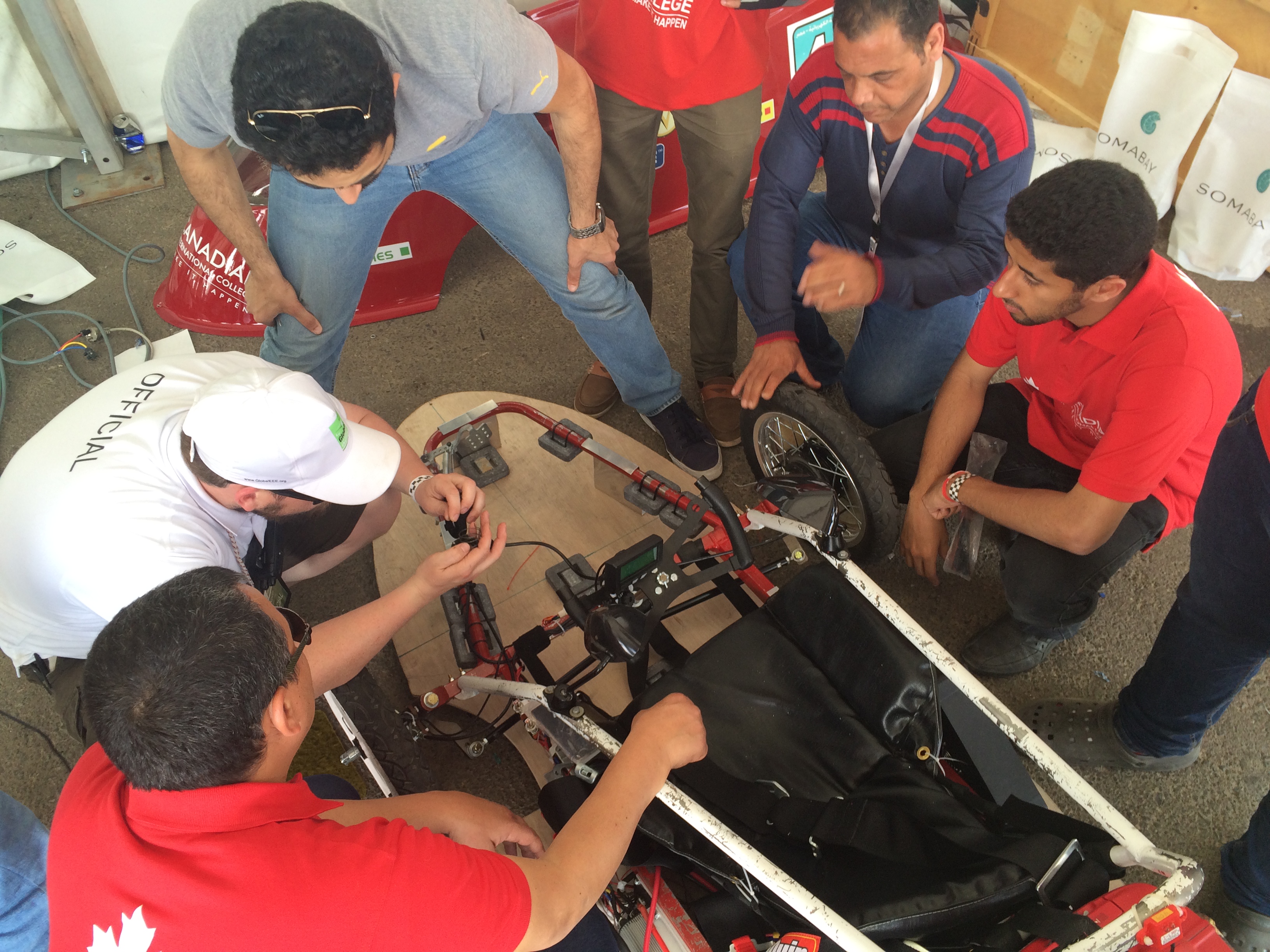 The time was tight as some of the competing teams only had a couple of weeks, or as little as a few days, to build their cars. Ignot said that he had a year and a half to build his car.
The American University in Cairo's team had received their kit one week beforehand, and spent four days assembling their car, sacrificing sleep to get the work done.
"The whole experience is about learning, how to design a car, take important decisions, and how to get this stuff working as a whole system," said Mostafa Azab, an AUC student who wants to start his own electric cars company.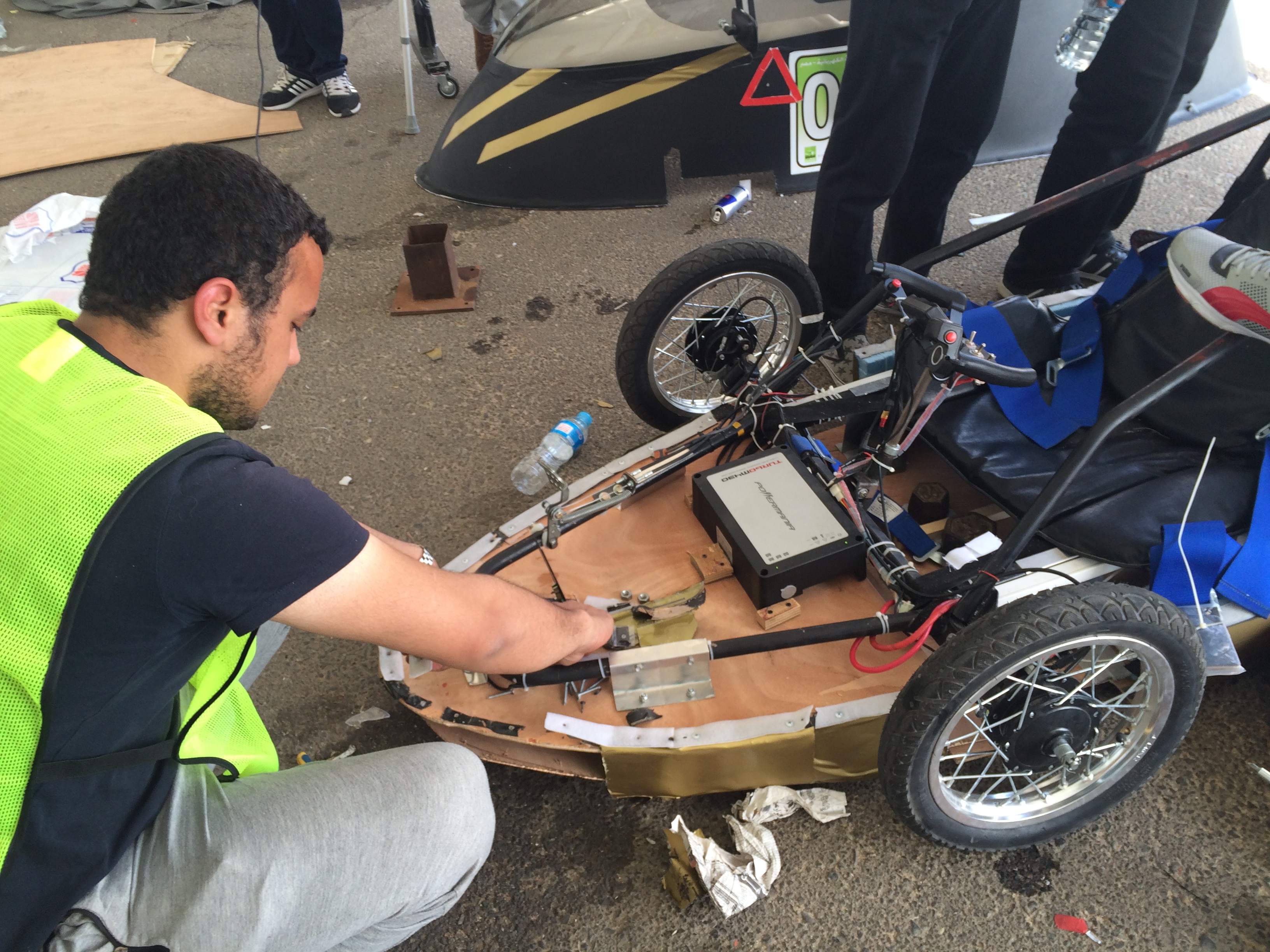 The two-day races proved governmental universities to be the most competitive.
The first day's race was divided into two phases, 30 minutes each, on one battery charge. Benha University won, cutting the most distance in the least time. All teams attempted energy efficiency through making the most of the engine with the lowest battery usage.
The race on the second day, meanwhile, lasted three hours. The South Valley University team, which had gone up from fifth place in the previous race, won that day. Mohamed Badran, a South Valley student, expressed pride to represent Upper Egypt, being the only university attending from the region.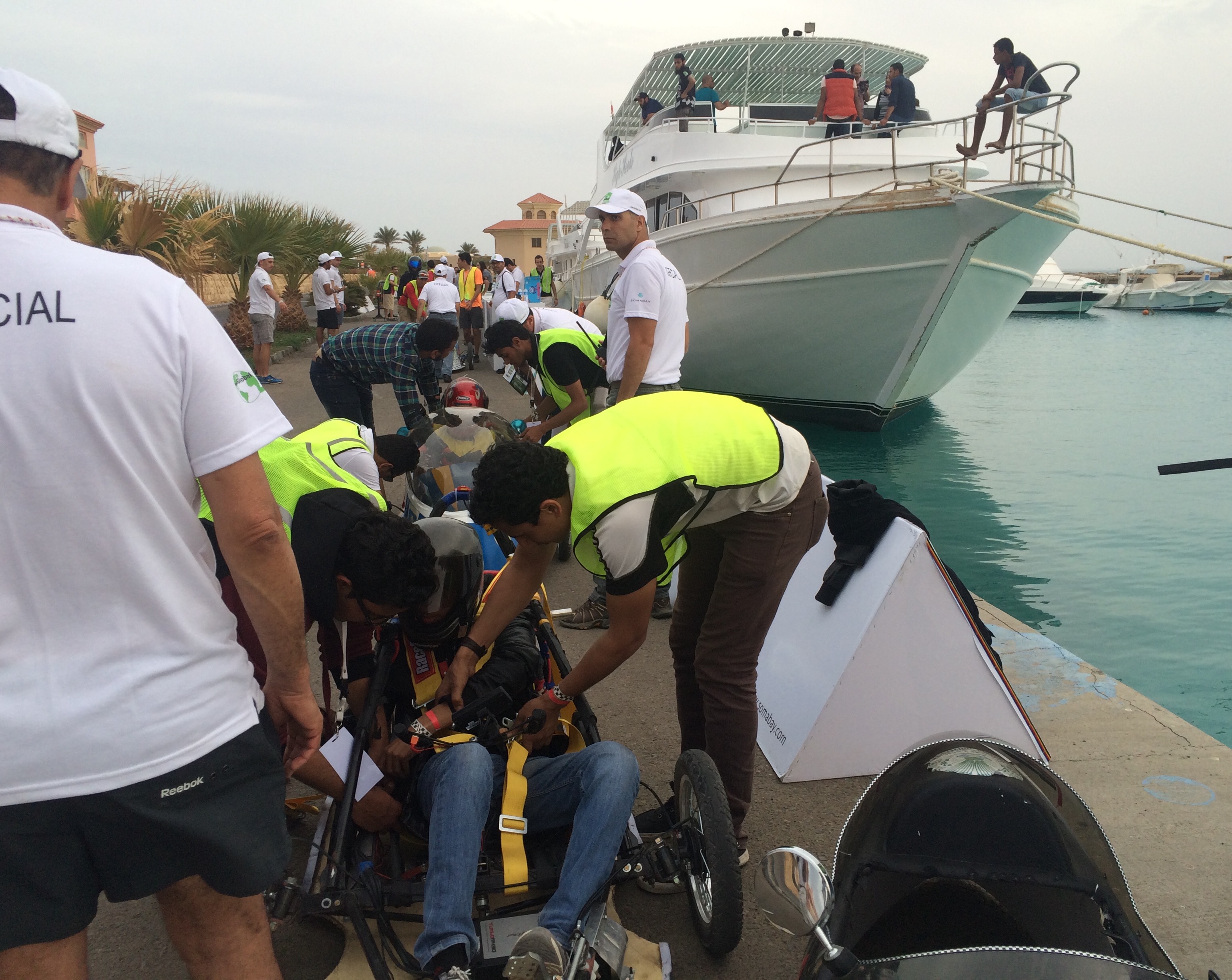 Despite having a minor accident, having to carry their car back to the garage and to reassemble it, the team from Ain Shams University managed to win first place in the competition. Despite landing in second place in both races, they also received an award for being most helpful to other teams, which pushed them to the top.
The three winner teams got the chance to compete next month in the regional race, set to take place in Abu Dhabi.
"It's a responsibility. We will not only be representing our university, but Egypt as a whole," said Abdelrahman Ibrahim, from Ain Shams Univeristy.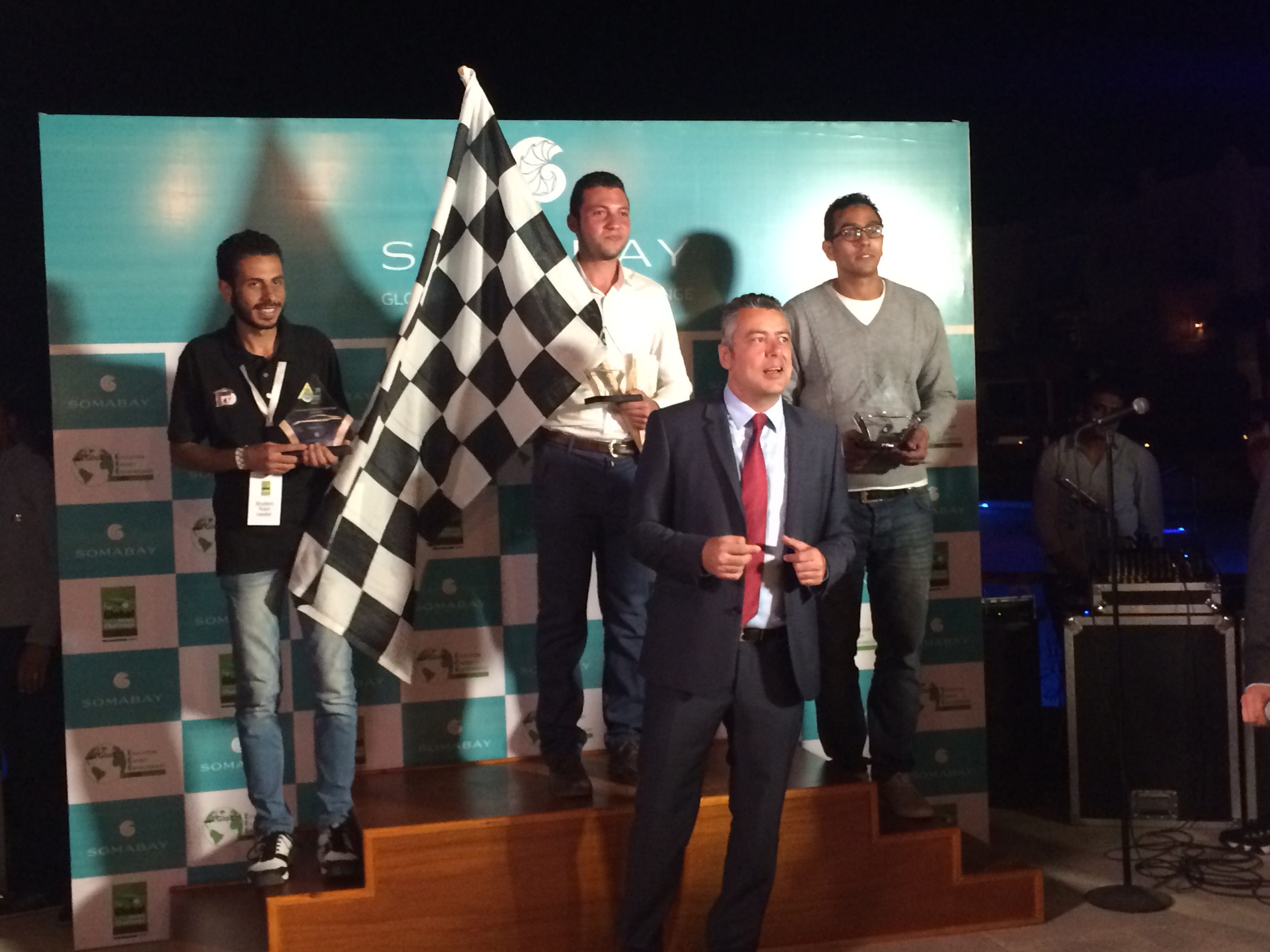 Among the audience members this year were popular racers like Tamer Bashir and Haitham Samir.
"Car companies have to take a close glance at these people here; they are the future," believes Bashir.
Minister of Local Development Ahmed Zaki Badr told Egyptian Streets that it was wonderful to see a competition with art, engineering, design, strategy and planning all at the same time.
"This is a start for needed brain games and encouragement for youth innovation," the minister said.
The government has a big role of encouragement, but such contests also require involvement from private sector and NGOs, Badr stated.
Ibrahim El Missiri, CEO of Soma Bay, was pleased with the event, saying it turned out better than expected.
"Having brain games is different. Some people may find it nerdy but I find it cool," El Missiri said, adding that what was missing was a greater number of attendees and that he has high hopes for the two upcoming events.
Soma Bay has signed a three-year contract with Global EEE, with this year's competition served as "try outs" or a qualification round for the next two years. The second year brings competitors from the Middle East, while the third is a global contest.
---
Subscribe to our newsletter
---