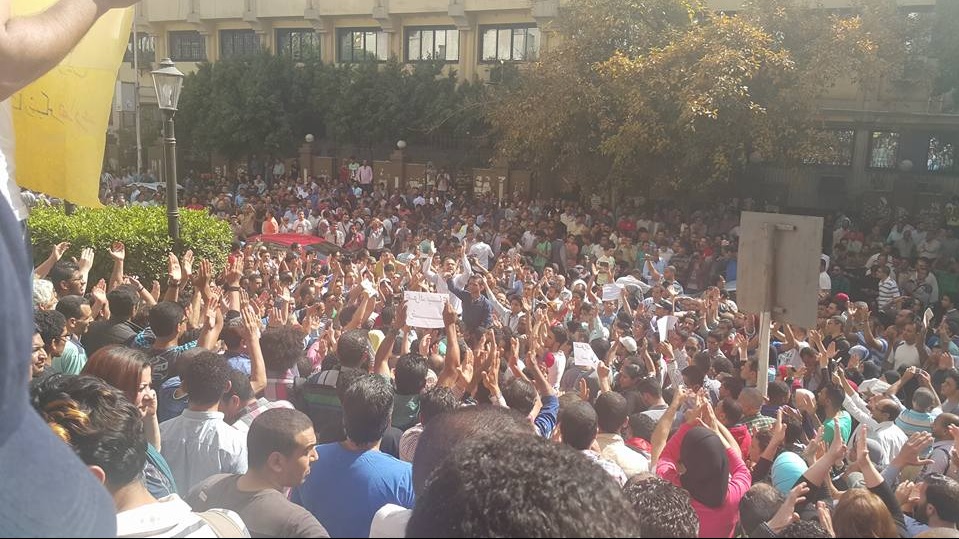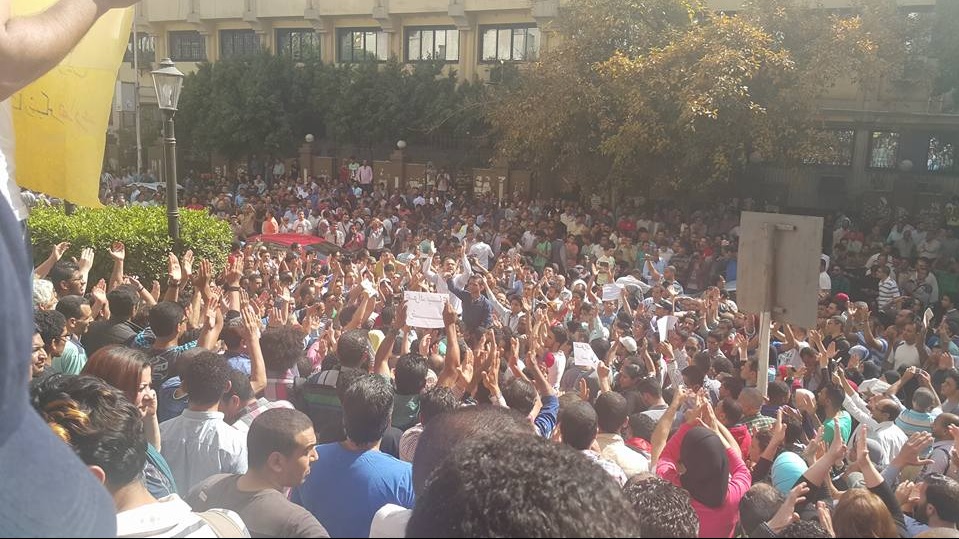 At least 100 people have been arrested across nine governnorates as demonstrators gathered across the country to protest Egypt's decision to declare the islands of Tiran and Sanafir as Saudi Arabian, reported Al-Ahram.
"Down with the regime" and "leave" chants followed those opposing the "selling of Tiran and Sanafir island" from in front of the Press Syndicate in Cairo, while numbers have been on the rise since Friday prayers.
الشارع مش هيتقفل وصوتنا مش هيسكت pic.twitter.com/efyEI9J3PL

— Nabil (@aNabbil) April 15, 2016
Security forces blockaded the demonstration in an attempt to stop more protestors from joining, deploying tanks in nearby areas, according to Al Masry Al Yom. Police forces had fired tear gas and dispersed a protest earlier at Mostafa Mahmoud Street.
A number of protesters have been arrested in the capital and other governorates. Journalists have also been arrested, including Youm 7 reporter Ahmed Baraa.
Justice for the 5 who killed by the police and justice for Regeni In front of the High Court in Cairo pic.twitter.com/x8kklVLvNA

— Mahmoud Salmani (@Mahmoud_salmani) April 15, 2016
According to Aswat Masriya, at least 14 people have been arrested in Cairo, and another 15 were arrested in Alexandria. These reports could not be independently verified by Egyptian Streets. However, a government source said that up to 40 have been arrested. Meanwhile, state-media Al-Ahram said 11 people had been arrested in Mansoura, adding that a total of 100 people have been detained across nine governorates in the country.
Earlier this morning, Alexandria witnessed a demonstration in support of the deal, while another anti-state protest had been dispersed. Outside Al-Qaed Ibrahim mosque, dozens of protesters demonstrated in favour of the deal and in support of Sisi.
So surreal. Pro-Sisi protest in favour of #Egypt giving islands to Saudi. At Qaed Ibrahim (via #Alexandria Eyes) pic.twitter.com/C2rMIIVnKG

— Amro Ali (@_amroali) April 15, 2016
On social media, #جمعة_الارض (Friday of the Land), became the top trending tweet worldwide, with more than 100,000 tweets using the hashtag.
Last week, Egypt declared the two islands as Saudi Arabian, releasing historical documents and other evidence that showed that Egypt had been occupying the islands. According to the Egyptian government, negotiations had taken place over the past six years to return the islands to Saudi Arabia.
Despite the Egyptian government's defense of the decision, many people, including prominent Egyptians, have seen the declaration as a 'selling of the country' to Saudi Arabia, arguing that the islands are Egyptian.
---
Subscribe to our newsletter
---