Employees speak on phones at an exchange office in downtown Cairo June 5, 2014. REUTERS/Amr Abdallah Dalsh
Egypt has surpassed South Africa as the second largest economy in Africa, according to Christian Viljoen, an economist at the auditing and advisory firm KPMG South Africa.
Viljoen reached this conclusion by analyzing the latest figures released by the International Monetary Fund (IMF) in its World Economic Outlook report, released in April.
Ever since Nigeria rebased its gross domestic product (GDP) data in 2014, South Africa has been considered the continent's second largest economy. But according to the new IMF statistics, South Africa's slowing economic growth, together with the depreciation of its currency, the rand, has led to a decline in the US dollar value of the economy in the period from 2012 to 2015.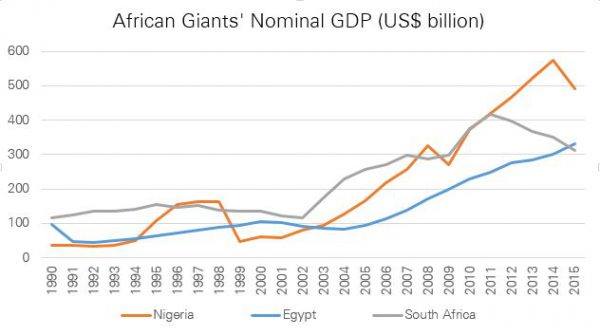 The country's currency was depreciated by as much as 50 percent, which resulted in an average decline of the nominal US dollar value of South Africa's GDP of almost 7 percent per year between 2012 and 2015.
In the same period, Egypt's nominal US dollar GDP increased by an average of 7.5 percent per year. Comparing the depreciation of both the South African and Egyptian currencies during this period showed that the pound was devalued at a much slower pace than the South African rand. This is because the Central Bank of Egypt has had much tighter control over the pound since 2011, when social unrest gripped the country, than has been the case in South Africa.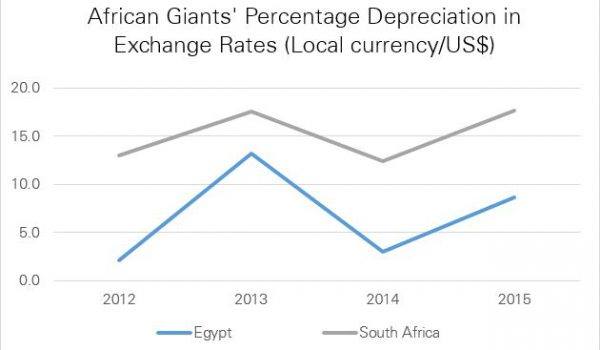 The IMF predicts the South African economy to grow by only 0.6 percent this year and 1.2 percent in 2017. Egypt's economy, on the other hand, is projected to expand by 3.3 percent this year; although this number is larger than that of South Africa, it represents a drop from last year's 4.2 percent. 2017 is expected to see economic growth reach 4.3 percent.
The Egyptian Central Bank's tightly managed approach to the pound contributed to Egypt's economy climbing to second place in Africa. But it is worth noting that, had it not been for the decline of the rand's value, South Africa would not have surrendered its status as the continent's second largest economy behind Nigeria, according to Viljoen.
However, the KMPG economist points out that there is "significant uncertainty" about the short- and medium-term development for the Egyptian pound.