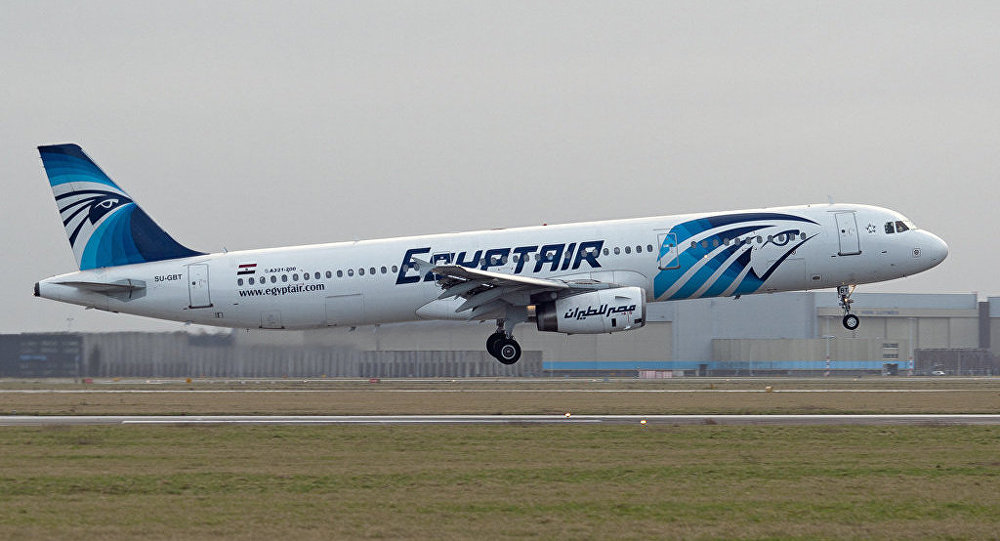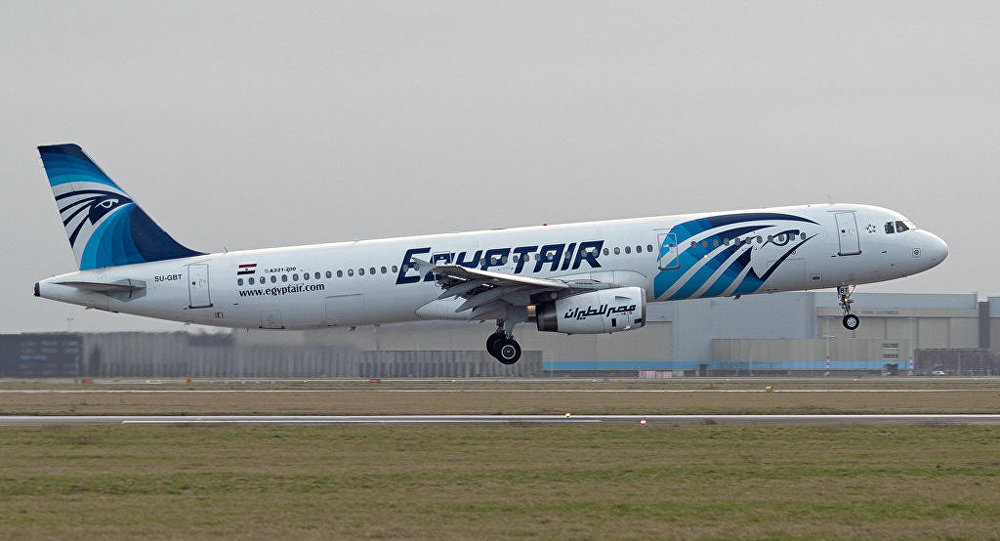 Key points:
** Wreckage discovered off coast of Alexandria.
** EgyptAir flight MS804 crashed while travelling from Paris to Cairo, dropping off the radar around 10 miles after entering Egyptian airspace
** French President Hollande confirmed the airplane crashed and then 'disappeared'
** Egypt's Minister of Civil Aviation said no debris has been found, no cause of plane's fate can be concluded
** Greece's Minister of Defence says the airplane made sudden swerves and plunged before dropping off radars
** Airbus has confirmed the 'loss' of MS804. MS804 had approximately 48,000 flight hours
** The pilot had more than 6,000 hours of flight experience, say airline officials
** Plane was carrying 66 people. 30 passengers are from Egypt and 15 are from France. The rest of the nationalities include two from Iraq and one each from the United Kingdom, Belgium, Kuwait, Saudi Arabia, Sudan, Chad, Portugal, Algeria, and Canada.
———————————————-
Parts of the wreckage from the missing EgyptAir flight MS804 have been located roughly 290 KM off the coast of Alexandria, a spokesman from the Egyptian military confirmed on Friday.
According to reports, aircrafts and navy vessels from Greece and Egypt that had been dispatched to search for the missing plane found parts of debris and some personal
belongings from the passengers who had been on board.
Egyptian civil aviation officials confirmed that the missing EgyptAir flight MS804 with 66 passengers on board has crashed more than 200 kilometers off the Egyptian coast, reported AP and Sky News Arabia. Meanwhile, a Greek airport source told AFP that the EgyptAir flight crashed off the Greek island of Karpathos. No wreckage or debris has been discovered.
Reports that the plane crashed were confirmed in a press conference by French President Francois Hollande, who stated that all information points to the plane having crashed before disappearing.
Meanwhile, Greece's Minister of Defense announced that the airplane plunged 22,000 feet and made sudden swerves before disappearing. The plane swerved 90 degrees left and then 360 degrees right prior to dropping off all radars, said the Defense Minister.
However, at a press conference, Egypt's Minister of Civil Aviation said that Egypt had not received any information to confirm Greece's claims. The Minister said that he will refer to the plane as 'missing' until debris is found, but that does not mean it has not crashed. The Minister added that no cause for the plane's fate can be concluded.
According to EgyptAir, an emergency signal was received by the Egyptian military at 4:26AM local time, almost two hours after the airplane 'disappeared from radar' at 2:30AM. However, Egypt's military denies any distress signal was received from the plane.
The flight from Paris to Cairo was carrying 56 passengers and 10 crew members. The passengers included two infants and one child, said EgyptAir in a statement. An EgyptAir Civil Aviation Ministry official said that the airplane most likely crashed.
The nationalities included passengers from the following countries, announced EgyptAir: Egypt (30), France (15), Iraq (2), United Kingdom (1), Belgium (1), Kuwait (1), Saudi Arabia (1), Algeria (1) Sudan (1), Chad (1), Portugal (1), and Canada (1).
France has deployed a surveillance jet to help with the search for any survivors and wreckage.
EgyptAir said the airplane disappeared at 2:30AM Cairo time, adding that a distress signal was received by the military two hours later at 4:26AM. The signal is likely an automated one which was not sent by the pilot.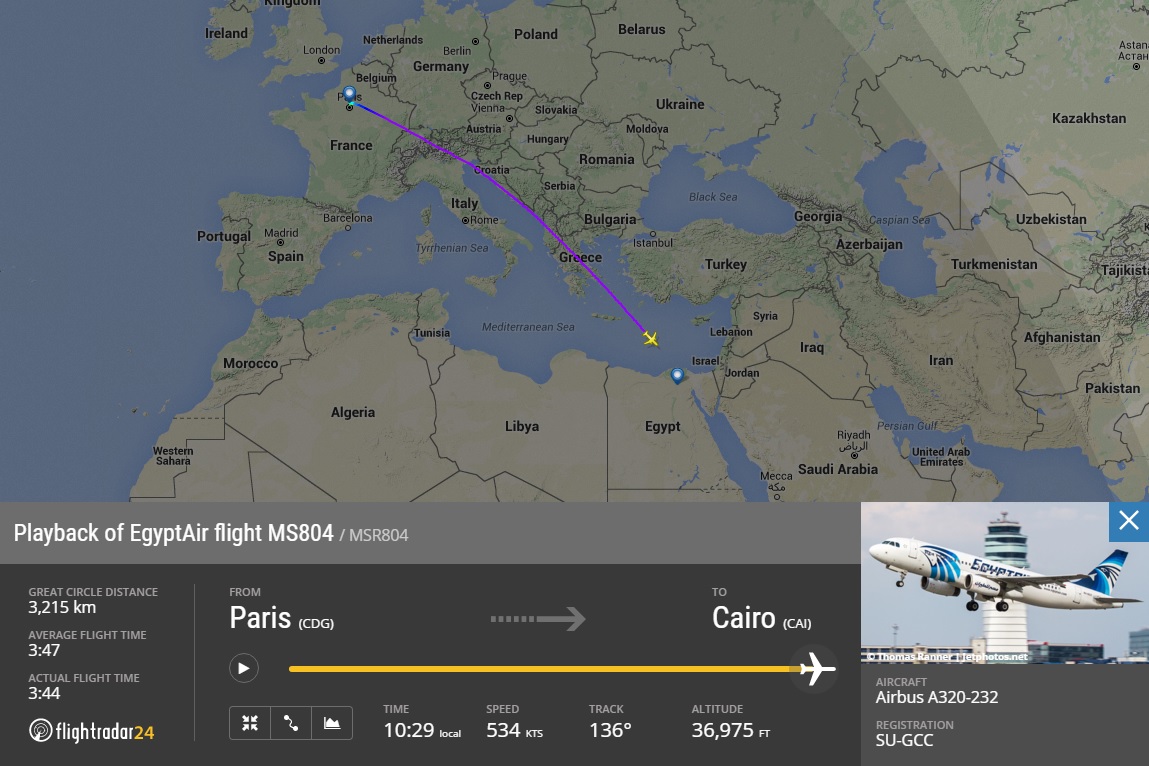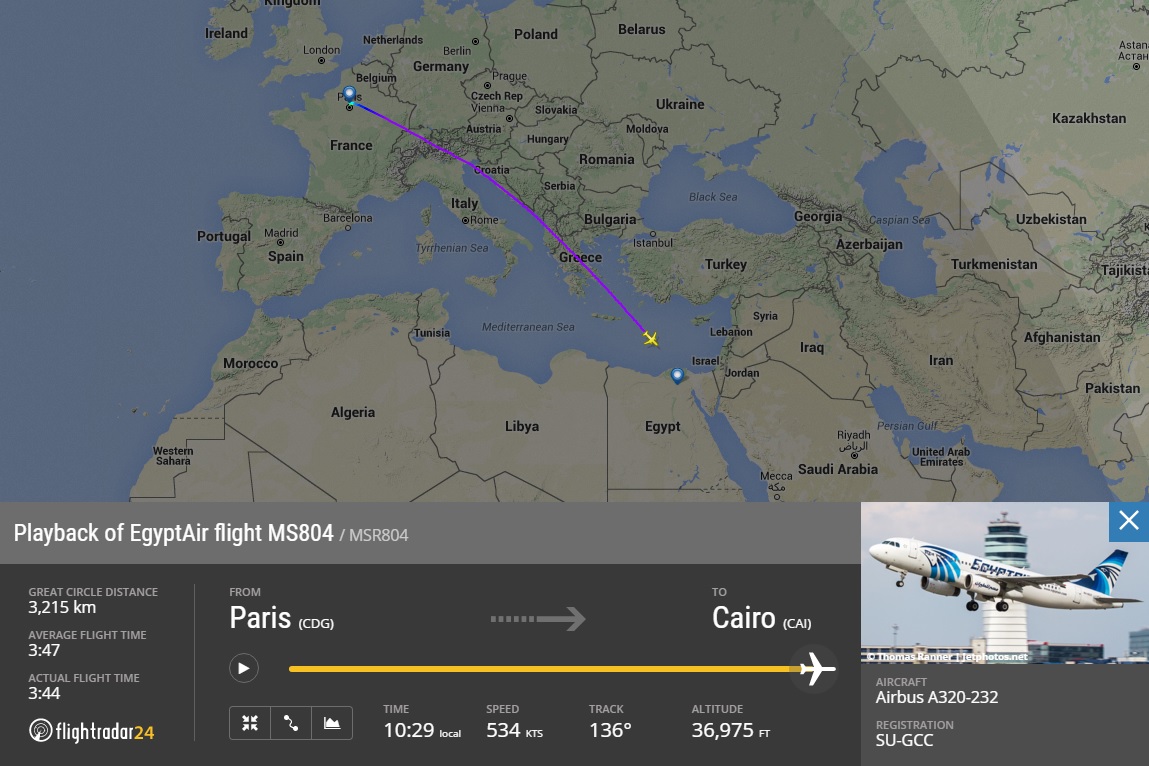 Commenting on the airplane's disappearance, French President Francois Hollande said "no theory can be ruled out". The French President and Egyptian President Abdel Fattah Al-Sisi had a telephone call following the incident.
According to a statement by EgyptAir, the plane disappeared from radar at 02:30AM Cairo time. The airplane was flying at 37,000 feet when it disappeared approximately 10 miles in Egyptian airspace. Flight Radar appears to show the airplane losing communication with radar tracking off the coast of Egypt.
The pilot of the aircraft had 6,275 hours of flight time, of which 2,101 were on the same model of aircraft, said EgyptAir. The co-pilot had recorded 2,766 hours of flight time. The aircraft was manufactured in 2003, added EgyptAir.
EgyptAir said it is in contact with concerned authorities and bodies, adding that inspection is underway by rescue teams. The weather at the time of the disappearance was clear and there were no distress calls made by the pilot, said an official to CNN and Sky News.
This is the second airplane incident involving EgyptAir in 2016. In March 2016, an EgyptAir plane was hijacked and forced to land in Cyprus by an Egyptian who allegedly wanted to visit his ex-wife and children in Cyprus.
Meanwhile, in November 2015, a Russian airplane, flight Kogalymavia 9268, crashed in Egypt's North Sinai in a terrorism-related incident that killed all 224 passengers on board.
Days prior to today's incident, EgyptAir launched a campaign to promote tourism in Egypt by offering discounts of up to 50 percent on airplane tickets during the summer season. Just an hour before the EgyptAir flight MS804 disappeared, EgyptAir's Twitter account posted a discount of 25 percent for tickets between 22 May and 20 June. EgyptAir faced significant struggles following the 2011 revolution, which saw a slump in tourism to Egypt.
In December 2014, EgyptAir, which employs 850 pilots, announced that it had accumulated EGP 10.11 billion in losses over a three year period.
Are you a family member of a passenger on board the missing plane? The hotline numbers are: 080077770000 for any family members using a landline in Egypt and+20225989320 for anyone abroad or in Egypt using a mobile phone.
---
Subscribe to our newsletter
---