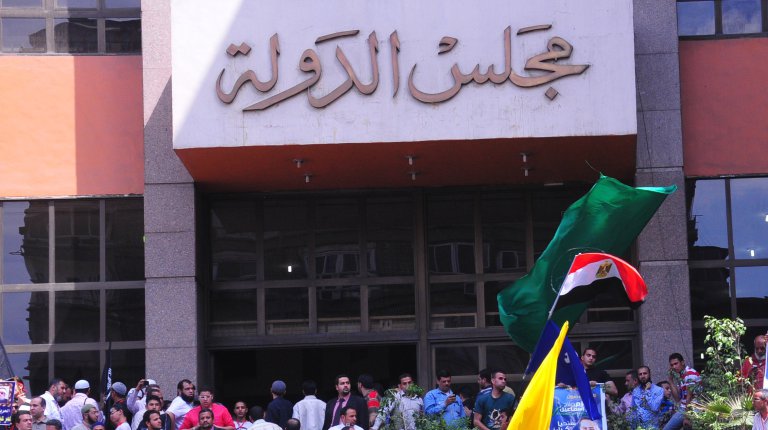 Egypt's Administrative Court adjourned on Sunday the session for the appeal against the annulment of the Red Sea islands to July 3 after a request from the annulment's supporters to replace the judge.
The Court had ruled last week that the agreement transferring the islands of Tiran and Sanafir to Saudi Arabia was void, with Judge Yehia El-Dakroury ruling that the islands should remain part of Egyptian territory and that Egyptian sovereignty extends over the islands of Tiran and Sanafir.
The Egyptian government immediately appealed the annulment decision, causing some Egyptians to voice their anger and saying that the decision to appeal is preposterous.
"The Egyptian gov is probably the only gov in history to fight for GIVING land to another country," wrote Rana Allam, the former Editor-in-Chief of Daily News Egypt, in a public status on Facebook.
Protestors inside the State Council on Sunday began chanting slogans such as "Awad sold his land," a reference to an Egyptian song about a farmer who sold his land, and "Bread, freedom, these islands are Egyptian," which is a play on one of the most popular chants from Egypt's January 25, 2011 revolution.
Egypt's government stirred controversy in early April when the Cabinet announced that Egypt and Saudi Arabia had signed a maritime border demarcation agreement after six years of negotiations and that Egypt would cede control of the two islands to the Kingdom.
Dozens of citizens demonstrated against the agreement on April 15 and 25 in scattered protests that were quashed by security forces. Authorities arrested hundreds of protesters, sentencing 152 of them to two to five years of imprisonment, and collecting fines worth 4.7 million EGP. Others were arrested by security forces from their homes and from cafés in anticipation of the April 25 protests.
However, last week, an Egyptian court acquitted 22 protesters who had been accused of illegally protesting and assembling against the decision to transfer the islands.
---
Subscribe to our newsletter
---