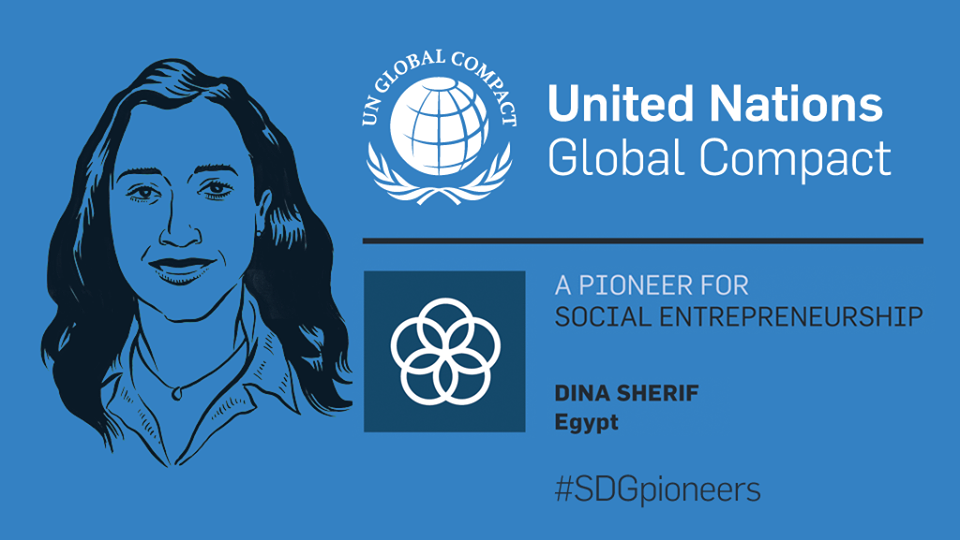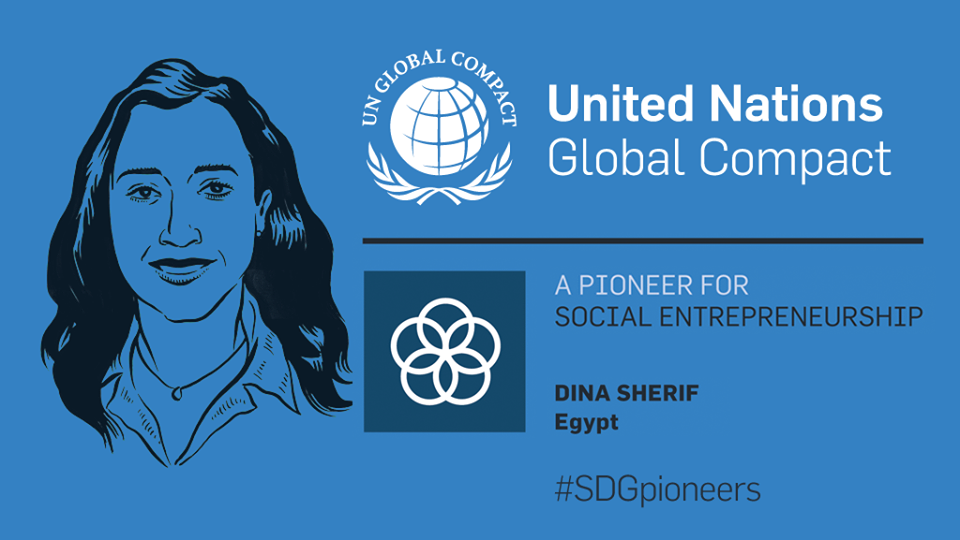 At the UN Global Compact Leaders Summit 2016 in New York, Dina Sherif, co-founder and CEO of Ahead of the Curve and holder of the Willard Brown Endowed Chair of International Business Leadership at the American University in Cairo's School of Business was announced as one of ten 2016 Local SDG Pioneers. Ms. Sherif was recognized for her efforts that align with Sustainable Development Goal (SDG) 17 on Partnerships for the Goals.
"I'm honored to be a part of the inaugural class of 2016 Local SDG Pioneers and I would like to thank the UN Global Compact for this recognition," said Ms. Sherif at the Summit, which is a two-day gathering of the private sector, UN, government and civil society in New York to jump-start action to achieve the UN Sustainable Development Goals by 2030.
"Social entrepreneurs have a powerful role to play in the development of innovative and scalable solutions for advancing progress on the Sustainable Development Goals and we are committed to providing the resources to support these innovators and their work, with a particular focus on the Arab region."
Ms. Sherif co-founded Ahead of the Curve in 2012 in response to the multiple development challenges faced by the Arab region. ATC was founded by Egyptians to provide support to the Middle East, and is currently based in Egypt.
Through a range of platforms, Dina also supports, funds and provides capacity-building opportunities for social innovators, drives thought-leadership on issues relating to inclusive business models and celebrates women leaders and change makers from the region.
Launched in 2016 as part of the UN Global Compact's Making Global Goals Local Business campaign, the Local SDG Pioneers programme seeks out individuals who are demonstrating how the Sustainable Development Goals (SDGs) can enable business to unlock economic, social and environmental gains for the world. Over 600 nominations were received from 100 countries between February and April 2016.
The 17 Sustainable Development Goals of the 2030 Agenda for Sustainable Development – adopted by world leaders in September 2015 at an historic UN Summit – officially came into force on 1 January 2016. Over the next fifteen years with these new goals that universally apply to all, countries will mobilize efforts to end all forms of poverty, fight inequalities and tackle climate change, while ensuring that no one is left behind.
"Each of the 2016 Local SDG Pioneers exemplifies how business can be a force for good in addressing the challenges we face as a global society," said Lise Kingo, UN Global Compact Executive Director. "Ms. Sherif is advancing approaches for private sector growth that generate much needed decent work opportunities in her region. She is showing how businesses can develop innovative and scalable solutions to long-standing challenges – making her a pioneer for social entrepreneurship and inclusive business growth."
The Pioneers, such as Ms. Sherif, are made up of entrepreneurs who are championing sustainability through their business models and change makers who are mobilizing the business community broadly to take action in support of the SDGs. A Pioneers Selection Group, comprised of experts from the UN, academia, civil society and the private sector, ranked the nominees based on a set of criteria, resulting in the ten 2016 Global Compact Local SDG Pioneers. In the years to come, the Pioneers programme will become a vital part of the organization's priority to make global goals local business.
The UN Global Compact is the world's largest corporate sustainability initiative, calling on companies to align strategies and operations with universal principles on human rights, labour, environment and anti-corruption, and take actions that advance societal goals. In Egypt, over 120 companies and non-business organization have joined the initiative, and the Global Compact Network Egypt has supported their efforts to advance sustainable business practices since 2004.
This content is by Ahead of the Curve and was edited by Egyptian Streets.
---
Subscribe to our newsletter
---