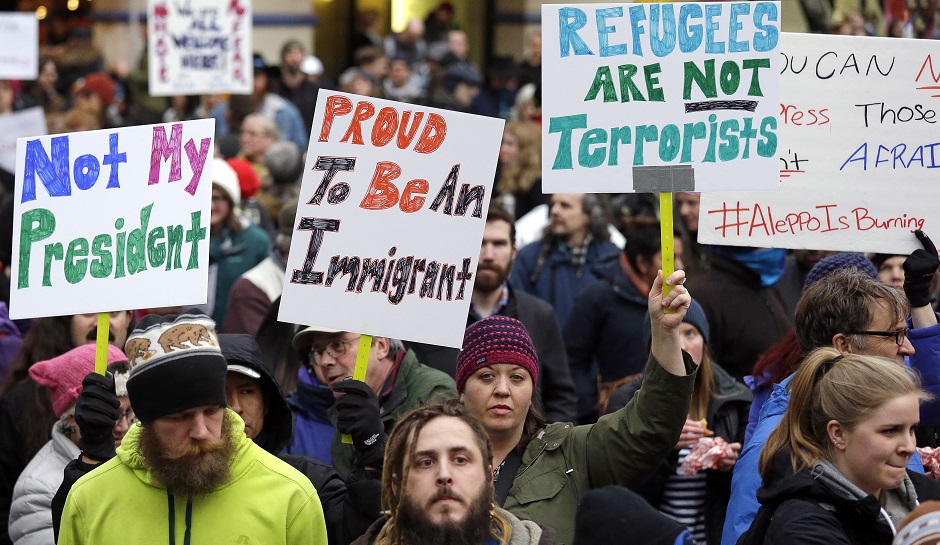 (By Sara Khorshid, Aswat Masriya) Chants, slogans and drum beats came to a halt. The silence that replaced them was intermittently interrupted by "Allahu Akbar" as a group of protesters stood in neat lines at the center of the protest crowd and performed the Muslim prayers. Many more protesters surrounded them, watching patiently in a scene that was reminiscent of Downtown Cairo's Tahrir Square amid the January 2011 Uprising when Christian protesters circled the group of praying Muslims to protect them against possible abrupt attacks by police personnel.
This was not Tahrir Square, but Downtown Toronto, outside the U.S. Consulate, where hundreds of protesters gathered on Monday, Jan. 30, 2017, beating the minus 7 Celsius winter temperature, to protest against U.S. President Donald Trump's recent executive order that imposed U.S. entry restrictions on seven Muslim-majority countries.
Police personnel and vehicles were also visible, but only to provide protection for the protesters throughout the six-hour anti-Trump protest.
A mother holding her baby while chanting, a senior Canadian in her sixties who is taking part in a demonstration for the first time in her life, an American student in Toronto who is angry and sad at the situation back home, an Afghan-Canadian mother and her five-year-old daughter who chanted slogans and held up a placard, and hundreds others – all united against Trump. The diversity of backgrounds among protesters resembled Tahrir Square's diversity in 2011, but it also reflected Canada's unique multiculturalism.
"I am against all policies that discriminate against people on the basis of ethnicity or race or color or faith," said Carlyn Zwarenstein, a Canadian writer who identified herself as Jewish and a daughter of immigrants.
Today, at Detroit Metro Airport, protesters made room for Muslims to pray.

They used protest signs as prayer mats.#nomuslimban pic.twitter.com/8SW8Pphhbo

— Diana Hussein (@heyadiana) January 30, 2017
Her companion, Ann-Elisabeth Samson, is an American who has lived in Canada for the past 15 years. She is shocked at how U.S. politics "has become so nasty". "People on the other side say things about me … I've been called socialist and other things."
Zwarenstein partially attributes the rise of anti-immigrant sentiments to "the concentration of wealth at the hands of a bunch of billionaires" who propagate these ideas among "gullible" people, most of whom "no longer have health care", leading them to believe that it is immigrants who are the ones "taking their jobs or money or safety" – an argument that is "completely … not based on reality."
"Gradually, more and more people will realise that it is mostly to the advantage of a few very, very wealthy people" to support Trump's views. "I don't want it to be too late when people will realize that this is a very, very bad choice."
Like in Tahrir Square, some anti-Trump protesters are taking part in protests for the first time in their lives. Karen is a senior Canadian in her 60s who never imagined someone like Trump would ever rise to the presidency in her country's neighbour.
"We are all immigrants," she said, explaining that her ancestors came from Ireland and expressing resentment at Trump's anti-immigrant "racism" and "white supremacy".
Some protesters shied away from speaking to Aswat Masriya. One Egyptian-Canadian said she would not speak to "any journalists". She was having a conversation with a Somali protester, who believes that Muslims in Canada should start engaging more in causes related to social justice, including causes that are not directly related to the Muslim community. "Fifteen years after 9/11 we are in a worse situation than we were; so obviously something didn't work."
Once the group of praying Muslims finished the noon prayers, chants broke out again: "Bring love! Bring peace! Muslims are not enemies! No hate, no fear! Immigrants are welcome here!"
As chants rose and drums beat louder, a woman walked through the crowd carrying a tray of paper cups and offering "free hot chocolate" to fellow protesters. "Hey hey, ho ho, Donald Trump's got to go!" the chanters around her went on, maintaining their strong rhythm.
This content is by Aswat Masriya.
---
Subscribe to our newsletter
---