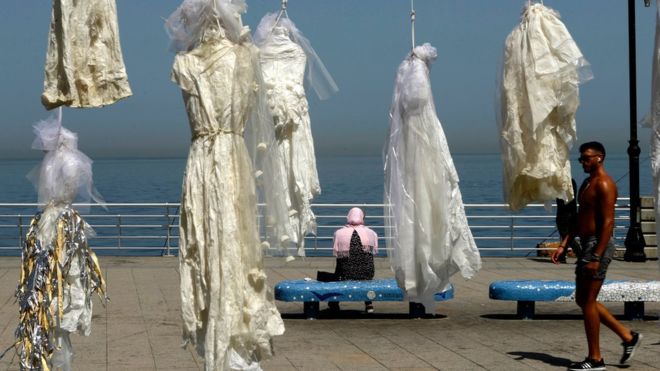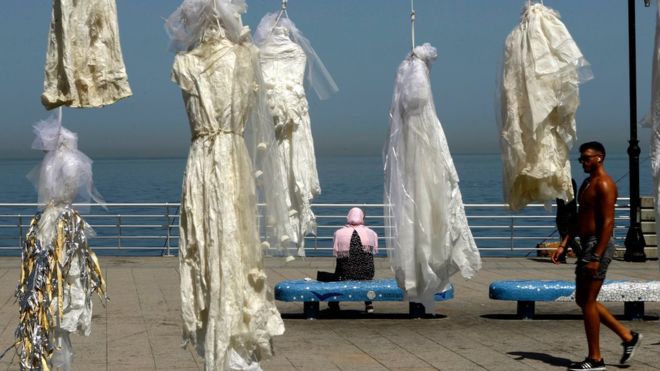 Lebanese activists have staged their campaigns to abort the controversial rape law that allows rapists to walk free if they married their victims.
The Lebanese Parliament is set to discuss the elimination of this article from the penal code in a session to be held on May 15. A proposal to scrap the article 522 had been introduced last year and got accepted in February. Activists hope that the Parliament will vote in favor of the elimination of this article.
About 30 wedding dresses were hung from nooses between palm trees on Beirut's seafront, as a symbolic rejection of the current law that is thought to fail the victim from obtaining her rights.
Lebanese Minister of Women's Affairs Jean Oghassabian strongly condemned the current law, and described it as being from "the stone age".
Lebanon is not the only country in the Arab world that suffers from the rape law that gives privileges to rapists. However, Egypt, Iraq, and Morocco have repealed these laws that allow rapists to escape punishments.
Mauritania
There is no law that is specified to rape in Mauritania. However, rape cases are dealt with in the context of adultery charges and punishments.
In Mauritania, the rapist has to admit the rape incident in order to be proved guilty, or four men have to testify that they saw the rape incident. In the absence of these proofs, there will be no trial for the rapist.
Sudan
Women who get raped in Sudan may not always be able to file a complaint against the rapists. Unless the victims provide sufficient proofs that the incident happened against their wills, they may get arrested on charges of adultery and extramarital relationships.
Syria and Bahrain
No legal pursuance for rapists if they married their victims
 Libya
Rapists will not be charged if they married their victim. However, the charges will not be dropped if the rapist divorced the victim in less than three years after marriage unless he shows a strong reason for the divorce, or when the victims obtain the divorce by a court ruling.
Algeria
Rapists can escape trial if they married their victims. Several rights groups have campaigned to cancel this article from the Algerian law. They claim that girls are forced to marry their rapists.
---
Subscribe to our newsletter
---