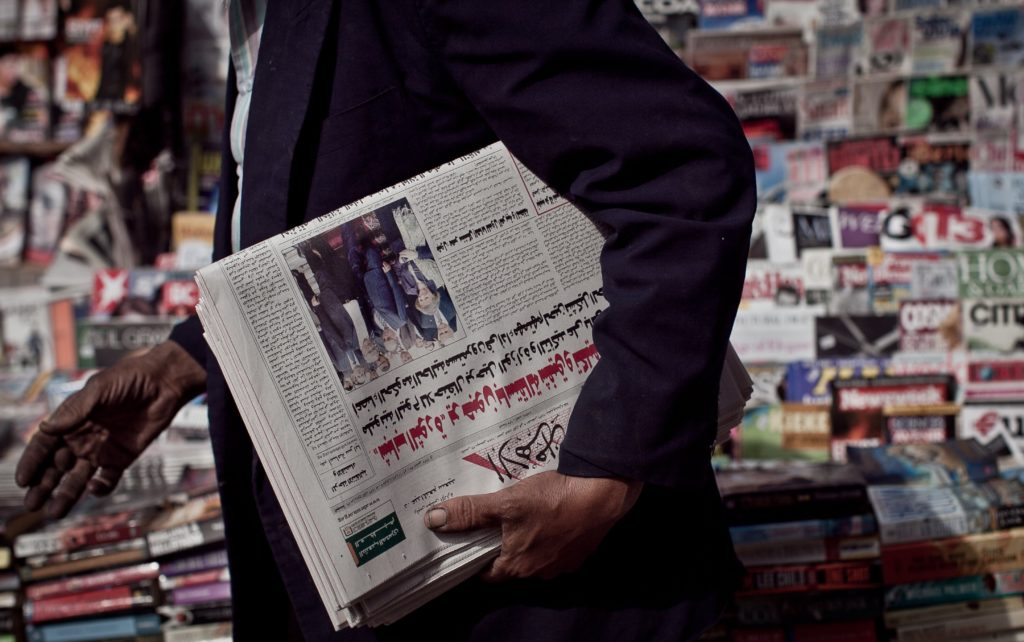 The media in Egypt is in a state of chaos. Sensationalism, propaganda, unverified facts, and state control strip the fourth estate of its role. But how can the profession be "fixed"? Is a new regime needed, or can down-top approaches be a solution?
Many journalists maintain that media reform can only begin when the government's violations cease.
"Egypt needs a non-intrusive government, a government that doesn't stop the printing of the day newspaper because they think the article is against the regime," said Jackie Devin*, a French journalist who had worked briefly as an editor in state-owned Al-Ahram Hebdo, and had to choose carefully or modify the titles "not to offend the regime". Devin pointed out that editors should be free to choose the content and the tone of the title and text without fearing consequences from the government, be it censorship or funds cut.
In December, the parliament approved a media "regulations" bill, which puts both state and private owned media in the hands of the government. The new law stipulates the formation of three regulatory bodies to oversee all of Egypt's media outlets, be it public or private. Heads of these bodies are appointed by the president, Article 32 dictates. The new law contradicts Article 72 of the Egyptian Constitution that indicates that "the State shall ensure the independence of all state-owned press institutions and media outlets, in a manner ensuring their neutrality and presentation of all political and intellectual opinions".
Journalist Malaka Badr stressed that Egypt can never reform its media without freedom of press to begin with. The Committee to Protect Journalists named Egypt the third country in the world with the highest number of jailed journalists in 2016. According to the Arabic Network for Human Rights Information (ANHRI), 58 Egyptian journalists are currently behind bars.
"It all goes down to how Egypt is governed. Right now, the government is going through an identity crisis; it can't decide if it's secular, Islamic, leftist, capitalist, or otherwise. Therefore, the laws, regulations, decrees and the bundle of inevitable red-tape that comes out of the very confused government, and parliament, often add up to the endless loop of struggles. All of this pours into the Egyptian media," believes urban journalist Leena ElDeeb.
Ahmed Gamal Ziada, a journalist who was imprisoned for 500 days, holds that a change of the regime altogether, to a democratic one, is the how media could get a makeover.
But given how a regime change is a far-fetched ambition at the moment, sports writer Fady Ashraf believes that if there's anything to be done, that would be presenting a good form of media for the people to choose what's best for them.
Badr calls for diversity. There should be a place for all kinds of different outlets that are not restricted to political issues, whether pro or anti government, but includes the local ones like Mantiqti – منطقتي, artistic, scientific, and other types of outlets, she said.
Mahmoud Mansi, founder of HR Revolution Magazine, said that more young media entrepreneurs are needed "same as the idea of underground art versus capitalism art," said Mansi.
Capitalist media is vividly agenda-driven. "I believe that to fix Egyptian media we must start with who owns the media outlets. Right now they are either state owned or owned by businessmen who are looking after their own interests and often interfere in the editorial content," said journalist and newscaster Shahira Amin.
To give one example, pro-state businessman Abu Hashima bought three mass-viewed TV channels: ONTV, CBC and Al Naha, and now also owns Al Youm Al Sabe', Ain, and Sawt Al Omma newspapers, as well as the Dot Masr online website. 
"The problems with media as organisations are endemic to and a function of their structure–whether state, public, or private. Interest, agenda, nepotism, lowest common denominator, hyperbole, deception, military-industrial alliances, market-driven imperatives, etc, all are problematic attributes- to varying degrees- of media in Egypt and elsewhere," said Adel Iskandar, Professor of Global Communication at Simon Fraser University.
In order for media to be independent, it must neither be owned by the state nor by the private sector, Amin asserted. However, this is harder said than done "because it is difficult to get funding to establish a truly independent media organization," she stated.
The prominent journalist also said that journalists must abide by a code of ethics. "So far we don't have a code of ethics to guide journalists and ensure they are held accountable for such crimes as hate speech, incitement, plagiarism, and more," she said.
Talk shows are tainted with personal targeting, libel, and public misguiding. One program presented clips from a video game as Russian raids. The presenter and his show continue to air until this very day.
Opinion writer Mohamed Tharwat calls for a monitoring mechanism from independent experts who have no affiliations. Chosen on an election basis and with certain standards, their job would be to watch the media, and whoever does not stick to professionalism is to get penalized. "If anyone presents some fake news, uses profanities, attacks or someone physically or verbally, they should be banned from the field," Tharwat said.  
On the other hand, Amin, who established the Union for Women Journalists, sheds light on much needed professional training. The aim of the union is to make sure that aspiring young journalists receive proper training and are aware of the ethics of their profession
The public also needs adequate education so that they refuse the nonprofessional media. Only then, there is no other option but to produce good media content, highlighted 31-year-old Ahmed Galal.

Iskandar gave his final thoughts saying, "Frankly, I don't think [media] can be 'fixed' per se. We can, however, shift the configurations of media conditions which would subsequently shift the problematic attributes. But if I were to prioritize a single problem above the rest it would be education: an ailing education system is a societal cataclysm which produces abominations in all quarters, spaces, and industries, with media being one of the most serious given the propagation of messages to mass audiences."
Some Egyptians demand to simply abolish current media outlets. "Nuke, and rebuild".
*the name has been changed for the safety of the journalist
---
Subscribe to our newsletter
---