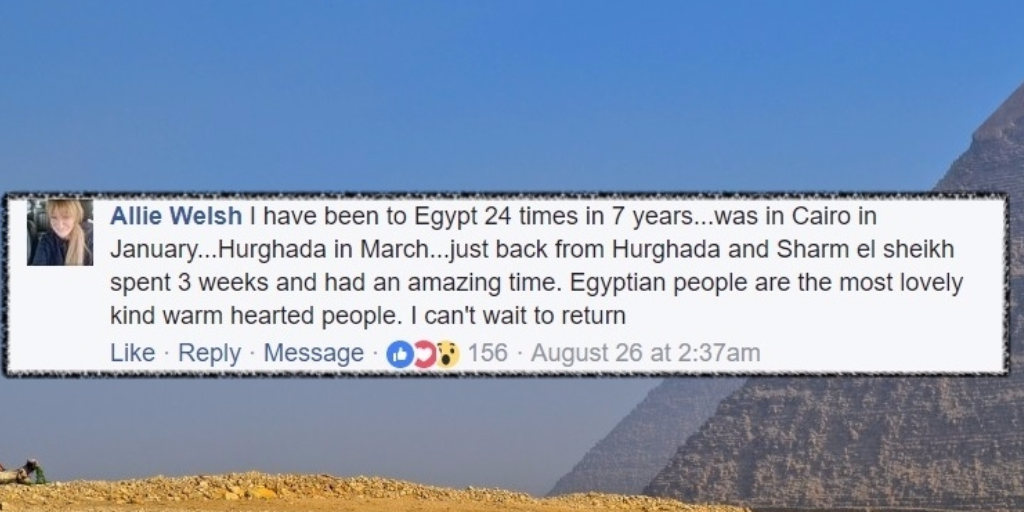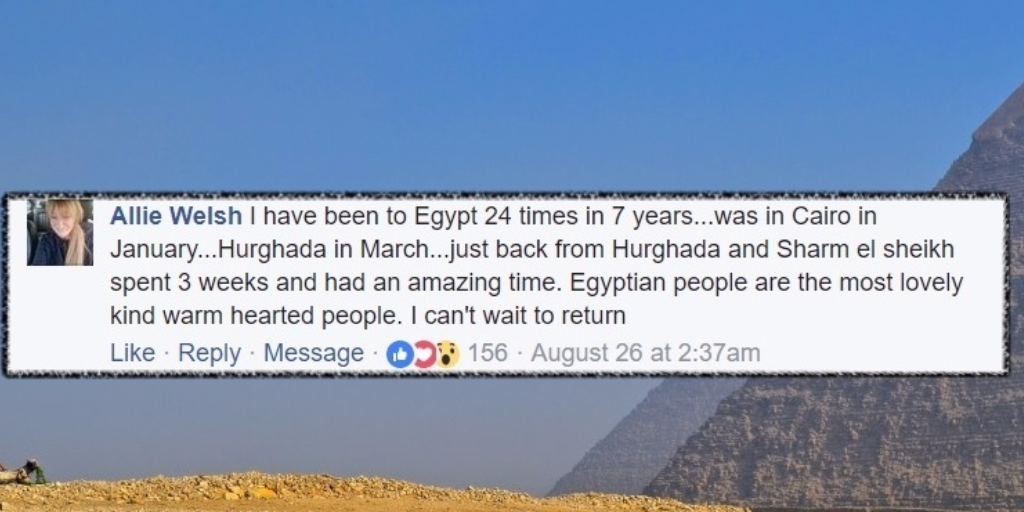 On August 26, Egyptian Streets posted an article on Facebook titled 'Egypt is 2017's Second Fastest Growing Tourist Destination'. Readers of the post – which was viewed by more than 100,000 people -who visited Egypt as tourists were invited to share their experiences of Egypt in the comments section.
Hundreds of people responded, both on the post and through shares, with their thoughts on Egypt.  The responses included people from all parts of the world. While there were some negative comments, the majority of readers shared positive comments.
Below are just some of these comments, both positive and negative. Though this is certainly not a scientific study, these comments provide a glimmer of hope for Egypt's recovering tourism industry.
Some people visited Egypt more times than the age of some of our writers


"I have been to Egypt 24 times in 7 years…was in Cairo in January…Hurghada in March…just back from Hurghada and Sharm el sheikh spent 3 weeks and had an amazing time. Egyptian people are the most lovely kind warm hearted people. I can't wait to return," wrote Allie Welsh on what became the most liked and reacted to comment on the post.
For some, Cairo is their home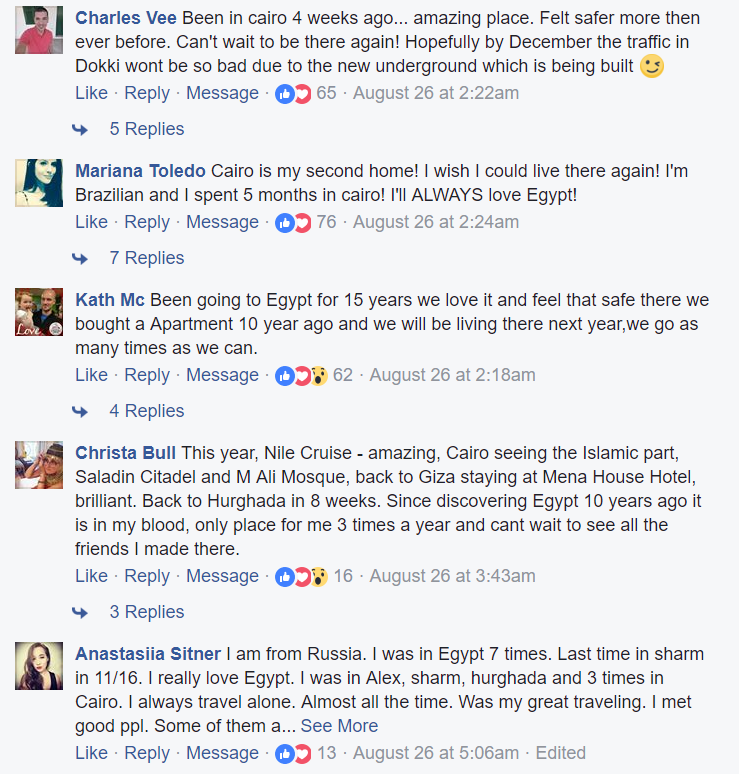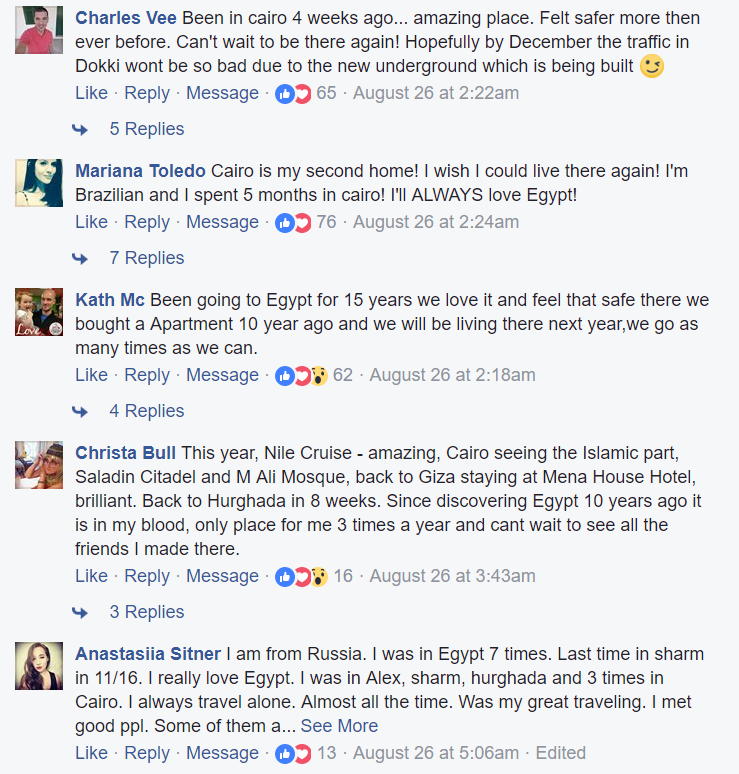 "Cairo is my second home! I wish I could live there again! I'm Brazilian and I spent 5 months in cairo! I'll ALWAYS love Egypt!" wrote Mariana Toledo in response.
Comments included women sharing their experiences of travelling alone in Egypt


Not all posts were positive, but that didn't stop them from wanting to come back
"It's a pleasure coming back to Egypt almost every summer but it definitely isn't as it used to be, safety wise. Or maybe I'm just nostalgic for the way things were when I was growing up there," wrote Una Pasic Gregovic in what seemed to be a longing for old times.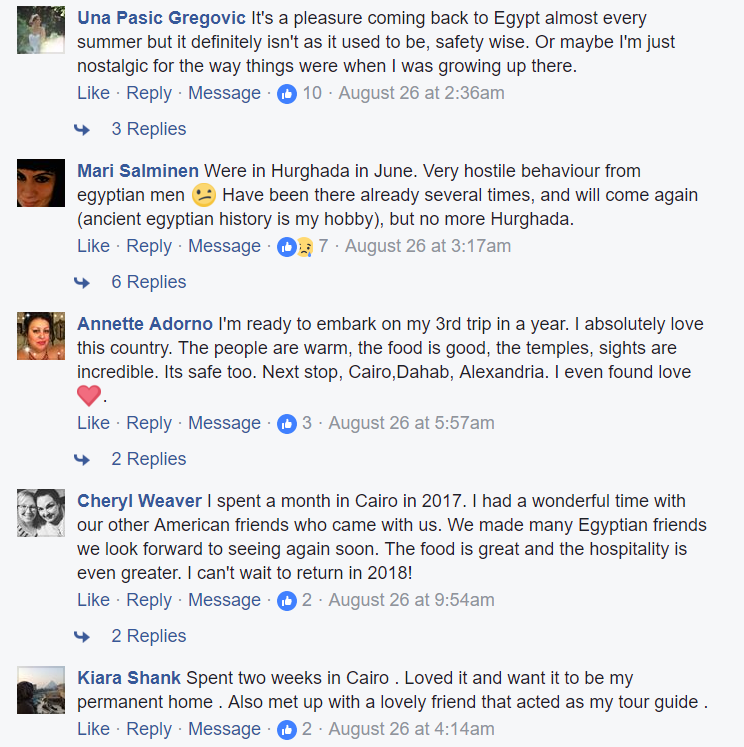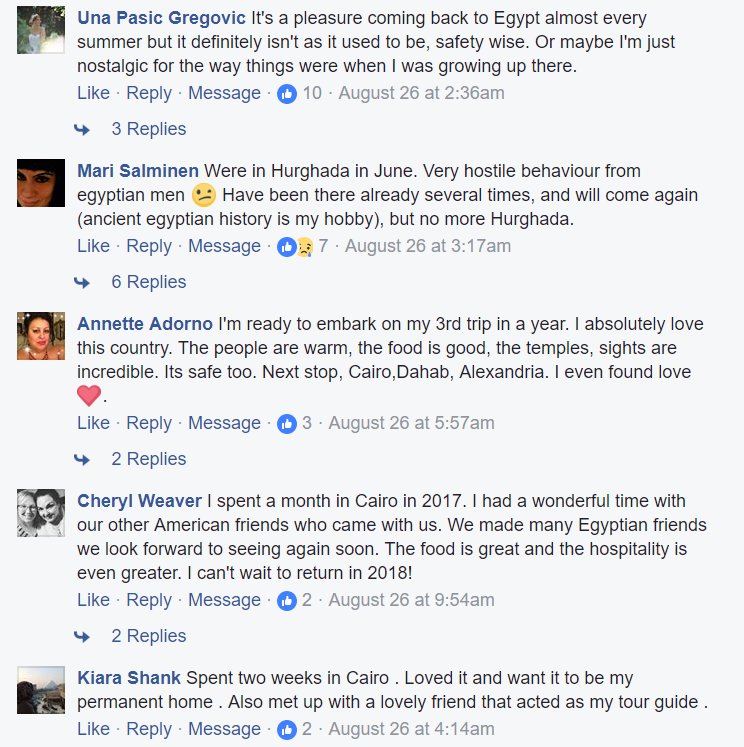 "My heart is divided between my country Costa Rica and Egypt"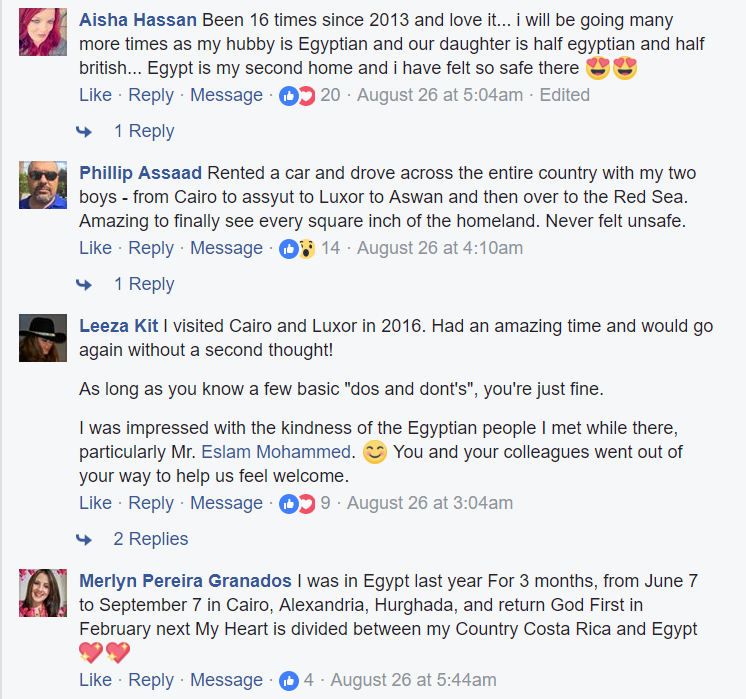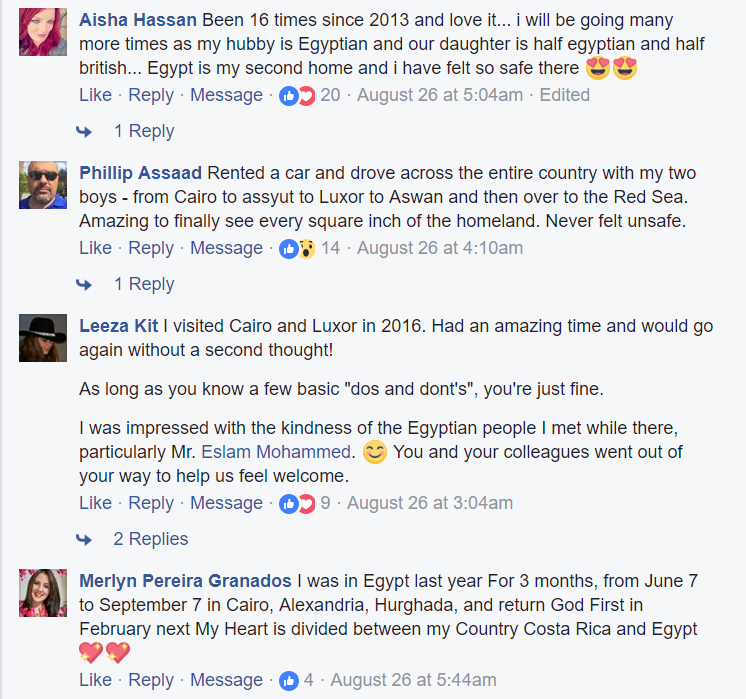 Many people stressed that they felt both welcomed and safe in Egypt
"I stayed in sunwing makadi bay with my family in July! We had the best time and felt very safe. 4th time for us in Egypt and love every time we come," wrote Beckey Wright.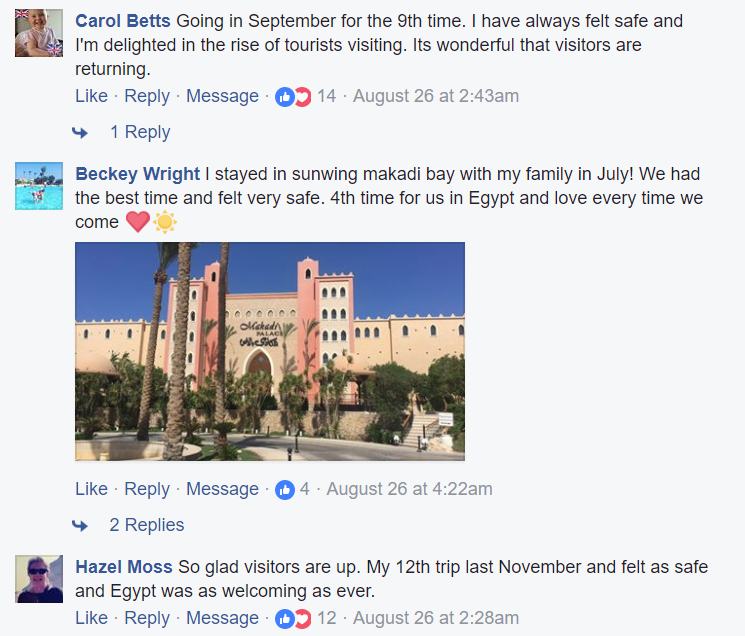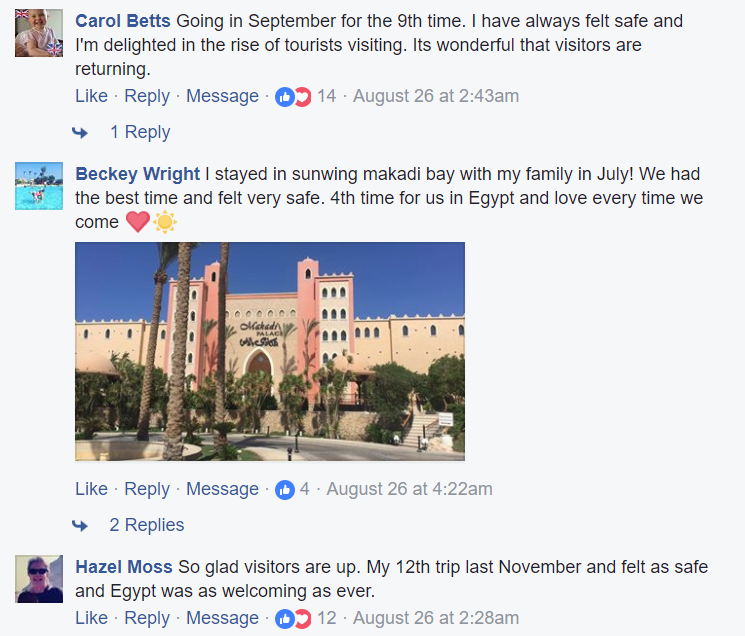 Photos from some visitors' travels certainly led to some serious envy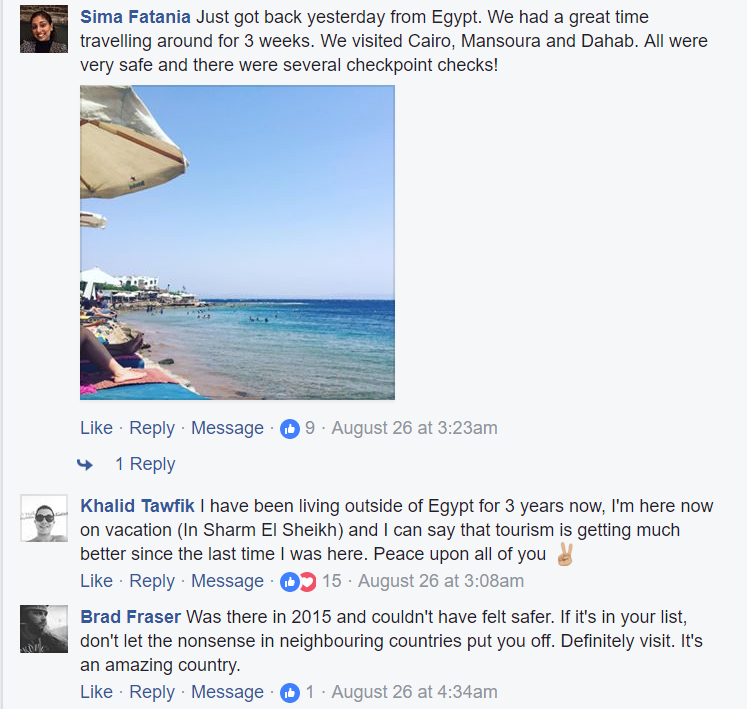 People across the world have found themselves connected to Egypt for many different reasons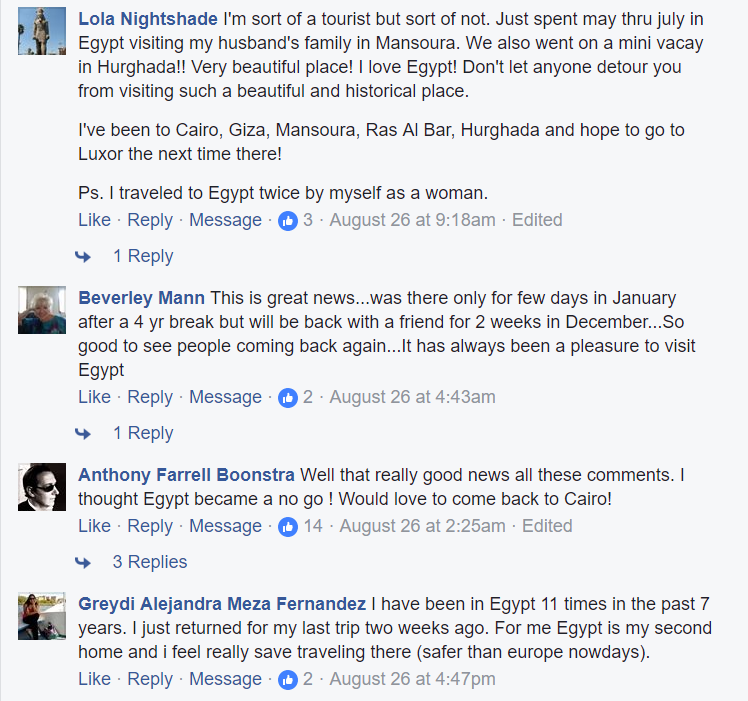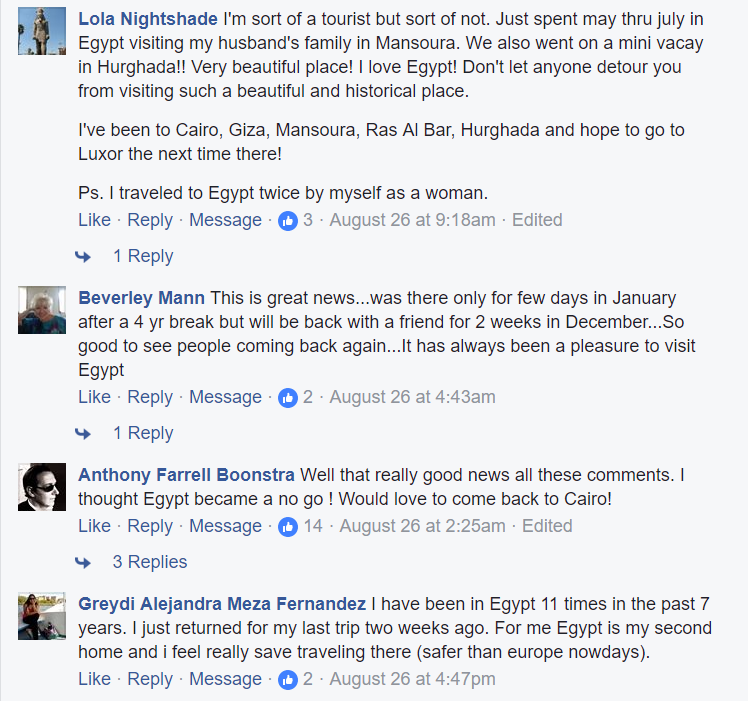 ---
Subscribe to our newsletter
---