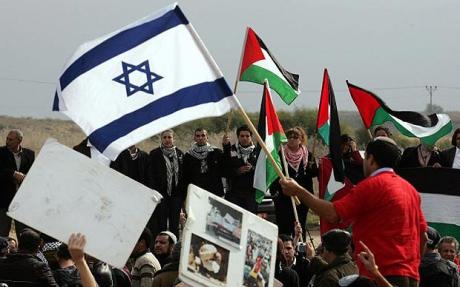 The Israeli Embassy in Egypt responded to the outrage that erupted over the removal of the Palestinian flag from an educational book and including the Israeli flag instead.
The social studies book, though not a school book, is an educational one for students in grade eight.
After Egypt's Ministry of Education had decided to investigate into the removal of the Palestinian flag, the Israeli embassy said in a statement that it regrets to witness this controversy after 40 years from the visit of Egypt's president al-Sadat to Jerusalem.
The embassy's statement adds that al-Sadat's visit was an official acknowledgment by Egypt with the State of Israel.
On Wednesday, Egypt's Ministry of Education issued a statement as well in response to the controversy that occurred over replacing the Palestinian flag with the Israeli one.
It said a technical committee studied the claims and it turned out that the copies weren't validated by the ministry. The book titled "Our Arab World: Geography and Islamic civilisation" included topics pertaining to the Arab world but also had multiple mistakes.
An official in the ministry concluded by saying that all legal actions will be taken against the publishing house.
---
Subscribe to our newsletter
---