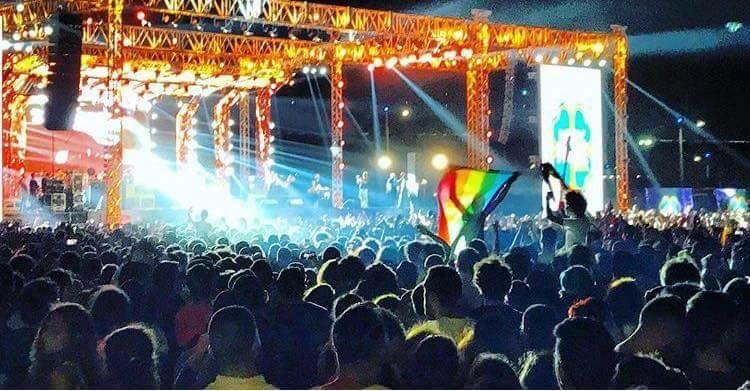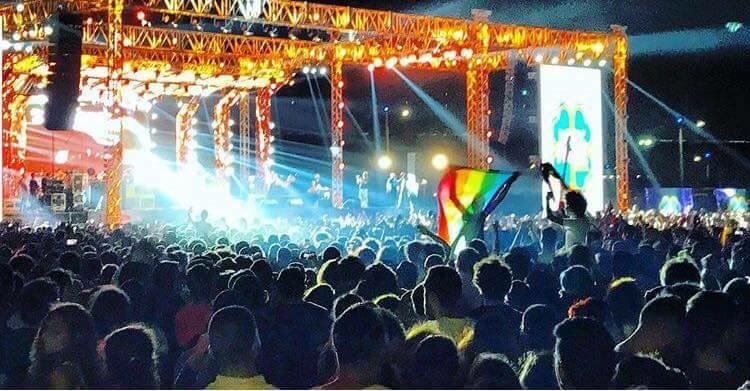 Egyptian authorities have arrested up to 57 people, including 22 in the past three days, in a campaign against homosexuals after rainbow flags were raised at a concert, rights groups say.
The flags were raised during a concert of the Lebanese alternative rock band Mashrou' Leila in support of the LGBT community.
Those detained on suspicion of homosexuality will be subject to anal examinations, a move decried by rights groups. Five anal examinations have already taken place, according to Amnesty International.
On 29 September, Egypt voted in the United Nations (UN) security council against a resolution condemning death penalty for those found guilty of committing same-sex sexual acts.
While homosexuality is not explicitly prohibited by the terms of Egyptian law, the arrested were detained on charges of inciting debauchery, sexual deviancy and violating public morals.
Lawyer Doaa Mostafa who attended the interrogations with a detained girl said that the hardest thing wasn't the irrelevant questions. However, it was when the girl knew that she was going back to a prison cell where she is allegedly sexually assaulted by other prisoners.
Association for Freedom of Thought and Expression Lawyer Ahmed Othman added that the interrogations continued for more than 10 hours. He said that the defendants were asked about their religious and political views. Additionally, passwords to their social media accounts were taken and their messages were examined.
Before his arrest, Ahmed Alaa who is currently detained for 15 days pending investigations, said that he supports homosexuals' rights, but he is not a homosexual himself.
The flags were raised during the concert of Mashrou' Leila as its vocalist Hamed Sinno is openly gay and stands for the rights of homosexuals.
The Syndicate of Musical Professions banned Mashrou' Leila from performing in Egypt.
The Supreme Council for Media Regulation (SCMR) as well released an order to ban all forms of support towards the LGBT community on Media outlets.
In Egypt, where the vast majority of its population are Muslims along with a Christian minority, the conservative society views homosexuality as a sin and an immoral act.
---
Subscribe to our newsletter
---