A large, mysterious gap was discovered in the Great Pyramid of Giza by scientists using state-of-the-art scanning technology, according to a study published on Tuesday.
The void is presumed to be at least 100 feet long, and was found above the Grand Gallery of the Great Pyramid, or Khufu Pyramid, which dates back around 4,500 years. This discovery is the first to identify a previously unknown major structure within the pyramid since the 1800s, and has resulted in debate and speculation worldwide.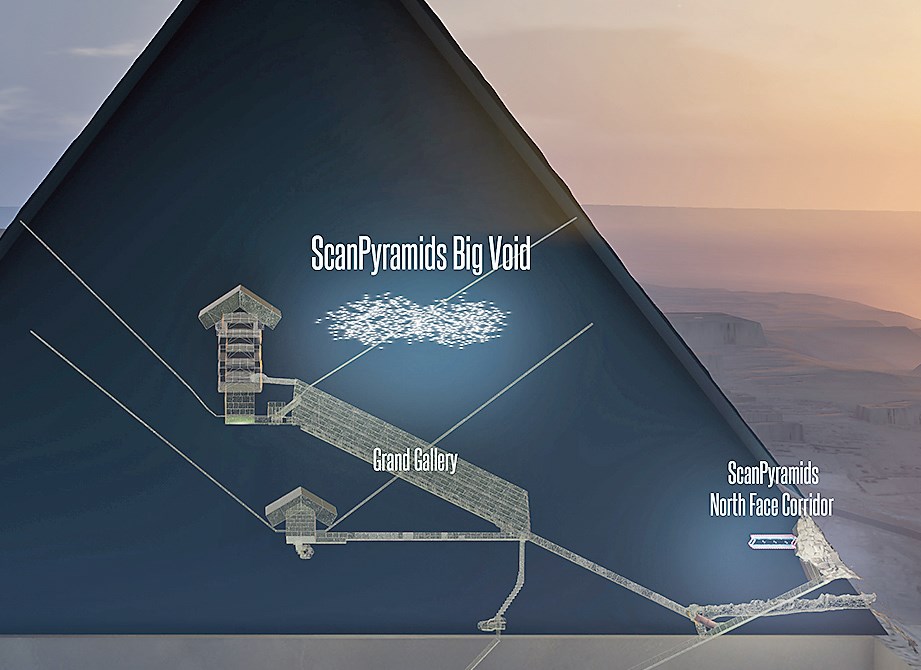 "There are still many architectural hypotheses to consider; in particular, the big void could be made of one or several adjacent structures, and it could be inclined or horizontal," read the study published in Nature. "The detailed structure of the void should be further studied."
The Khufu Pyramid, also known as the Pyramid of Cheops, was built to be the burial grounds for Pharaoh Khufu in the fourth dynasty, reigning from 2509 to 2483 BC.
Discovery
The findings are a result of research by the ScanPyramids project, a global mission launched in 2015 that functions under Egypt's Ministry of Antiquities authority. The initiative aimed to examine Giza's largest pyramid using non-invasive methods.

ScanPyramids'  mission used a type of imaging technology that traces the path of muons, particles that "shower Earth all the time, flung off when cosmic rays—high-energy particles racing through our galaxy—collide with Earth's upper atmosphere," according to National Geographic.

Although they have detected anomalies, including voids, in the pyramid before, the confirmation of what is being dubbed the ScanPyramids Big Void marks the biggest discovery of its kind using muon radiography.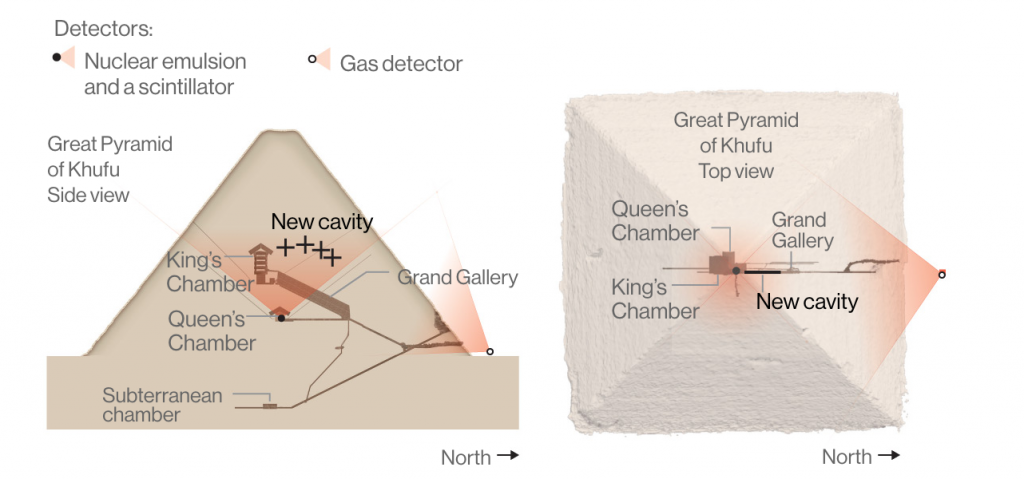 Criticism
When it comes to the Great Pyramids of Giza, controversy and mystery always find a way to shroud new discoveries. Several Egyptologists have spoken out with an obvious air of skepticism following the discovery.
Famed Egyptologist Zahi Hawass stated to the Associated Press (AP) that the discovery is not actually new at all, but rather a concept that scientists have known about for years.
"In order to construct the Grand Gallery, you had to have a hollow, or a big void in order to access it — you cannot build it without such a space," said Hawass to the AP. "Large voids exist between the stones and may have been left as construction gaps."
"The Great Pyramid is full of voids. We have to be careful how results are presented to the public," he added.
Nonetheless, scientists believe that this find, whether or not it is the "breakthrough" the scientific community believes it is, clearly highlights the potential value that modern particle physics may hold for the future of archaeological discovery.