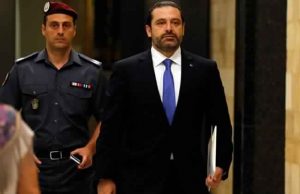 Lebanon's Prime Minister Saad Hariri announced his resignation from the premiership while on a visit to Saudi Arabia on Saturday, citing fears over a plot to assassinate him, the Daily Star reports.
In a televised address, Hariri also launched fierce criticism against Iran, saying it is contributing to the region's instability.
"I have sensed what is being plotted covertly to target my life," he said, adding that "the evil that Iran spreads in the region will backfire on it."
He said that the atmosphere in Lebanon is the same as during the time of the murder of his father, Rafik Hariri in 2005.
Hariri was appointed Prime Minister in 2016 and has since lead a 30-member national unity cabinet that had included militant organization Hezbollah. Lebanon had largely been spared from the violence going on in Syria, its neighbor.
During his speech, he also fiercly critiziced Hezbollah, saying the group's policies have put Lebanon "in the eye of the storm".
"Hezbollah was able in past decades to impose a status quo in Lebanon through its weapons directed at the chests of Syrians and Lebanese," he said.
Hariri and his political allies are close to Saudi Arabia, while Hezbollah is an ally of Iran.
He stressed that Iran is "losing in its interference in the affairs of the Arab world", while adding that Lebanon would "rise as it had done in the past" and "cut off the hands that wickedly extend into it".
It is expected that Hariri's resignation will raise political tensions in the country.
---
Subscribe to our newsletter
---