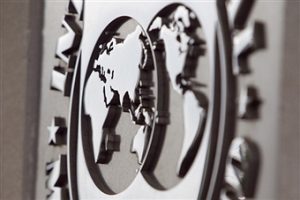 The International Monetary Fund (IMF) said on Friday that after its second review of Egypt's progress on its economic reforms it has agreed to a disbursement of a $2 billion loan, part of the $12bn loan package negotiated with Cairo last year.
Although the agreement has to be approved by the IMF's executive board before the latest tranche is transferred, a delegation who recently visited Egypt said in a statement that the deal "reaffirms the [Egyptian] authorities' commitment to their reform program supported by the IMF".
The statement went on to say that "Egypt's economy continues to perform strongly, and reforms that have already been implemented are beginning to pay off in terms of macroeconomic stabilization and the return of confidence."
Reiterating its stance on the state of Egypt's economy, the IMF mission said that despite short-term hardships, Egyptians' living standards will improve in the long run.
"While the reform process has required sacrifices in the short term, seizing the current moment of opportunity to transform Egypt into a dynamic, modern, and fast-growing economy will improve the living standards and increase prosperity for all Egyptians."
In exchange for issuing the $12bn loan program Egypt devalued its currency in November last year and cut down on state subsidies. Following the currency devaluation, the value of the Egyptian pound halved against the greenback and inflation skyrocketed with some products witnessing price rises of over 50 percent.
With the latest tranche, the IMF will have issued a total of $6bn in disbursements to Egypt.
The Egyptian economy has been in a state of crisis since the 2011 uprising that removed former president Hosni Mubarak.
Although progress is being made, according to the IMF's first review of Egypt's reform program in September, the country's economic performance remains at risk due to potential political instability and security threats.
---
Subscribe to our newsletter
---