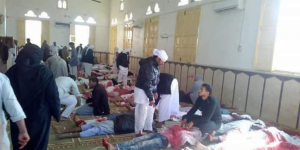 Egyptian officials said on Saturday that the death toll of Friday's attack on a mosque in North Sinai has risen to 309, among whom are 27 children.
Meanwhile, Egypt's public prosecutor said that the militants were carrying an Islamic State flag wilst carrying out the attack.
"They numbered between 25 and 30, carrying the Daesh flag and took up positions in front of the mosque door and its 12 windows with automatic rifles," the prosecutor said in a statement.
Initial reports indicated the attack involved at least one suicide bombing and heavy gunfire.
The attack is the deadliest terrorist attack in Egypt's modern history.
Egypt has called for an international response to terrorism in recent years, with Egypt's President Abdel Fattah Al-Sisi using Egypt's position in the region to rally the international community. Along with calling for a unified response, President Sisi has called for the reform of religious discourse to tackle religious extremism and terrorism.
---
Subscribe to our newsletter
---