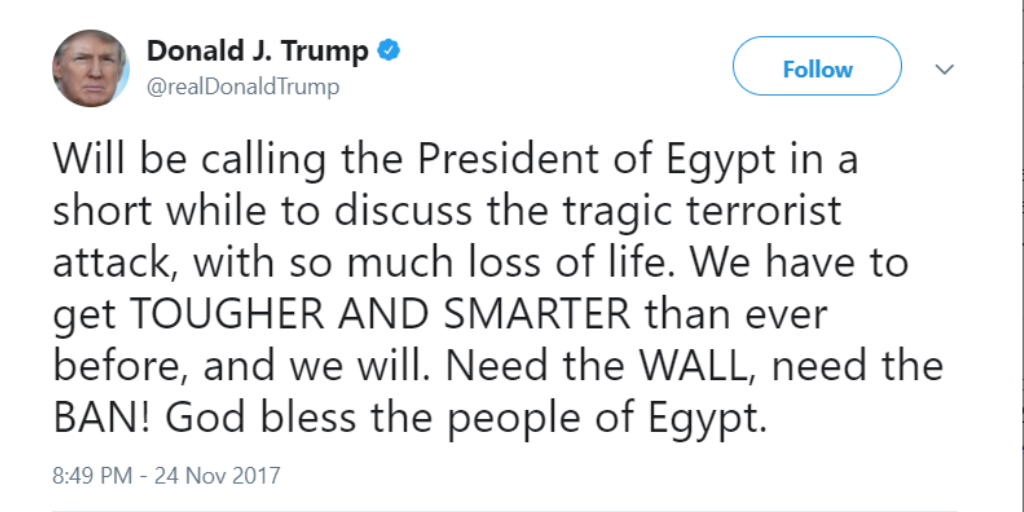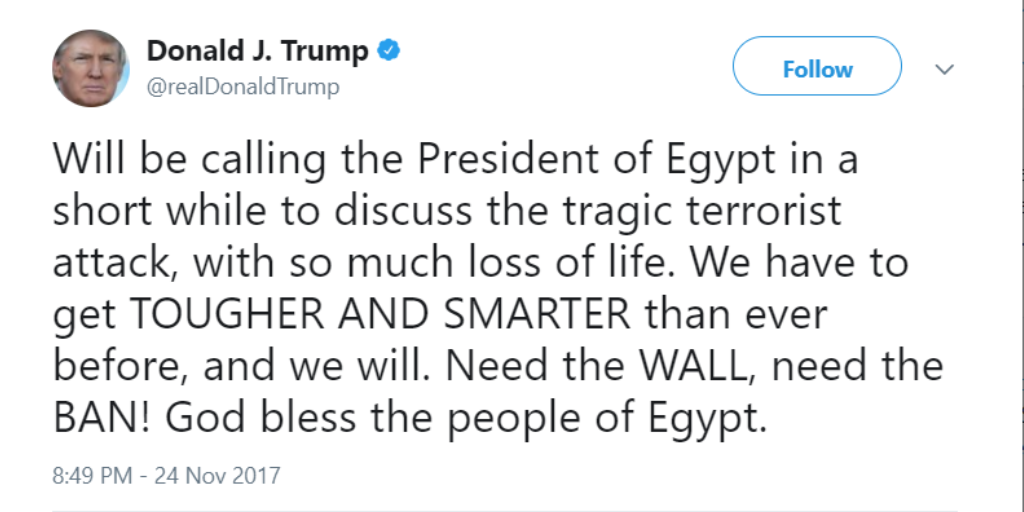 Hours after Egypt witnessed the killing of more than 305 people by terrorists in an attack on a mosque, US President Donald J. Trump offered his condolences while also promoting his ban on Muslims and a wall with Mexico.
In his first tweet on the incident, which saw terrorists open fire on Al-Rawda mosque in Egypt's North Sinai, Trump strongly condemned the 'cowardly terrorist attack'.
'Horrible and cowardly terrorist attack on innocent and defenseless worshipers in Egypt. The world cannot tolerate terrorism, we must defeat them militarily and discredit the extremist ideology that forms the basis of their existence!' tweeted Trump to his 43.3 million followers.
Hours later, Trump announced he would be calling Egypt's President Abdel Fattah Al-Sisi to discuss the terrorist attack.
'Will be calling the President of Egypt in a short while to discuss the tragic terrorist attack, with so much loss of life,' said Trump in the first half of his tweet.
'We have to get TOUGHER AND SMARTER than ever before, and we will. Need the WALL, need the BAN! God bless the people of Egypt.'
The tweet left many Egyptians and non-Egyptians confused, with many accusing Trump of using the attack in Egypt to spread his own agenda.
Business Insider wrote that there is no clear connection between the travel ban and the wall with Mexico, which is intended to prevent Mexicans from illegally entering the United States, and the attack in Egypt.
While the United States has targeted a number of Muslim-majority countries for the ban on immigration, none of the bans have included Egypt.
In his call with Egypt's President Sisi, the White House said Trump reiterated that the United States would continue to stand with Egypt in the face of terrorism.
'The international community cannot tolerate barbaric terrorist groups and must strengthen its efforts to defeat terrorism and extremism in all its forms,' said the White House following the call.
The attack in Egypt was the deadliest terrorist attack in the country's modern history.
---
Subscribe to our newsletter
---