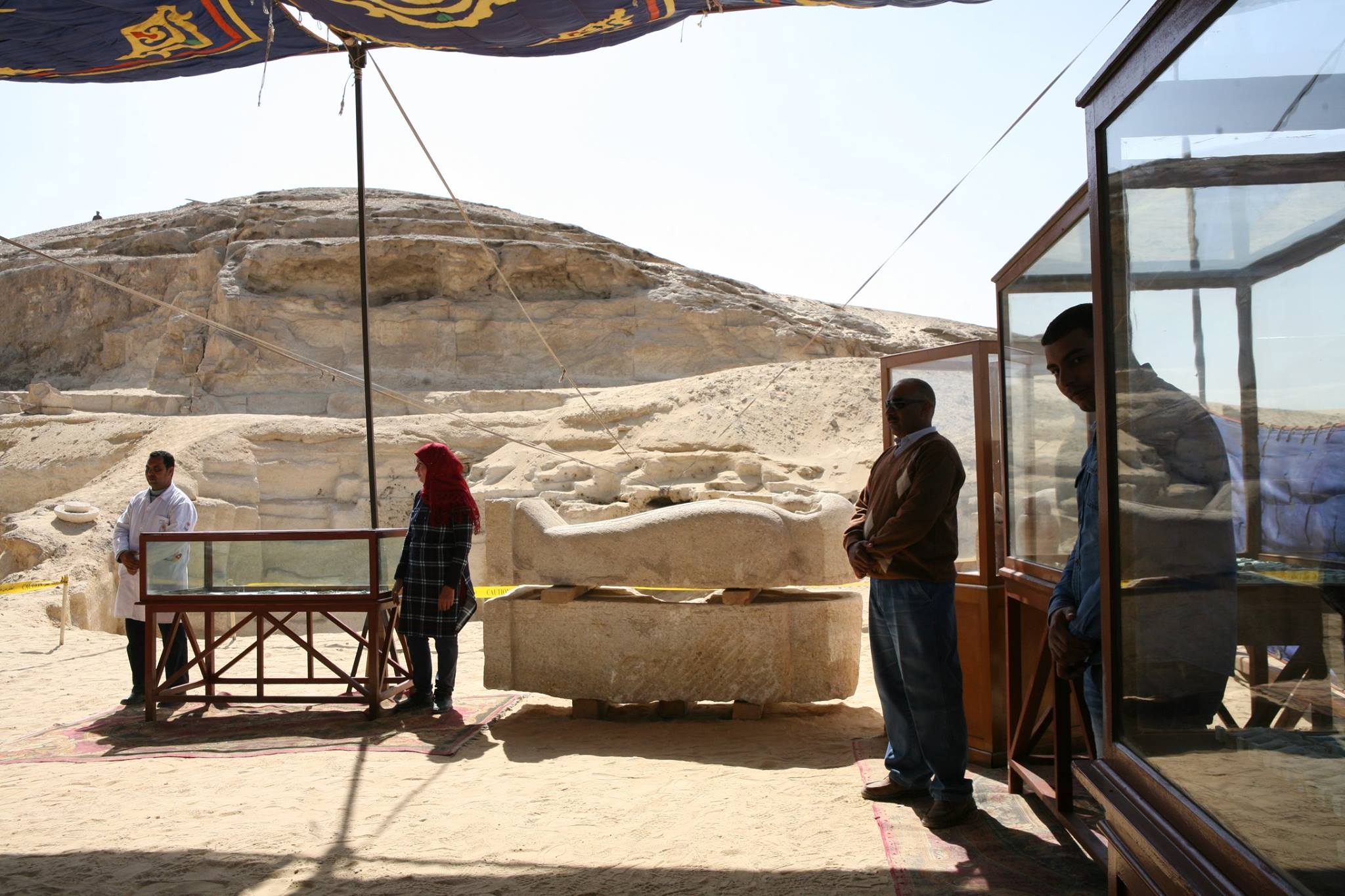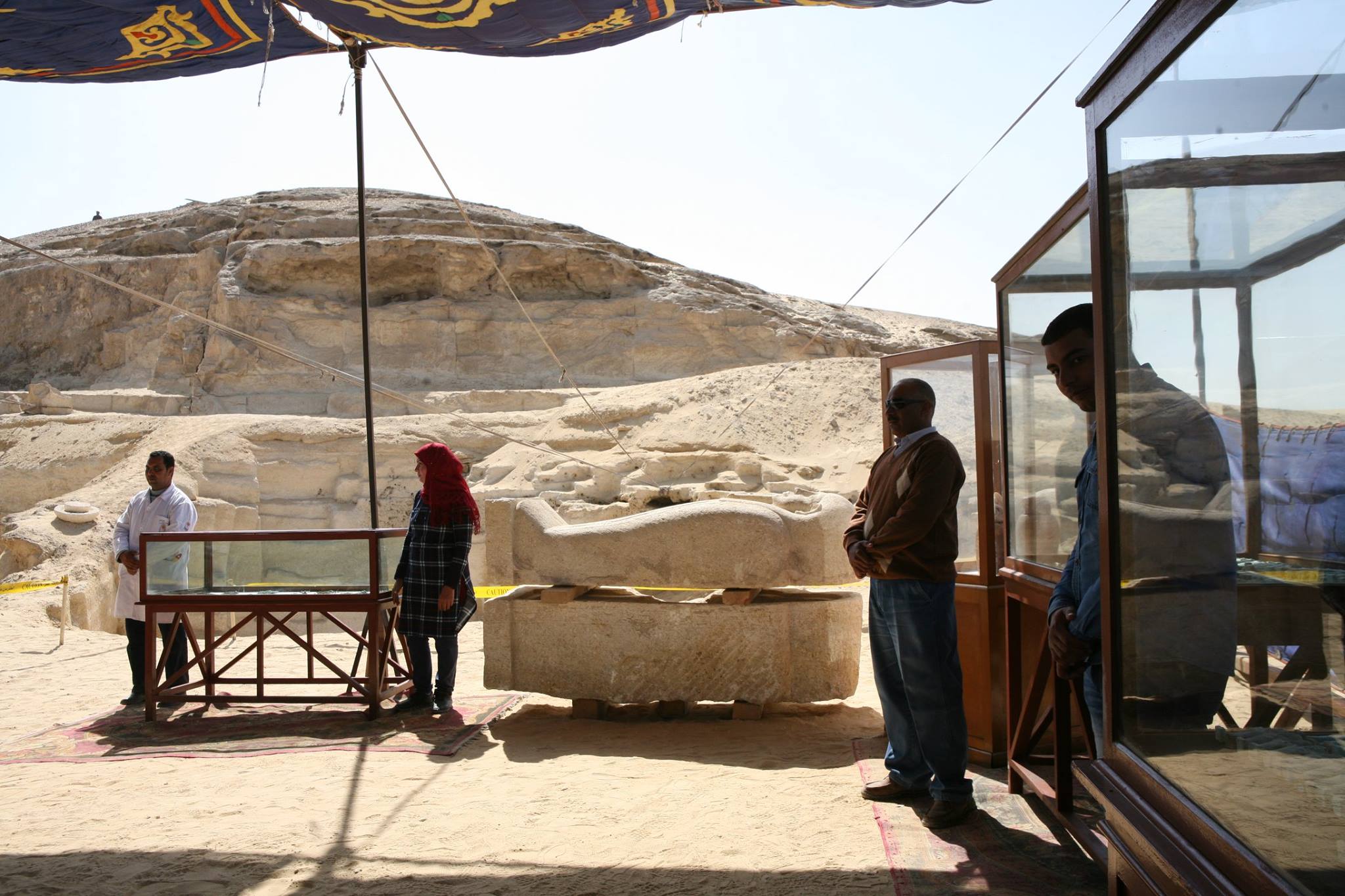 An Egyptian mission led by Secretary General of the Supreme Council of Antiquities (SCA) Mostafa Waziri discovered on Saturday a 26th Dynasty cemetery in Minya governorate.
Located six kilometers away from Tuna al-Gabal archeological site, the cemetery unveiled eight tombs, 40 coffins and 1000 statues among pottery and jewelry items, according to Ministry of Antiquities Facebook page.
"Waziri said that in the last three months the mission has discovered a group of tombs and burials that belong to priests of the ancient Egyptian god Thoth, the main deity of the 15th nome and its capital Al-Ashmounein," according to Ahram Online.
"Four canopic jars made of alabaster with lids bearing the faces of the four sons of god Horus were also unearthed. They are in a very good conservation condition and still contain the mummified inner organs of the deceased. The Jars are decorated with hieroglyphic texts showing the name and different titles of its owner, High-Priest "Djehuty-Irdy-Es," which his mummy was also found," according to a statement by the ministry.
"The mummy is decorated with a bronze collar depicting god Nut stretching her wings to protect the deceased according to the ancient Egyptian belief. It is also decorated with a collection of blue and red precious beads as well as bronze gilded sheets, two eyes carved in bronze and ornamented with ivory and crystal beads. Four amulets of semi-precious stones were also found on the mummy. It is decorated with hieroglyphic texts, one of which is engraved with a phrase saying: 'Happy New Year.' The mission has also unearthed 40 limestone sarcophagi of different shapes and sizes. Some of them with anthropoid lids decorated with the names and different titles of its owners," added the statement.
Excavation work is planned to last for five years in order to discover more treasures from this archeological site, Antiquities Minister Khaled el-Enany told Ahram Online, adding that there are more to be discovered.
The statement further added that al-Garifa site was subjected to illegal excavation attempt in 2002 which led the SCA at that time to "start comprehensive excavation work on site in 2002 and 2004 under the supervision of archaeologist Atta Makram and in 2004".
The site was declared an archaeological site under the auspices of the SCA. In 2017, excavation work resumed
Minya is one of the governorates in Upper Egypt and it is located on the left bank of the Nile. There are three main archeological attractions in Tell el-Amarna, Beni Hassan, Tuna El Gabal among others are the major archeological sites in the city.
Several other discoveries have been celebrated in the past couple of months. At least 17 mummies have been discovered during excavation work in the Upper Egyptian city of El-Minya. a 4,400-year-old tomb has been unearthed near the pyramids of Giza and, earlier in February, Egyptian archeologists discovered an old kingdom tomb of 5th Dynasty top official, Hetpet, as part of an Egyptian archaeological mission.
A major museum is under construction near the great pyramids of Giza; the museum will be home to a large number of ancient Egyptian artifacts.
Egypt is aiming to re-stabilize the tourism sector in the country which is the main source of foreign currency income. The Ministry of Tourism launched a promotional video in the year 2016 as part of #ThisIsEgypt campaign aiming at boosting tourism and bringing back tourists to the country.
"The ministry had signed a three-year contract with advertising agency J. Walter Thompson worth USD 66 million to promote tourism worldwide and improve Egypt's image in 27 tourism markets," Egyptian Streets reported.
In 2017, the United Nations World Tourism Organization (UNWTO) said that Egypt has risen up the ranks to be one of the world's fastest-growing destinations for international tourists in 2017.
---
Subscribe to our newsletter
---