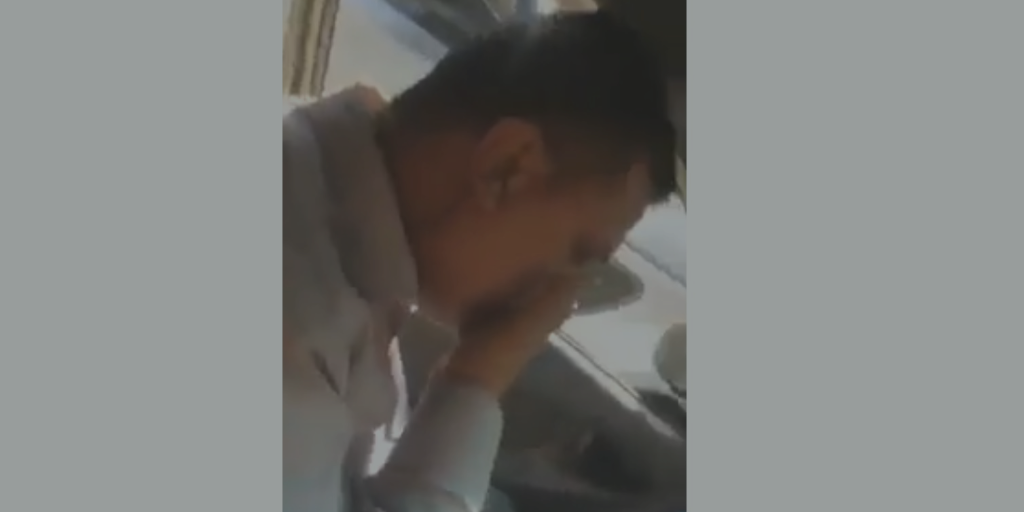 A video of a woman beating a taxi driver after he allegedly placed his hand on her leg and sexually harassed her has gone viral in Egypt on social media.
The footage showed the woman slapping the taxi driver on his face, forcing him to give her the keys to the taxi so he cannot escape. The taxi driver said that "he didn't mean to" and then denied placing his hand on her leg altogether when confronted by other members of the public.
In the video, the woman insists the taxi driver goes with her to a police station so that she can file a report against him. However, a police car shortly passes by and the woman explains the situation to them.
After insisting the taxi driver goes to the police station with the  to file a report against the driver,
"Are women cheap?" the women repeated throughout the video in response to the man's defense.
It is unclear from the footage whether the policemen took any action against the accused.
Despite many people on social media hailing the woman as brave, other appeared to 'victim-blame' by questioning why the woman would sit in the front seat instead of the back seat. Others claimed it was the woman's word against the man and that there was no proof that any harassment had occurred.
Sexual harassment has been one of Egypt's most common and acute societal problems in recent years. In a recent survey conducted by UN women and Promundo, a Brazilian organization campaigning for gender equality, it was revealed that about 43 percent of men in Egypt believe that women like the attention and they admire being sexually harassed.
The Law
By the terms of Egyptian law, sexual harassment is considered a crime. Sexual harassment is not only limited to touching, but verbal harassment, electronic and several other violations are classified as harassment and punishable by the terms of the law as well.
Article 306 of the penal code defines verbal sexual harassment as occurring through stalking, using gestures or words or through modern means of communication (i.e. internet, mobile and more) or in any other means through actions that carry sexual or pornographic hints. Anyone guilty of verbal sexual harassment in a private or public place be sentenced to a minimum of six months in prison and fined no less than EGP 3,000
Meanwhile, repeat offenders face a punishment of a minimum of one year in jail and a fine of at least EGP 5,000. Those who repeat the act once more will face double the fine and jail sentence.
For physical harassment and 'unwanted sexual contact', the punishment is more severe. Anyone found guilty of unwanted sexual contact will be punished with a minimum of one year in prison and a fine between EGP 10,000 and EGP 20,000.
Most of the laws surrounding sexual harassment were introduced or amended in recent years amid rising concerns around sexual harassment and women's rights in Egypt after the 2011 revolution
---
Subscribe to our newsletter
---