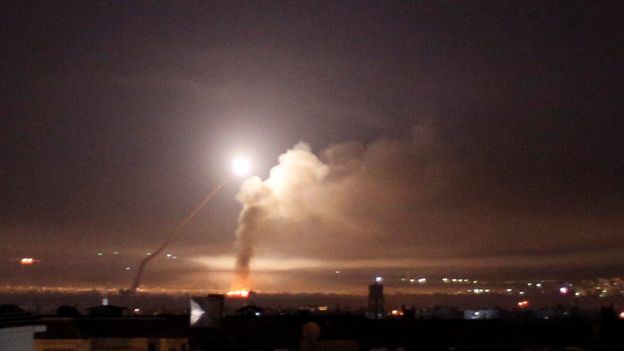 Israel's military has said that its positions in the Golan Heights were fired at with Iranian rockets, prompting it to respond by striking, according to the BBC, "almost all of Iran's military infrastructure in Syria."
If confirmed, the attack will be the first time that Iran has fired rockets in a direct strike on Israeli forces, greatly escalating a conflict that has for years been fought through proxies.
Lt Col Jonathan Conricus, a spokesman for the Israeli Defence Forces, told reporters that several of the Iranian rockets were intercepted by the Israeli forces. "At approximately 12.10, 10 minutes past midnight, forces belonging to the Iranian Quds Force fired approximately 20 projectiles – most of them are probably rockets but that is yet to be determined – towards the forward line of IDF positions in the Golan Heights," he stated, adding that they are not, so far, aware of any Israeli Defence Force casualties. A preliminary assessment, he said, has also found there to be minimal damage.
The IDF's Arabic-language Twitter account stated early this morning that its military was "moving" against Iranian targets in Syria, warning Damascus not to intervene. Damascene residents posted videos online of what appeared to be air defence missiles, and reporting sounds that rocked their buildings. The Syrian state media said that its anti-aircraft batteries were responding to a "new wave of Israeli missiles and is dropping them one by one." It also stated that missiles had struck radar, air defence positions, and ammunitions warehouses, while Israeli explosives had also hit southern Syria's Quneitra province, which sits next to the Golan Heights. No casualties have been reported.
Israel has accused the general in charge of the Iranian Revolutionary Guards Corps' external operations branch, Qassem Soleimani, of orchestrating the attack, which had been anticipated by the Israeli military after it was reported to have recently carried out several strikes on Iranian facilities in Syria. An attack on an airbase in April killed seven Iranians; Iran stated its intention for revenge.
Donald Trump's decision to pull out of the 2015 nuclear agreement with Iran, while welcomed by Israel, has provoked fears of an escalation of tensions in the region. Shortly before Trump was due to speak on Tuesday, the IDF said that it had identified "irregular activity of Iranian forces in Syria", stating that its troops were on "high alert for an attack" and "warn[ed] that any aggression against Israel w[ould] be met with a severe response." Just after Trump's announcement, the Syrian state media said that its air defences had brought down two Israeli missiles, while the Syrian Observatory monitoring group, which is tracking the conflict, said that 15 people, including eight Iranians, were killed in the attack.
The Syrian Observatory group also confirmed that "dozens of rockets" were fired from Quneitra province and the south-western Damascus countryside towards the occupied Golan, but did not identify who was responsible. It did, however, state that the attack came after Israeli forces bombarded Baath, a Syrian-controlled town in the Golan demilitarised zone.
Though Iranian troops have been sent to aid the Syrian government in its civil war, Israel has vowed that it will not allow Iran to establish a military presence in the country, accusing it of moving drones and missiles into Israel. Iran has repeatedly called for an end to the Jewish state.
Israel occupied most of the Syrian Golan Heights during the 1967 Middle East war, later annexing it in a move that was not internationally recognised.
---
Subscribe to our newsletter
---