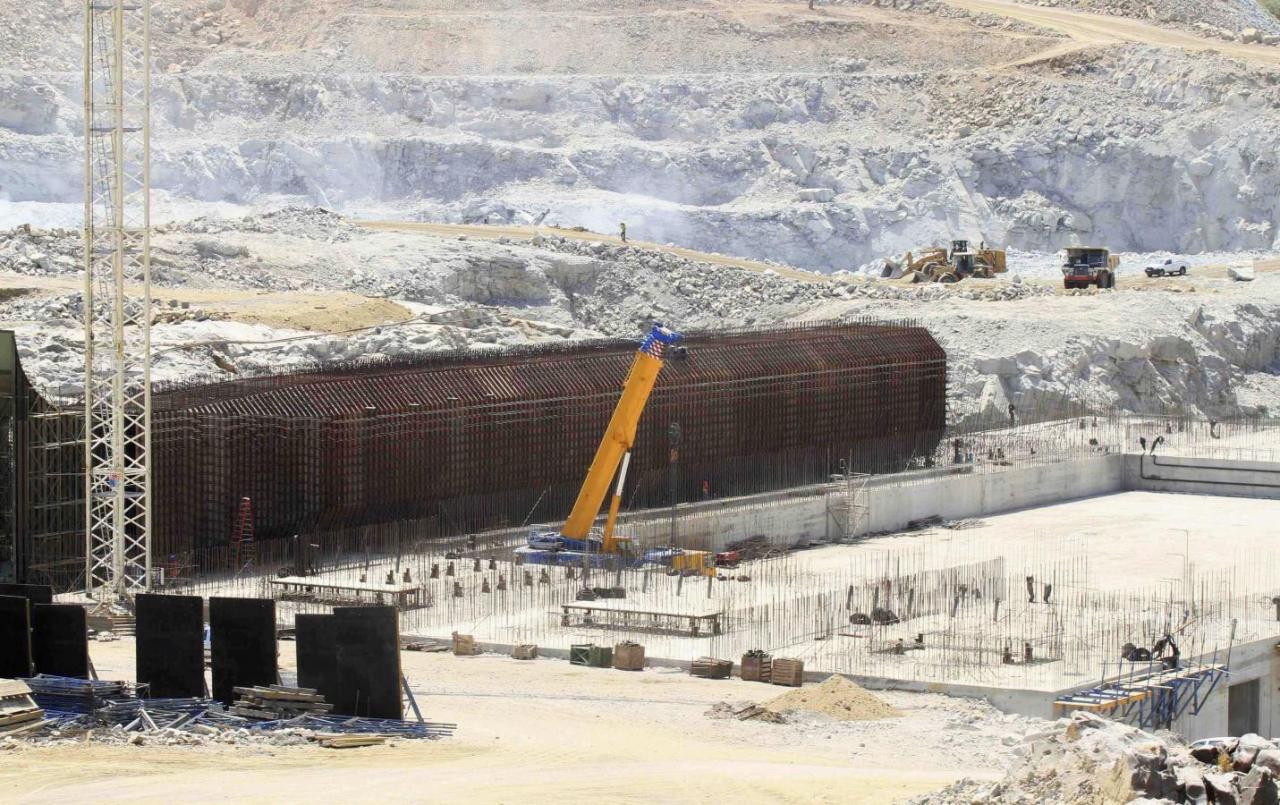 Ahmed Abu Zeid, spokesperson for the Ministry of Foreign Affairs, has announced the success of the mediation meeting regarding the Grand Ethiopian Renaissance Dam, with President Abdel Fatah al-Sisi hailing the "breakthrough."
Abu Zeid tweeted that the "mediation meeting regarding the Renaissance Dam ended successfully in Addis Ababa. Waiting for the ministers' signatures on the meeting's output document." Al-Youm7 later published the document bearing the ministers' signatures.
It has been agreed that regular tripartite meetings will be conducted between the three countries' ministers, and a tripartite fund will be established, named the "Tripartite Infrastructure Fund," the details for which will be discussed at a high officials' meeting in Cairo in July. In addition, Egypt, Sudan, and Ethiopia will jointly establish the "National Independent Scientific Research Study Group," which aims to "discuss means of enhancing the levels of understanding and cooperation among the three countries with regard to the GERD." Primarily, this will address the "equitable and reasonable utilization of shared water resources while taking all appropriate measures to prevent the causing of significant harm." 15 countries will make up the study group, with meeting locations to be rotated between the the three founding countries, and after three months of meetings the results of the group negotiations will be presented to the countries' water ministers.
Ethiopia's capital, Addis Ababa, was the location for this latest discussion, taking place over the last two days and attended by foreign and irrigation ministers, as well as heads of intelligence from each country.
Talks have been held between Egypt, Ethiopia, and Sudan since the construction began, and in recent months have ended in deadlock. Egypt has criticised the dam's construction, which Ethiopia has been undertaking since 2011, arguing that it will reduce the country's access to the river's water – something it considers a historical, legitimate right.
Indeed, the Nile is a vital lifeline for Egypt, providing the country with both irrigation and drinking water. Egypt maintains that any negotiation must guarantee its 66% percent historical rights with a veto power. Sudan, on the other hand, holds 22 percent of the water rights, according to a 1959 colonial agreement. Ethiopia, although the source of 86 percent of the river's water, was excluded from this deal.
Both Egypt and Sudan, however, have now expressed their support for the construction, which aims to produce 6000 megawatts of hydroelectric power – equal to six nuclear-powered plants. Ethiopia has stressed that it does not intend to harm Egypt, and "that Egypt's share [of water] will not be affected."
---
Subscribe to our newsletter
---