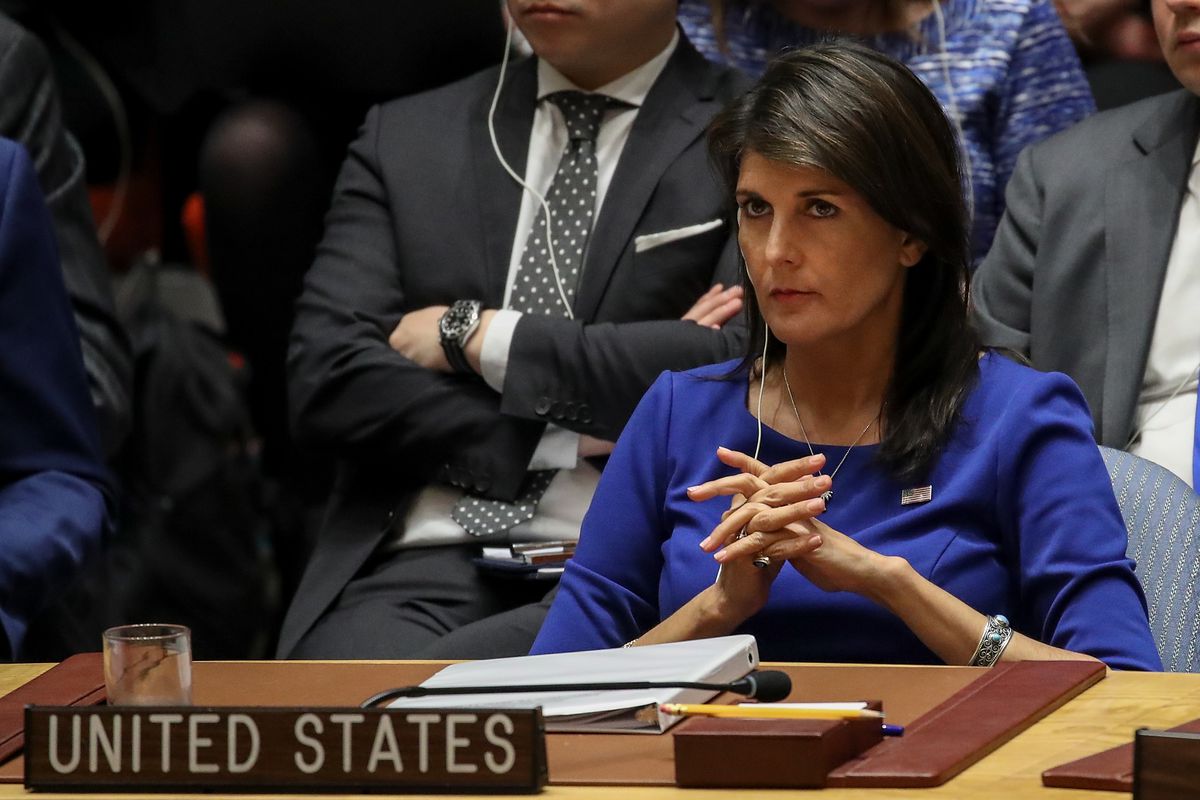 The United States of America has announced its withdrawal from the United Nations Human Rights Council (UNHRC).
Nikki Haley, the United States UN Ambassador, and Mike Pompeo, the Secretary of State, announced the decision in a joint press statement on Tuesday.
In her statement, Haley said that the US withdrawal from the Human Rights Council is "not a retreat from human rights commitments". Further calling the council "hypocritical" and "self-serving" due its "chronic bias against Israel".
"The council ceases to be worthy of its name" Haley said, "such council in fact damages the cause for human rights".
This is not the first time the United States showed reluctance in being part of the Human Rights Council. In 2006, George Bush withheld the U.S.'s membership from the council when it was first established. However, in 2009 the Obama administration decided to join, as it was believed that reforming the council from within would be "more effective", as announced by Susan Rice, Obama's U.S. Ambassador to the UN.
In a statement to NPR, Kenneth Roth, Human Rights Watch's executive director said that the Human Rights Council has "played an important role in such countries as North Korea, Syria, Myanmar and South Sudan, but all Trump seems to care about is defending Israel."
The Chinese foreign ministry spokesman, Geng Shuang, expressed regret on Wednesday over the U.S. withdrawal, with the state media saying that the image of the U.S. as defender of rights "on the verge of collapse".
Last month, Israeli forces have killed more than 120 peaceful protesters at the Gaza border, as part of the Great March of Return that took place over the span of weeks.
Human Rights Watch released a report last week claiming that Israeli disproportionate use of force amounts to war crimes.
Following the killings in Gaza, the U.S. vetoed a United Nations Security Council resolution presented by Kuwait that calls for the protection of the Palestinian civilians. Subsequently, in a rare occurrence, the United States, with Nikki Haley as its representative, was the only country to vote for its own amendment blaming Hamas for the violence in Gaza against Palestinian civilians.
Meanwhile, at the southern US border, more than 2000 immigrant children have been separated from their parents by U.S. Immigration and Customs Enforcement (ICE), keeping the children in metallic cages. The actions by the U.S. government are part of a "zero-tolerance" immigration policy, which has been nationally and internationally condemned as a grave human rights violation.
---
Subscribe to our newsletter
---