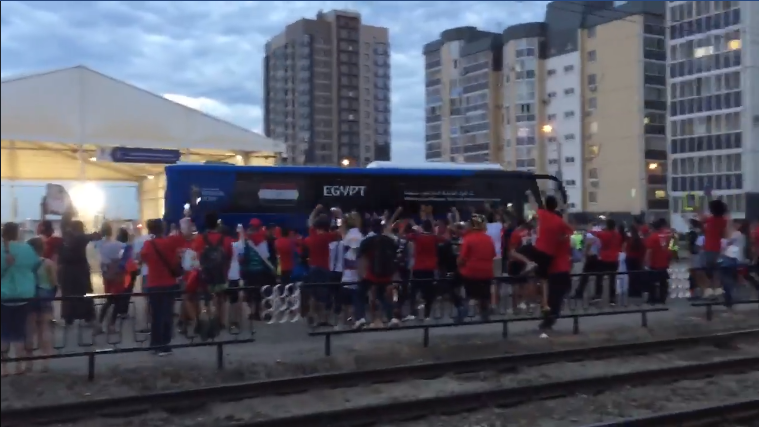 Following Egypt's defeat to Saudi Arabia 2-1 on Monday, Egyptian fans in Russia taunted the national team outside the stadium as they got on their bus. Footage surfaced on social media showing more fans waiting outside the athletes' hotel in Volgograd where the team was staying.
The fans chanted insults at the football players as they headed to their hotels out of disappointment and anger regarding the team's performance, calling them "filthy/disgusting/worthless players" as well as "faggots" and "cowards." The fans' name-calling extended to the team's family members. Police cars followed the teams' bus to secure them from their menacing followers.
Egypt fans shouting "horrible players" as the Egypt national team bus left the stadium after their lose against Saudi Arabia. pic.twitter.com/hGFLelZdyG

— Mootaz Chehade (@MHChehade) June 25, 2018
The recorded footage showcased the ugly side of Egyptian fandom, and portrayed the misbehavior of the claimed Egyptian football devotees to both international media and those watching from Egypt.
One particular video showed a single fan shouting at the chanting fans to "stop it," but the loud voices of their abusive chants silenced him.
As other visitors and online followers watched Egyptian fans diss their own team, they expressed dismay of their ugly behaviour on social media.
Imagine if Leafs fans did that after every disappointing loss? Guessing patriotism only extends to the team when they win? That's some next-level bandwagon jumping.

— Mike Russell (@MIKERUSSELLMMA) June 25, 2018
https://twitter.com/Marymo2019/status/1011353895380176896
Horrible. They have qualified after 28 years and yet treated this way. So disappointing.

— Emmanuel Kisika (@KisikaEB) June 25, 2018
In addition, thousands agreed with Khalid Habib, a fan, on Facebook as he condemned the Egyptian fans in Russia.
"The tragedy continues with a supposedly educated and rich-enough audience who were financially able to travel to Russia to cheer on the team. They gather awaiting the players to insult them by name calling their fathers and mothers, showcasing the highest levels of shallowness and illiteracy along with immorality and lack of proper upbringing. Every nation deserves its stars. If we don't like their performance, then clearly we are on par with each other. We don't deserve anything better – until we learn proper manners first," reads Khalil Habib's post.
Mariam Othman, another fan, commented on his post, by saying "What we do is a reflection of who we are. This is really sad to show such an image."
Others understood where the anger was coming from, but still disapproved the harsh language.
"There is this habit in any Egyptian football player: as soon as the coach is sacked, they shift the blame towards him. For instance, Zamalek changed about 9 coaches in just 3 years, which is a crazy number. After each coach, the players disown any kind of responsibility for their performance," said Tarik Alaa, a commenter. "If the fans' anger had been after Uruguay's or Russia's match, I would have been totally upset. Today, however, the team had no spirit whatsoever while playing except for Amr Warda and Trezeguet. As fans, we're allowed to be disappointed and choose not to watch the game, we're just an audience. But the players are not allowed to do so, it's their job, and they represent Egypt. This was not a fair way to carry Egypt's name in our farewell match in the World Cup. They deserved to be reprimanded, and to have that as their wake-up call. I don't condone the personal insults. I would have preferred if they had booed them to show their objection without offense. We're Egyptians, in the end, and curses is the first thing we resort to."
---
Subscribe to our newsletter
---