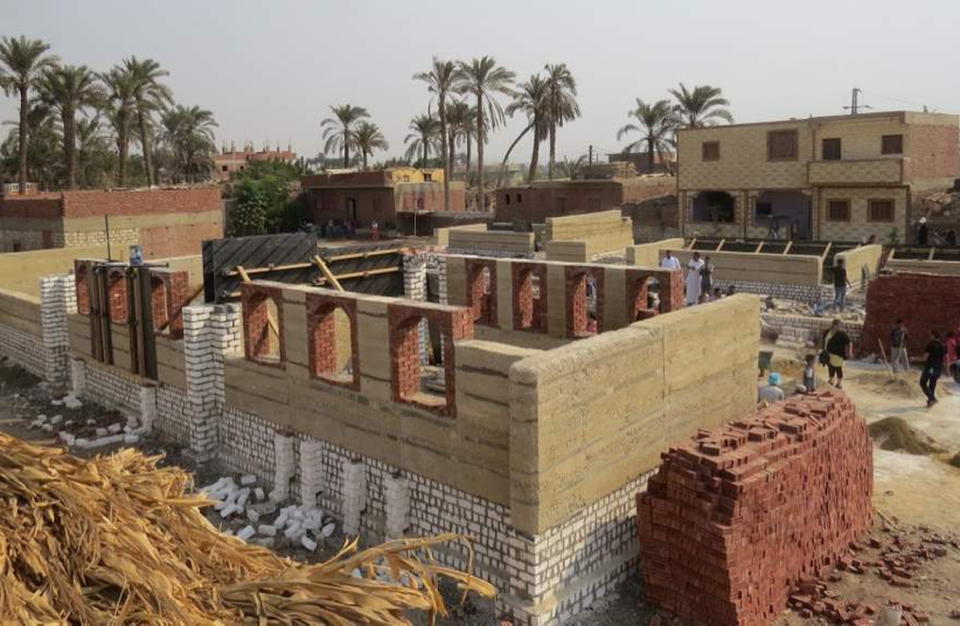 Founded by construction engineer Radwa Rostom officially in 2016, Hand Over is a social enterprise based in Cairo. The enterprise designs and builds spaces out of natural and locally sourced material. The material used for construction is both cost-effective and environment friendly rendering its end products, houses and buildings, a sustainable solution to the real estate market's endless needs.
Hand Over revolutionizes the construction industry by introducing a durable, environment friendly and cost effective solution to construction.
Egypt's construction industry is notorious for its rigidity when in comes to creativity and innovation. Hand Over is utilizing two discipline, environmental sustainability and construction, in one framework to bring a new and fresh flavor to the market and industry as a whole.
"When I graduated with a degree in construction engineering, I decided to see what is happening around me," Rostom starts,"I was always interested in environmental solutions but I wasn't ready to leave the construction sector completely. Instead, I started learning about other solutions people are doing across the world."
The 30-year-old construction engineer noticed that solution-providers are always targeting the same upper-class urbanized segment in Egypt's society.  After spotting the gap in the market, Rostom created a social enterprise model that caters to this demand in the various segments while remaining environmentally sustainable.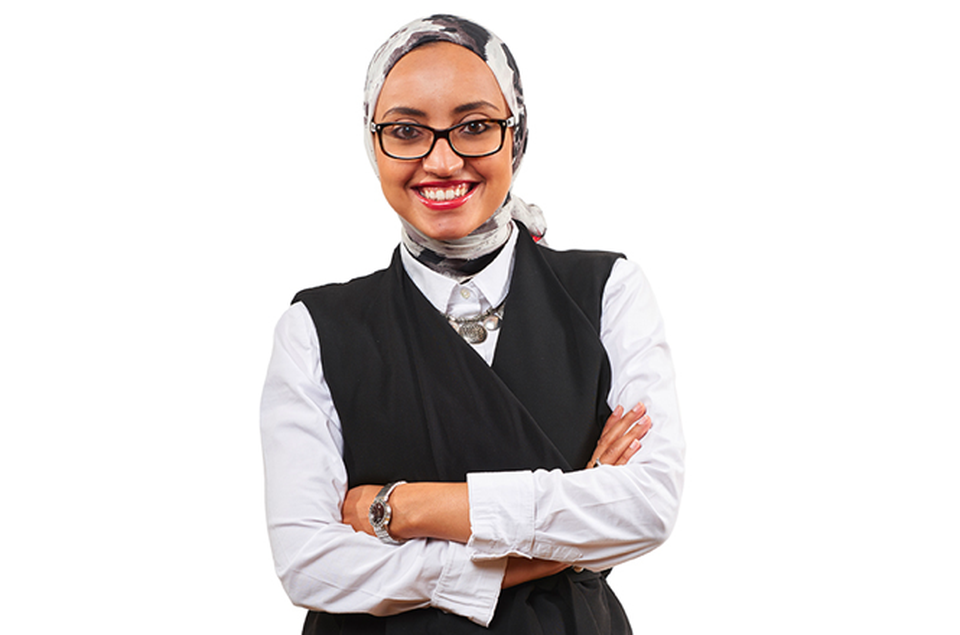 The urban planning projects are constructed for two different projects: commercial and community development. Commercial projects are specifically catered towards individuals and real estate development companies where clients are interested in creating an environmentally sustainable project for private use. The Hand Over team then handles all the planning, design and construction independently.
Where as in the case of community development, Hand Over often collaborates with a local non-profit organizations (NGOs) and initiatives, as well as the local community itself.
"We always involve them [the locals] in the design and implementation because we want them to learn the techniques so that they are able to use these techniques on their own afterwards for other projects," Rostom highlights. This becomes a great opportunity for the locale to come together and contribute to the enhancement of their neighborhood and city.
The enterprise achieves that goal by collaborating with universities and schools to host workshops in order to introduce this innovative construction approach. Participants not only attend the sessions but also have the opportunity to put their skills in action by building an infrastructure from the provided material.
"We felt that we needed to do more awareness especially for students and the younger generation, because we felt like it was our responsibility to introduce these techniques to the local industry," Rostom highlights.
From social housing units in Cairo and healthcare unit in St. Cathrine to administration building for commercial use and educational facility in Al 'Ayat, Hand Over has a wide portfolio of construction projects using sustainable construction material and collaborated with entities like the UNDP and the local NGO 'Man Ahyaha', to name a few.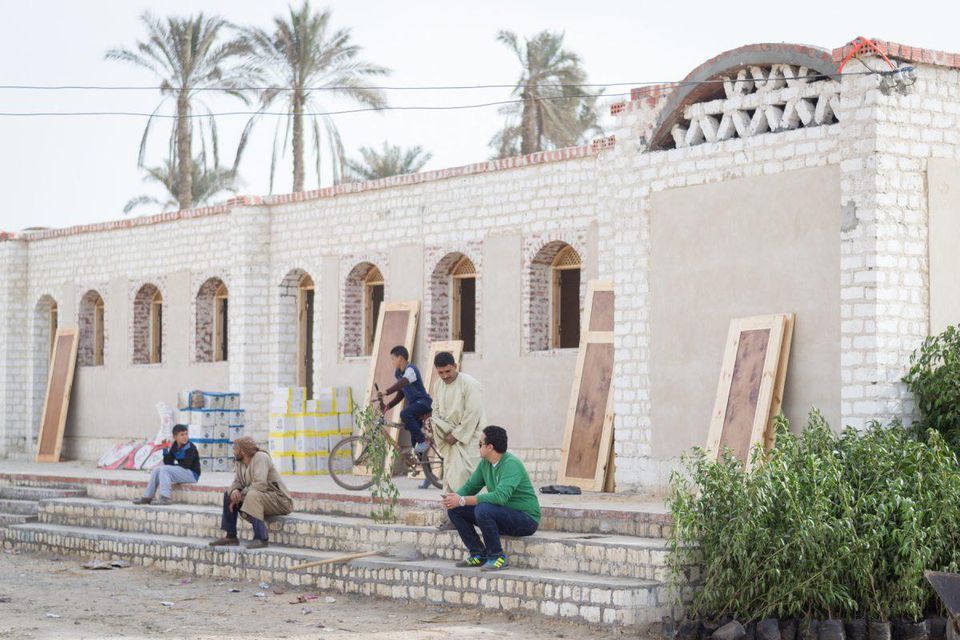 However, because their technique is unconventional to the region, Hand Over faced some resistance from the local real-estate market, consumers and participants. Nonetheless, Rostom persisted to shed light on the economic and environmental benefits of her projects.
"We were introducing something that people had many misconceptions about in terms of sustainability and durability. Some questioned if it would be a long term solution as well as the accessibility to the different social and economic class, which is why we are constantly doing campaigns, talk, and info-sessions with people," she explains.
As of 2016, Egypt's Ministry of Housing Utilities and Urban Development estimated that around 500,00 new urban projects are built annually to keep up with the countries growing population. However, these facilities are often at an unaffordable price range to the mass population as a result of the recent price hikes in construction materials in 2017. Instead, many Egyptians opt for housing, educational or medical facilities outside of main cities.
This is when Hand Over plays a part. One of the major economic benefits of environmentally sustainable construction material is its feasibility and cost-effectiveness. The construction material needed to build sustainable facilities are economic because they are locally sourced.
The enterprise also creates new job opportunities for the people in the communities Hand Over works with. When the participants gain these new skill sets, this means they can provide this service on their own in the future or join the Hand Over team like many do, ultimately improving the economic income of those involved.
"We are also trying to broaden the prospective job opportunities for the youth. They do not have to follow the traditional footsteps of every other civil engineer in the market," Rostom emphasizes, "but they have a wide scope of potential opportunities they could pursue."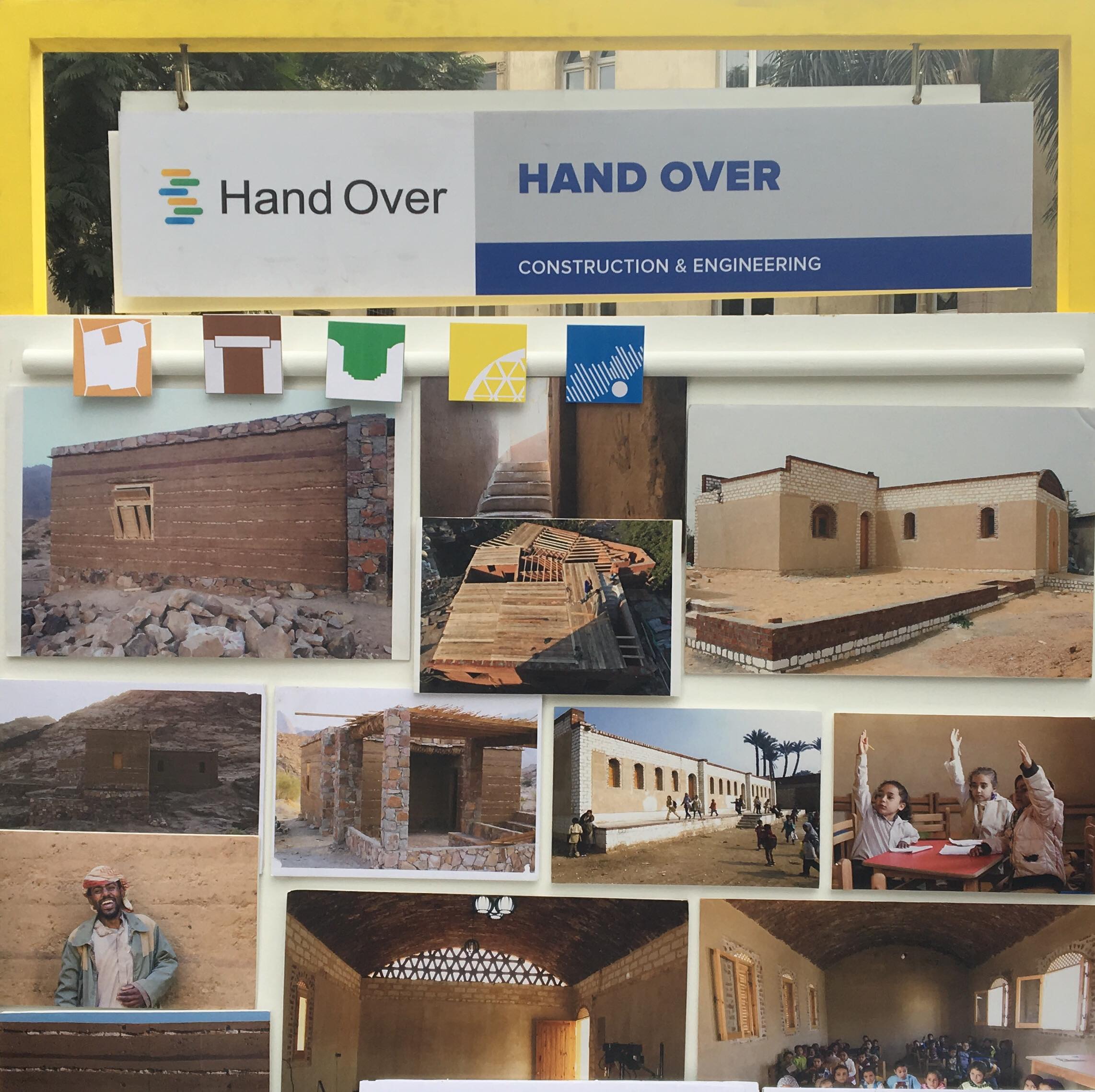 Hand Over is one of over 240 startups participating in this year's Rise Up Summit, the region's leading entrepreneurship event. The three-day annual event consists of workshops, talks, exhibitions, competitions and panels about the entrepreneurial ecosystem in Egypt and the Middle East region inviting international, regional and local speakers.
The summit helps rising entrepreneurs like Rostom not only learn about the ecosystem, but also network with potential investors, mentors, partners, and many more giving them the opportunity to potentially leverage these relationships towards their ventures .
For its sixth edition, Rise Up chose the theme 'Stay Grounded'.
"When we were planning the summit we realized something very special which is this year, finally, we started to realize that the local startup ecosystem and the innovation community has grown and developed," Sami Awa, Rise Up spokesperson highlights. This year, Rise Up integrated these local success stories into their program allowing entrepreneurs the opportunity to learn from their successors' experiences.
---
Subscribe to our newsletter
---