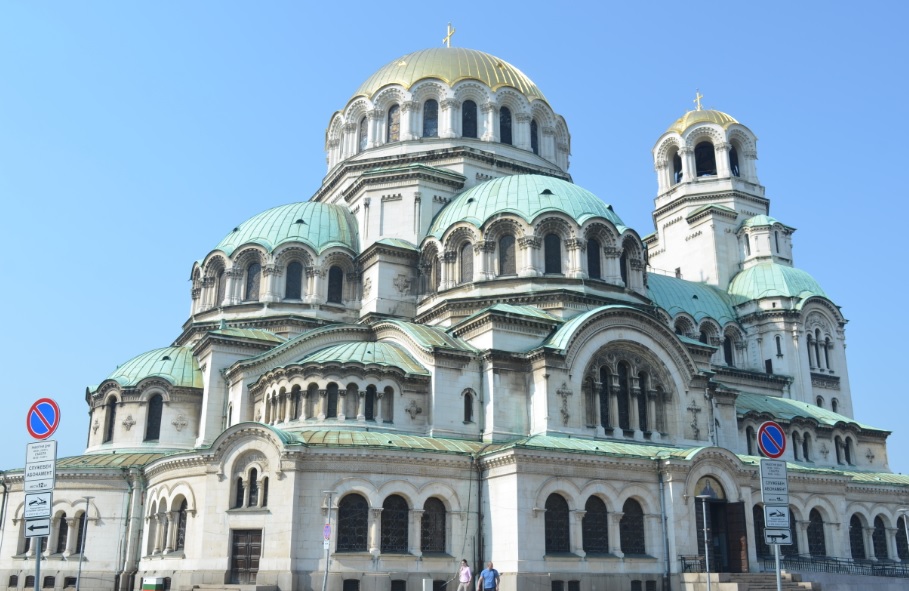 This travel writing piece participated in the 2018 Travel Writing Competition which was done in collaboration with Travel Garage, Egypt's must-go to online store for purchasing adventure and travel goodies. 
Upon landing in a new country, what strikes an Egyptian the most, other than perpetually being surprised that women out of the Middle East happen to show skin, is perhaps the lushness and vegetation that spreads across a foreign (non-desert) country. It could happen, at times, that this lushness is the exact same reason one ends up going to a specific country. In longing for hearing a different tongue, savoring a taste of the Balkans and indulging in fresh mountain air, my eyes scanned the travel books shelf for a country I knew and heard the least about. It was decided. Bulgaria's Rila Mountains would be my refuge for the summer.
Often, tourists flock to this country in order to observe how it has gathered a mesh of Ottoman, Slavic and Greek history and they do so particularly during the summer. Preferring the mountains, my ex-partner and I took to hiking and camping in the mountains for seven days. This writing is a fraction of this voyage and spans from the infamous Rila Chalet all the way to a solitary mountain hut named called Ivan Vaznov.
Preferring to ride the cable cars at 18 levs both ways, tourists make way to the top of the Rila Mountains in order to access Bulgaria's iconic seven lakes. I encounter no Arabs, much less any Egyptians. Around me, I could distinguish the sound of French, English, Danish, German, Hebrew and Bulgarian – I spot none from my part of the world. It doesn't surprise me either, I could barely afford to be there and it was a hassle for an Egyptian to get the visa to travel in the first place seeing as Bulgaria is a country in the European Union. Nonetheless, here I am.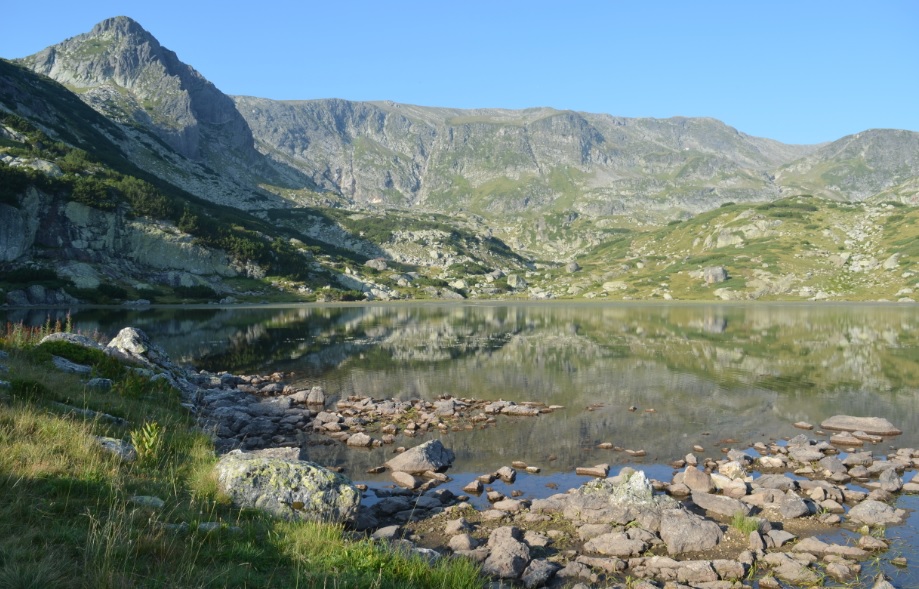 We arrive by noon at the Rila Chalet, and much to our own dismay, we think that the chalet is lacking the quaint beauty and generosity exemplified in other mountain huts. We grab a quick lunch of vegetables and rice before making way to an older and more rustic Seven Rila hut. The walk, spanning about 5 kilometers, takes about 1 hour. More than ever, I value a wooden staff helping me climb up wobbly stones and through slippery slopes of brown mud.
On the trail, our silence is punctuated only by the slight passing of the occasional mountaineer whose 'Zdraveĭte' (hello) greeting we have become accustomed to. The birds chirp and, queerly enough, gurgle while the faint sound of water escaping from various brooks overlaps with their sounds. I discover that I had been hungry for this sort of quietness rarely found in the hustle and bustle of Cairo.
With each step, a flock of green miniature grasshoppers jump around my steps like sizzling kernels of cooked popcorn. My eyes take in vegetation and the far away peaks of several mountains despite the emotional predicament I have found myself in. My ex-partner, a partner at that time, is too quiet. Our lack of conversing is uncomfortable and I am heartbroken at not being able to enjoy the beauty surrounding us due to it.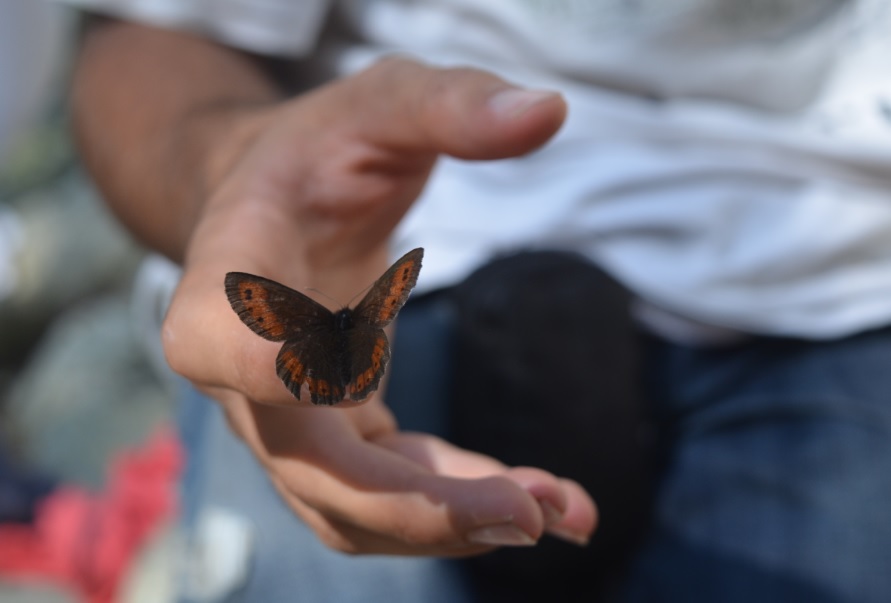 Around me, the Bulgarians seem extremely active and set on conquering trails on a rapid pace in order to enjoy rakia, the national liquor often made of fruits, during their rest in the evening. My Lonely Planet reveals that mountaineering was a favorite proletariat pastime but a visit to the national museum of Sofia illustrated that in reality, mountaineering, trekking and camping was a beloved pastime since the 1920s. This dawning realization of how much eastern Europeans enjoy their mountains culminates at the site of the Seven Rila hut at sunset – beyond the hut, there are at least fifty tents lodged on the hill.
We put up our tent a few meters from the second lake we come across, cautiously trying to avoid the dried horse dung that is found everywhere on the ground, and go into the hut in order to ask to rent blankets knowing the nights get colder the higher the elevation. Instead of blankets, we are on the receiving end of an unexpected conversation: a slightly drunken man sitting on a bench offers to tell us about hundreds of gatherers who came to Rila, right beyond the hill from where we are, in order to partake a neo-Christian pagan festival. They are the followers of a Bulgarian philosopher called Petar Deunov (the Master) and are known as the Dunovisti or the White Brotherhood who come every year to perform circle dances on the mountains.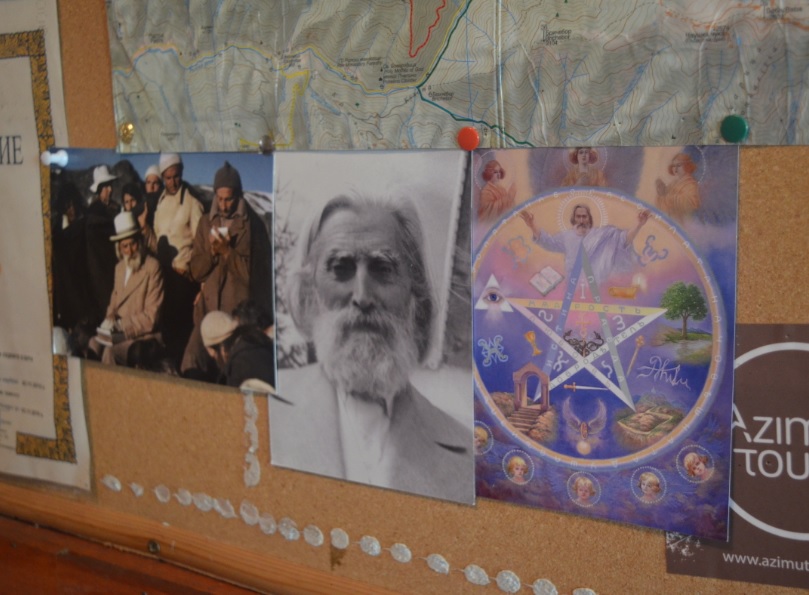 We go to sleep that night, and I wonder if any of the campers around us had come for that purpose. Or, if they all had.
The next morning, I awake to a shining lake and the sound of a baritone male voice booming across the lake from the far left and the melodious notes of a flute from the hill beyond where we had camped.
My ex-partner and I eat a simple Bulgarian breakfast of jam, Bulgarian cheese, olives tea and bread, buy snacks on the way and rather than fill up on the drinkable water from the hut, we heed an elderly woman's advice to gather water from a spring on our way where the Master had blessed the water. Surely enough, as we make way to the rest of the seven lakes, we encounter the spring. Its water, gushing from two marble hand sculptures, is soothing in its freshness and icy temperature.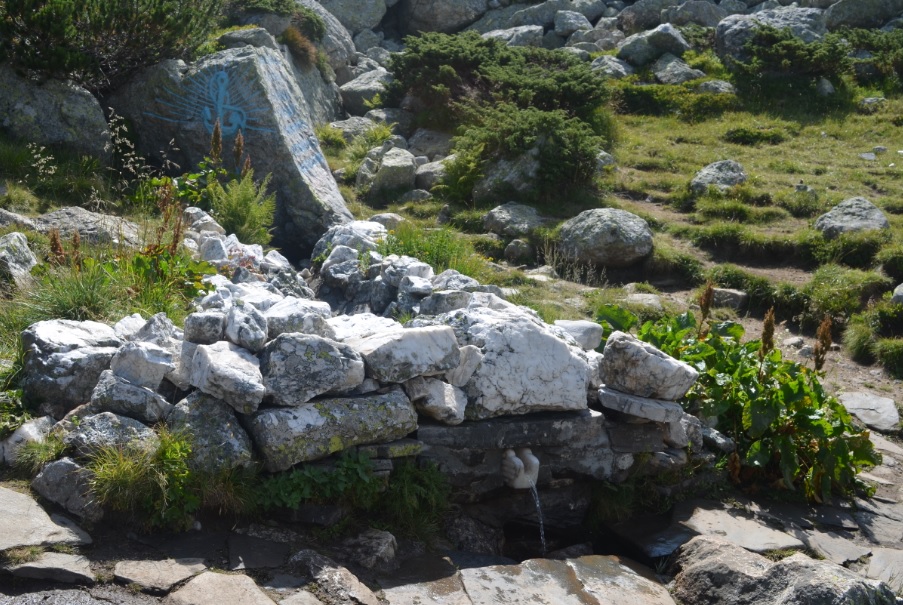 We stumble into the remaining lakes in no time: Salzata, Okoto, Babreka, Bliznaka. The landscape of the mountain is becoming more dramatic with every step. The more we walk and climb, bypassing human-made miniature towers of pebbles, it seems easier to reach the skies above us.
At the two remaining lakes, endless families and couples try to reach the top of the mountain in order to enjoy the full view of the entire lake area. We see not one but two remains of small white stones marking the positioning of the dance circles where the White Brotherhood might have been or might be coming back to. However, with looming gray skies and the far away sound of thunder, most of us have now taken to running to the top
My body is caving to exhaustion, I have warm blisters at the back of my heels that refuse to heal, mosquito bites as big coffee saucers on my thighs and a terribly biting attitude. Nonetheless, we make it to the top of the seven lakes and admire the view before jumping into action and heading to the next mountain hut.
On our way, to say that we lived and survived an unexpected mini adventure of its own would be an understatement. Far from the lakes, the landscape opens up in a series of lush valleys punctuated with grazing herds of horses. One of them, seemingly the leader of one herd, steps on my ex-partner's foot. I would be lying to say that it upset me.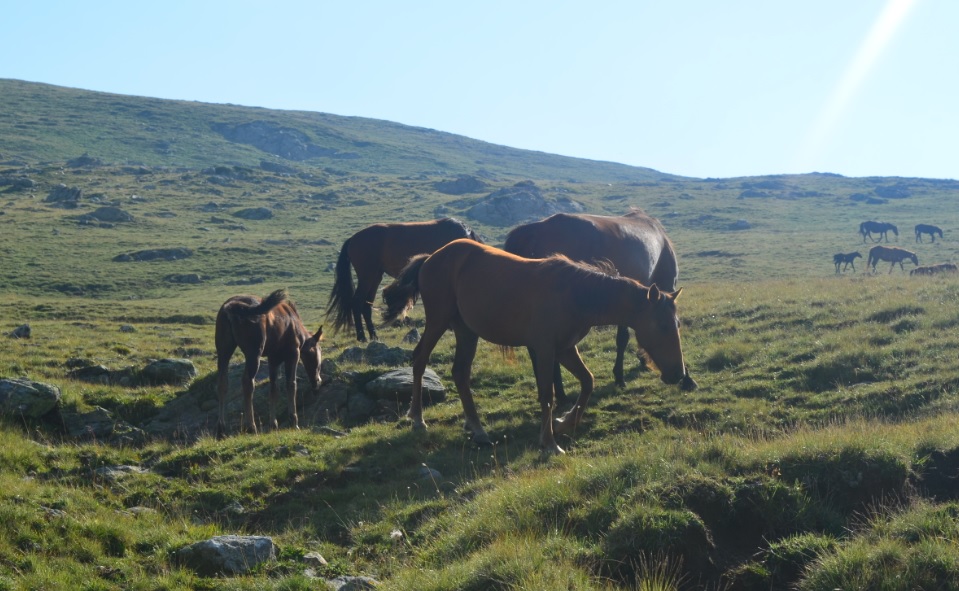 Minutes after, we see a shadow blue cloud form to our right and come down to where we are walking. Suddenly, rain starts pouring down and fills the gaps of dry earth we were walking on. Chunks of perfectly round and white pieces of hail pelt down on our heads. The one silver lining is that a few kilometers away and as if doused in glorious divine light, we excitedly spot the eighty-year-old hut. I squint through my wet hair, but I see that it looks dark against a sunset of gold and a streaked sky of skinny white clouds.
We arrive. Three dozen tourists and travelers are already there. With puddles of water and fresh mud caking the ground around the hut, I throw the camping option out of the window. My hiking shoes are so terribly soaked that I can feel my feet swimming in two little ponds. Our bags are slightly wet as well. My fingers are immovable and cold. I just want a hot shower and a meal. We are asked where we are from.
The owner, a funky bearded man sporting alligator-patterned crocs, is surprisingly happy to see us. At this point, after five days of hiking and eating at several mountain huts, my ex-partner and I have run out of money. Or rather, to be exact, our wallets are homes to Egyptian pounds, dollars, euros but no levs. In total shame, we announce to a young hut helper and the owner that we have no money after being informed that there is only one room available for 30 levs. The owner smiles and tells us the money isn't a problem and to my total surprise, he starts conversing with me in simple Arabic. I am immediately smitten.
''In the 25 years I have worked in this hut, you are the first Egyptian to come here, you are welcome,'' he says. My face gets hot. His kindness is tremendous. I am given the room of one of the hut cooks, ironically named Cairo. I tell him I am from Cairo. We smile at the pun. He also shows us a room with quaint furniture and a makeshift Buddhist altar.
Cairo's room is similar to Harry Potter's infamous cupboard. It has no lights. Still, I am content and sleep like a log that night. The next morning, my ex-partner who has done the talking most of our trip, nudges me to go talk to the owner again in order to try to pay with the currencies we have.
We had an idea, you see, we would give 15 levs, 10 dollars, and as a gift for his generosity, a bill of 20 Egyptian pounds and a one-pound coin with Tutankhamun on the back for a meager breakfast. I know the Egyptian currency is inadequate; one dollar is about eighteen Egyptian pounds. As I stand before him, I am struck with a feeling of shame and burdening. I explain our decision to the owner. Unfazed, he looks at the bills in my hand and happily takes the most useless one of them all: the crumpled Egyptian bill.
Not 10 minutes later, he hands us a breakfast of blackberry jam, Bulgarian cheese and fried slices of bread. As we eat in appreciation, the reception of the hut is filled with praying Israeli Jews. They are rocking as they silently read from the Torah and some of them, clearly devout and observant young Jews, have the arm tefillin strapped around their arms as they pray. I remember now that the tefillin is worn to serve as a reminder that God brought the children of Israel out of Egypt. Ironically, here we are; an Egyptian and a cluster of Jews both out of Egypt and Israel to be gathered in a remote mountain hut in Bulgaria.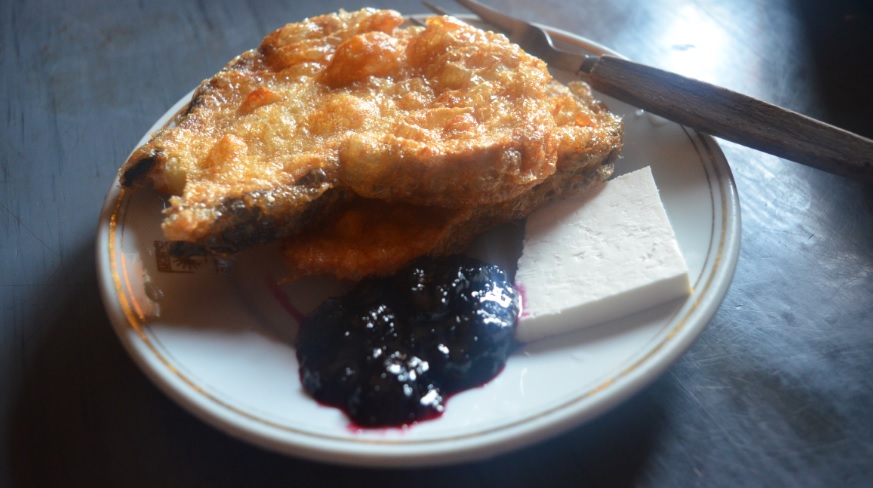 I may had been feeling disconnected to my partner but in a way, sitting in that dew-scented hut in the morning and staring at the man with infinite kindness and the peacefully praying Jews, I could not help but think of how words didn't suffice to explain certain emotions we have and the connection we share with others. I had been made to feel like my presence mattered. Conversing in Arabic with a Bulgarian mountain hut owner and being in a hut in which different religions slept under its roof was a stark reminder of diversity, tolerance and the appendages of globalization that manifested itself in the Rila Mountains almost as softly as the singing and the flutes as I had heard the morning before.
---
Subscribe to our newsletter
---