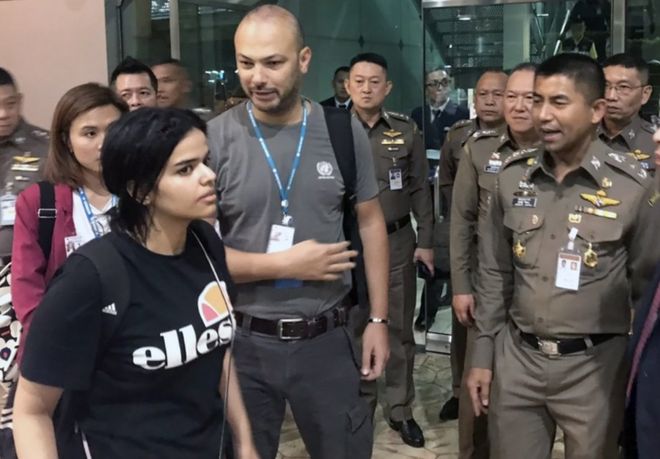 The story of the 18-year-old Saudi women who fled her family seeking asylum to reclaim her rights has been the talk of the town for the past few days with the trending hashtag 'Save Rahaf' on Twitter.
Rahaf Al-Qunun is a young Saudi woman studying at a local university traveled to Thailand via Kuwait in an attempt to seek asylum in Australia. She revealed to the BBC that the she is fearing her life because she is an apostate, an act that is considered a crime and is punishable by death in Saudi Arabia.
Upon arriving to Bangkok, she was met by a Saudi diplomat who seized her passport which meant that she does not meet the Thai visa requirements. This forced the Thai officials to come to the decision to deport her back to her country for "violating the law".
According to Rahaf, she only arrived to Bangkok to catch a connecting flight to Australia, a country she allegedly already obtained a visa for.
The chief of immigration police Surachate Hakparn said "the Saudi Arabia embassy contacted the immigration police… and said that the girl had run away from her parents and they feared for her safety."
Thai immigration officials booked her a flight back to Kuwait where her family were waiting for her, but Rahaf refused to board the flight and locked herself inside a hotel room in the airport. "My brothers and family and the Saudi embassy will be waiting for me in Kuwait," Rahaf said to Reuters.
Official from @KuwaitAirways is at Rahaf's door but she's refusing to leave #SaveRahaf pic.twitter.com/TcRf3p7Dys

— Sophie McNeill (@Sophiemcneill) January 7, 2019
She said that her family threatens her live for "the most trivial things," and refused to go back in fear of losing her life.
The deportation of the 18-year-old has been averted and she is now "under UNHCR [United Nations Refugee Convention] protection with the agreement of Thailand authorities".
Hey I'm Rahaf. My father just arrived as I heard witch worried and scared me a lot and I want to go to another country that I seek asylum in
But at least I feel save now under UNHCR protection with the agreement of Thailand authorities. And I finally got my passport back🙏🏻❤️ pic.twitter.com/pQER7HDVi7

— Rahaf Mohammed رهف محمد القنون (@rahaf84427714) January 7, 2019
Through her newly launched Twitter account, Rahaf has been calling on all several country to help her seek refugee status including the US, UK, Canada and Australia.
On Twitter, Rahaf has been posting updates in her situation regularly. She also gave access to her social media account to her friend Noura, who also fled Saudi Arabia because she renounced Islam.
This incident drew international concerns from many feminists and human rights activists including Human Rights Watch
Different government have also expressed their concern to Rahaf's situation and the Australian government is keen on closely monitor the situation.
On 7 January, Rahaf finally exited the airport escorted by the UNHCR in Thailand. Hakparn ensured that they will "take care of her as best we can," and that "she is now under the sovereignty of Thailand; no-one and no embassy can force her to go anywhere."
Even though Thailand has at least 100,000 refugees within its borders, the country is not a signatory to the UNHRC and has no legal protection to those who seek asylum.
The authorities have revealed that Rahaf's application is now being assessed by the UN refugee agency (UNHCR) who will make the decision on her asylum status.
---
Subscribe to our newsletter
---