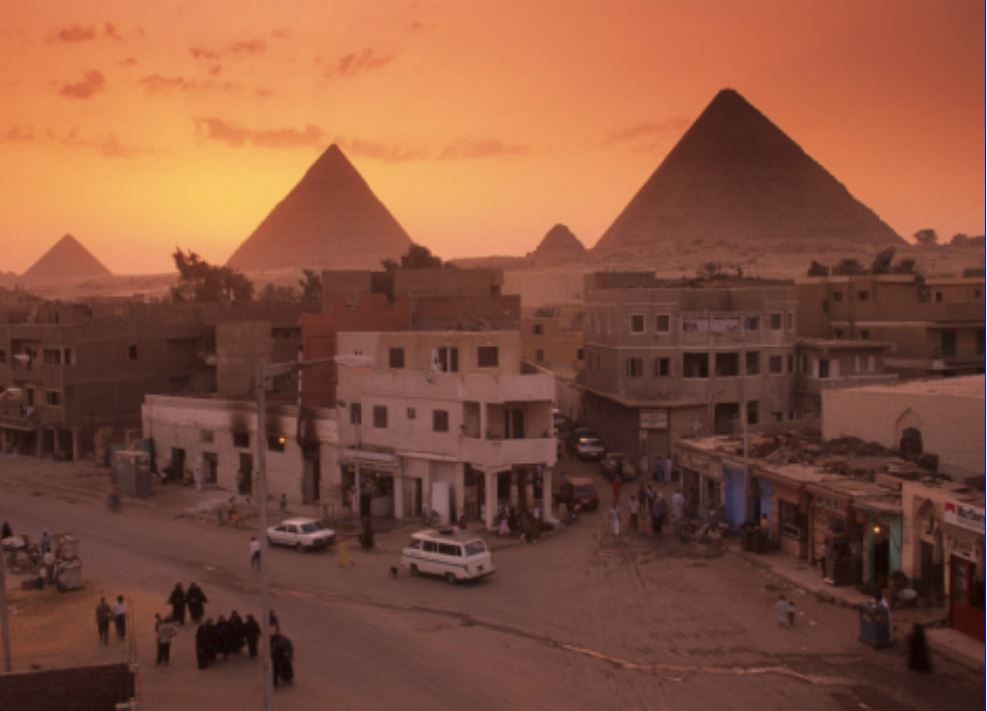 The Giza governorate denied the rumors of demolishing several inhabited houses in Nazlet El-Semman in Al-Ahram district in Cairo after 24 protesters were arrested in an attempt to stop authorities from destroying the illegal buildings.
On 22 January, the governorate said in a statement that the information was incorrect and that "demolishing buildings located in the area of the pyramids is done in coordination with the Ministries of Antiquities and Interior and that the removal of four properties is due to the fact that the buildings violate antiquities laws and do not have the required licenses from the competent authorities."
It is mentioned that owners of the real estates did not take into account the archaeological aspect of the ancient pyramids, where tourists from around the world come to enjoy.
Instead, these buildings distorted the image of the archaeological location and historical heritage. The statement highlighted that the eradication does not include any residential buildings near or far from the Pyramids, indicating instead that the buildings were non-residential in nature.
The Giza Governorate called on citizens not to circulate rumors that would harm the public interest.
On the other hand, Egyptian archeologist Monica Hanna argued on Twitter that even the residential houses in Nazlet El-Semman are a violation.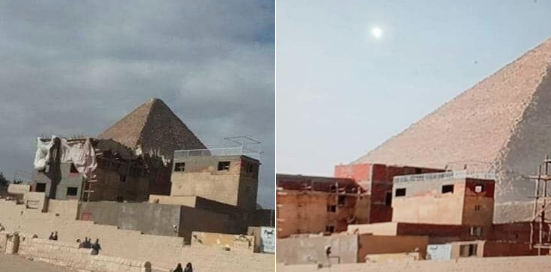 She posted two photos on Twitter comparing how the buildings were a few years ago as opposed to now and said "Does the future of Egypt and respecting our heritage and our identity mean that we should be silent about this? The incompetence of some of the officials and people who witnessed these buildings expand one floor at a time are the reason behind the problem we see today."
على فكرة انا من #نزلة_السمان وبقولك المخالفات مش مخالفة عقار سكني لأ الوضع وصل أنها بقت فنادق ٣ نجوم والدولة لما الوضع اتوسع بدأت تتحرك وكل الصور دي من اسطح منازل اتحولت لموتيلات بال $ دولار لليلة في وفي اماكن اسوأ المشكلة ان الدولة هي السبب أنها أهملت منطقة زي دي والنتيجة… pic.twitter.com/ygh1s29yeR

— غريب في بلاد غريبه (@essam_alshaaer) January 22, 2019
Other people on Twitter argued for the demolition, stating that the buildings are mostly illegally constructed hotels whose owners are attempting to capitalize on the proximity to the Pyramids.
Thousands of illegal constructions exist across Egypt. There have been recent efforts by the Egyptian government to reclaim land that has been illegally constructed on. These efforts have included moving residents to new affordable housing that complies with all codes and legislation.
---
Subscribe to our newsletter
---