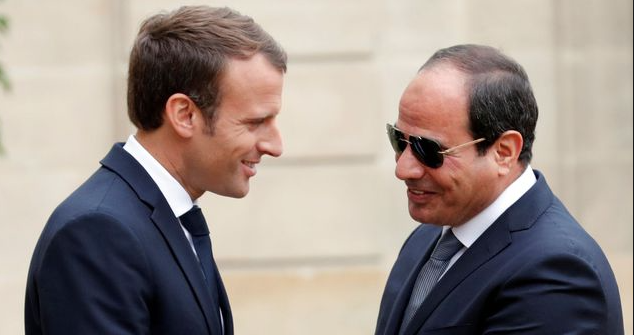 Egyptian lawyer Tarek Mahmoud filed a legal complaint against the heads of four of Egypt's human rights organizations for "threatening national security" a day after they met with French President Emmanuel Macron, according to local media reports.
The complaint was filed on Wednesday against Mohamed Zaree, the director of the Cairo Institute for Human Rights Studies (CIHRS), Gamal Eid, the executive director of the Arabic Network for Human Rights Information, Mohamed Lotfy, the executive director of the Egyptian Commission for Rights and Freedoms, and Gasser Abdel-Razek, the executive director of the Egyptian Initiative for Personal Rights (EIPR).
Tarek Mahmoud said in the complaint that the four men "provided French officials with false information on the political conditions in Egypt" and accused the government of being "responsible for forced disappearances and carrying out torture in Egyptian prisons."
Mahmoud added that they were "insulting the Egyptian state and undermining the country's national security, and collaborating with the terrorist Muslim Brotherhood group to achieve its goals of bringing down the Egyptian state."
On Tuesday, the Cairo Institute for Human Rights Studies issued a statement providing details about the meeting.
In the statement, it is said that Zaree told Macron that "France must ensure that French weapons and communication technologies are not being used in Egypt against rights activists and peaceful political dissidents."
"Zaree noted that the Egyptian state, instead of combating terrorism, is instead busy attacking human rights defenders and peaceful political opposition figures including secularists and Islamists," the statement added.
Zaree also told Macron that he and 30 of his colleagues are banned from travel and " stressed that it was vital for the international community to refuse to sanction any attempt to amend the Egyptian constitution to eliminate presidential term limits, on any pretext."
In a press conference on Monday, Emmanuel Macron criticised the human rights situation in Egypt and pointed out that the arrest of human rights activists and bloggers harms the stability of the Egyptian state.
Following the press conference, Macron further reveals what he told Sisi about human rights, noting that he "reminded President Sisi that our commitment to security cannot be considered separately from the issue of human rights. An inclusive society is the best shield from Islamic terrorism."
Egypt and France were faced with Islamic terrorism. I reminded President Sisi that our commitment to security cannot be considered separately from the issue of human rights. An inclusive society is the best shield from Islamic terrorism. https://t.co/DbOWjXRsoh

— Emmanuel Macron (@EmmanuelMacron) January 28, 2019
In response, President Sisi that "Egypt will not rise up with bloggers… Egypt will develop with efforts and patience."
"We lead our state with honesty and integrity," El-Sisi added, "We do not want to confine the issue of human rights in Egypt to freedom of expression, people's opinions are one thing, and the destruction of the state is another."
---
Subscribe to our newsletter
---