A new fried chicken fast-food chain 'Chickin Worx' just recently opened in Cairo's New Cairo area; it serves a one-of-a-kind gluten free fried chicken catering to those with those who have gluten allergies and those who want to opt for a 'healthier' version of fried chicken.
Last week, I was casually scrolling through Instagram when I came a cross an ad captioned "Chickin Revolution." Being the foodie that I am, I had to check out the alluring profile to find out what was so revolutionary about the brand's chicken.
To my surprise, I realized that Chickin Worx was the first restaurant in Cairo to serve gluten free fried chicken. My instant reaction was of course "Oh my God, is this low calorie fried chicken? How is this even possible!" I then made sure my weekend plans centered around paying this place a visit.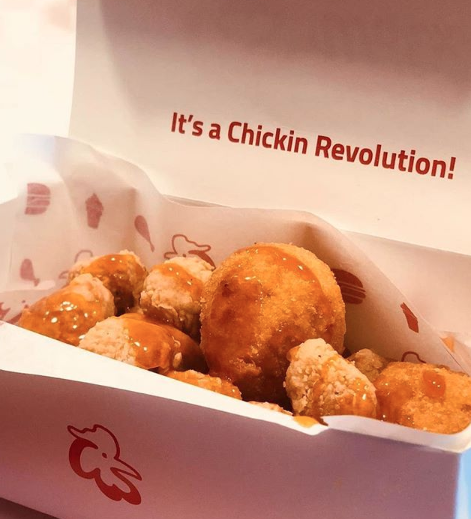 The restaurant is owned by Farouk Kadous, who realized that many Egyptians have an allergy to gluten or celiac disease.
While it may seem like it is an international franchise, it is an local Egyptian brand opting to offer quality fried chicken to those who need to watch their allergy or who are cutting out gluten for dietary reasons.
Located in Patio food court in New Cairo, the menu consists of several options including chicken nuggets, chicken strips, sandwiches, fried jalapeños, fried mac-and-cheese balls and even salads. The shops also has a total of nine sauces you can choose from to add to your meal.
Their prices might be a little above average compared to other fast food chains. The sandwiches range between EGP 50 to EGP 80 depending on the sandwich and meal. Their chicken strips and fried chicken range between EGP 50 to EGP100 depending on the number of pieces and meal option. The gluten free option is marked at a higher price beginning at EGP 80 to EGP 120 depending of the number of pieces and meal variation.
As a dedicated consumer of fried chicken, I am very critical of the crunch to oil ratio. I decided to go on a whim and try a gluten-free option, a regular option, a sandwich and an appetizer option in order to give it a fair critic.
I have to begin by saying, this chain has the friendliest staff I have ever met. I was not sure if it was because they were new and trying to gain customers, but friendly staff always make the consumer experience ten times better! The place is quite spacious with both and indoor seating options.
When you walk in, you are instantly greeted by their very nice and patient staff who are willing to explain everything in case you wanted to know more about gluten-free options or their extravagant sandwich options. They also recommend dishes based on your liking. Like most fast food chains, you order and pay at the counter, but once your food is ready, they will attend to your table.
Now that I have basically written a eulogy on how great the customer service is, which was a breath of fresh air, let me tell you about the food, the most important part of this piece.
By far, this place serves the crunchiest fried chicken I have tried in Egypt. I ordered a box of regular fried chicken where you have the option of choosing three, four or five pieces. However, I must say that the pieces were so small that they were almost the size of normal chicken wings; I have a preference for drumsticks and wings.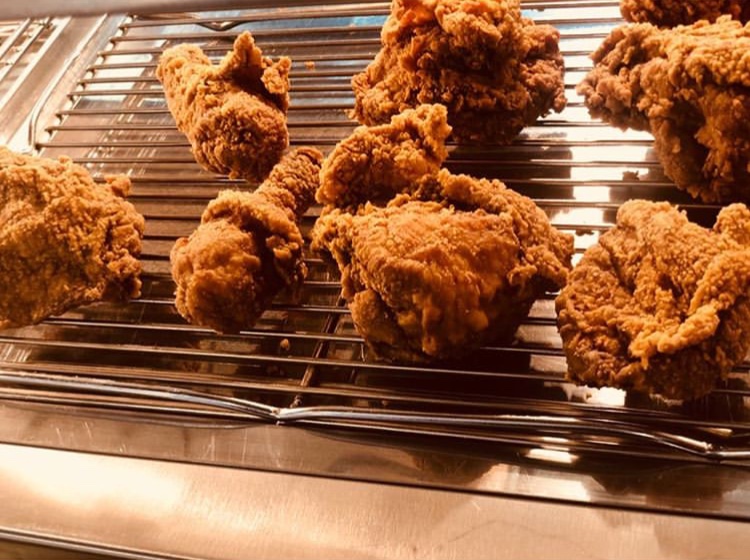 On the other hand, their gluten-free fried chicken option has definitely more meat while retaining the crunch even though the brand carries out the frying without wheat flour. Instead, they use corn starch.
Both chicken options are well-marinated, with a delicate burst of flavor resting in the mouth with every bite. I genuinely enjoyed eating my wings and drumsticks; my plate was empty within two minutes!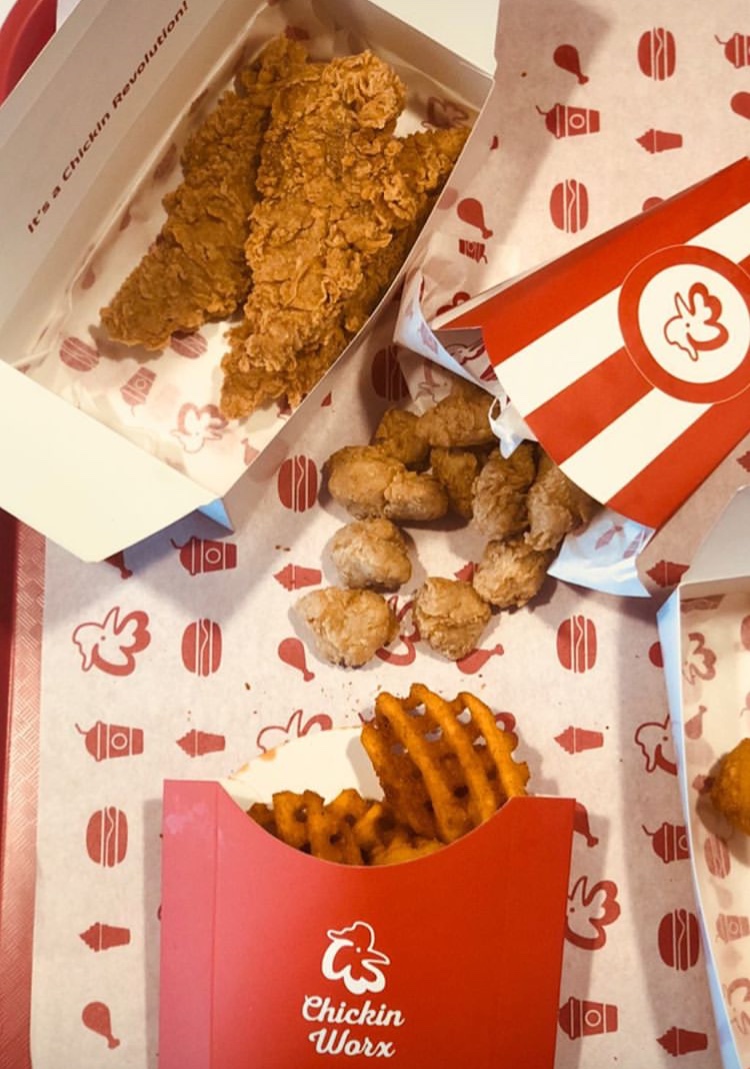 Like many other places, you can have french fries and a drink along with your meal. The best twist though is that they have cheesy fries and waffle fries options!
I was so excited to try the cheesy waffle fries, even though I am always skeptical of the  "cheesy" part, because I am worried shops deceive customers with "fake cheese" that taste "plastic-y".
The fries were drenched in cheese, which was perfect for me, because I find it gut-wrenching to only find a slab of cheese in the on my food when I expect plenty.  Most importantly, the whole concoction was not soggy as the fries were warm and crunchy. The sauce did not affect the quality of their crunch whatsoever. The only downside was that it was lacking a bit of flavor. On the side I ordered buffalo sauce, which I dipped the fries into and it definitely made it a hundred times better.
As an appetizer, I ordered the fried mac-and-cheese, which is exactly that: fried balls of mac and cheese pasta… and beef bacon. I am not a fan of bacon, but the addition gave it a hint of flavor. It was served with extra cheese sauce in case the cheese was not enough. It is crunchy from the outside and soft and mushy on the inside.
With all this food, you would think I had enough, right? Wrong! I was committed to trying as many options as possible for the sake of this review. So, on another day, I went back to the shop and ordered the most extravagant chicken sandwich on the menu.
Their chicken sandwiches have both fried and grilled options. I, of course, ordered a fried chicken sandwich which was stuffed with cheese. I thought that it was weird at first, but it was actually quite good and very juicy. One thing I didn't like about the sandwich was that it did not have enough sauce, so I just added ketchup and I was satisfied with the flavor.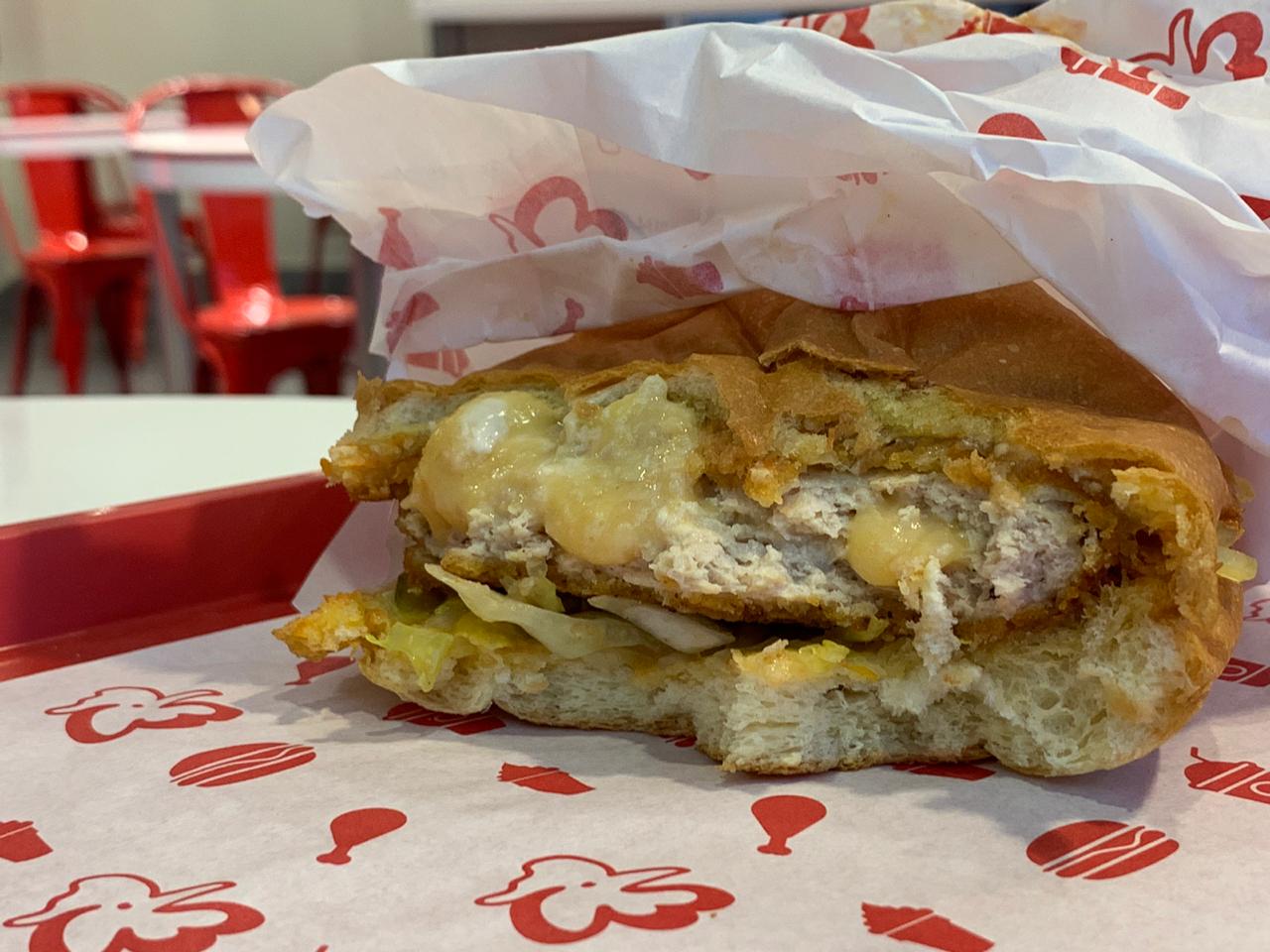 Over all it was a pleasant experience. I do hope that they sustain their quality of food and customer service in the long run.
Disclaimer: this is not a paid review. All food reviews done by the Egyptian Streets review are authentic to the experience.