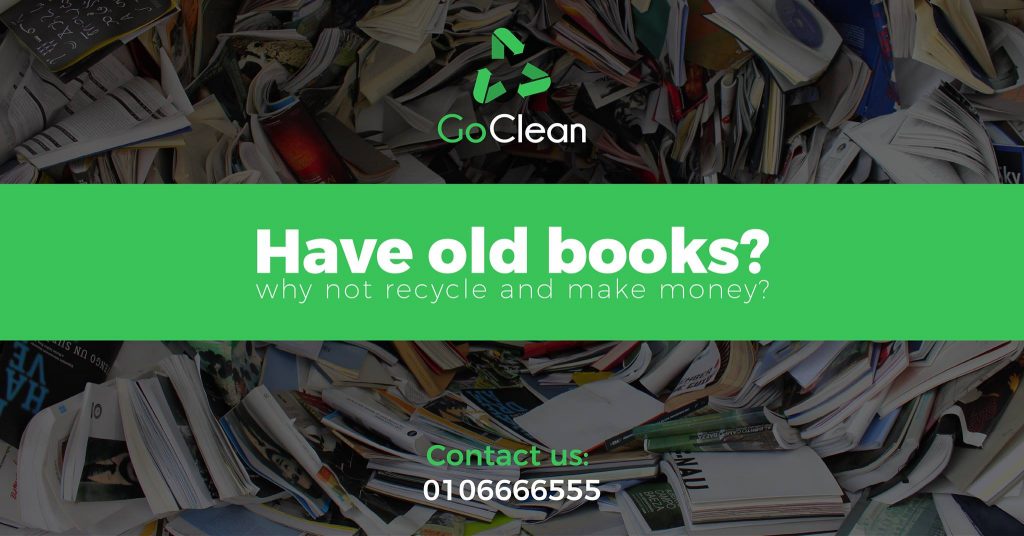 "Go Clean" is a recycling solutions company aiming to reward citizens for their good and eco-friendly habits. It aims to increase awareness about the environment by involving the consumer with the recycling process through easy steps for which he or she is rewarded, not unlike Bekya.
The company was founded two years ago, in 2017; it was recycling with factories, companies and cafes. However, GoClean started the household door to door initiative in February 2019.
The founder of GoClean is Mohammed Hamdy, an alumni from the American University in Cairo with a Bachelors degree in philosophy.
Hamdy realized that Egypt needed more consideration and practical steps regarding recycling.
He decided to shed light on Egypt's pollution issues by including the Egyptian consumer in the recycling process. This is done through easy four steps which are: firstly letting the consumer sort the recyclables by separating plastics, metals, and papers.
Then second step involves contacting Go Clean by phone or by sending a WhatsApp message with the location, and for the third step being for Go Clean to pick up the consumer recyclables.
The final stage is rewarding the consumer by exchanging the recyclables with cash (according to the weight of the recyclables) or household items such as antiseptics or hand washes, skincare products like body lotions, creams, soaps, Moroccan muds as well as other consumer goods.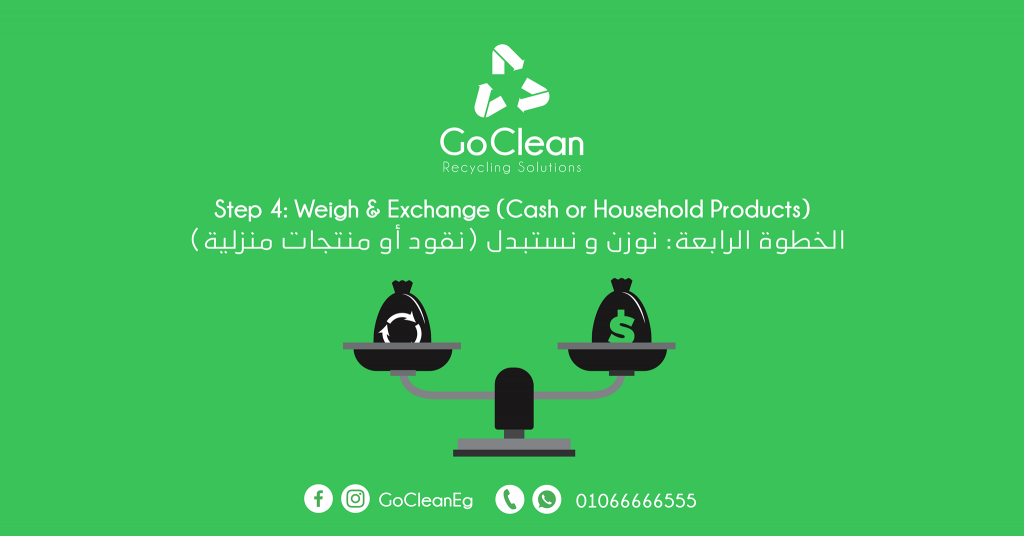 Egyptian Streets spoke to Hamdy about his company's plans and goals.
Tell us more about "Go Clean", what inspired you to start this company?
I love the sea and that's actually the reason as to why I started Go Clean. Go Clean was made after I realized that the sea is not like it used to be; it became much more polluted and we have to do something about it. So, I had the idea of encouraging people in Egypt to start recycling because it's a good everyday habit, but in Egypt, throwing things out of the window of the car or throwing things in the street is a bad [existing] everyday habit. So, I came up with the idea of giving people an incentive to have them change their minds about throwing recyclables; they can actually exchange it for money and thus, we get to save the planet.
Also, since I'm a philosophy major, I'm always mind-oriented. I want to change the way people think in Egypt towards polluting. I want to have an impact and an input in changing the perspective in the way people act towards their environment by taking a very small step which is calling or texting us and sending us their location and for us to come to pick it up and reward them.
What is the idea behind naming your company "Go Clean"?
It has also a philosophy background because, subconsciously, it's an order as to "Go Clean".
As for why "Go Clean" and not "Go Green" because, in my opinion, you have to clean first so you can go green. You have to gather, collect and clean your stuff and separate them and then call us. Then, after you call us, you go green, but first you have to clean up. So, I think 'clean' is a bigger word but green is insinuated within it.
What challenges did you face before/after launching "Go Clean"?
We have had, of course, the logistical challenge which is meeting the requirements of our customers and their locations. Egypt is a huge country. We started with Cairo and, hopefully, we are going to Alexandria.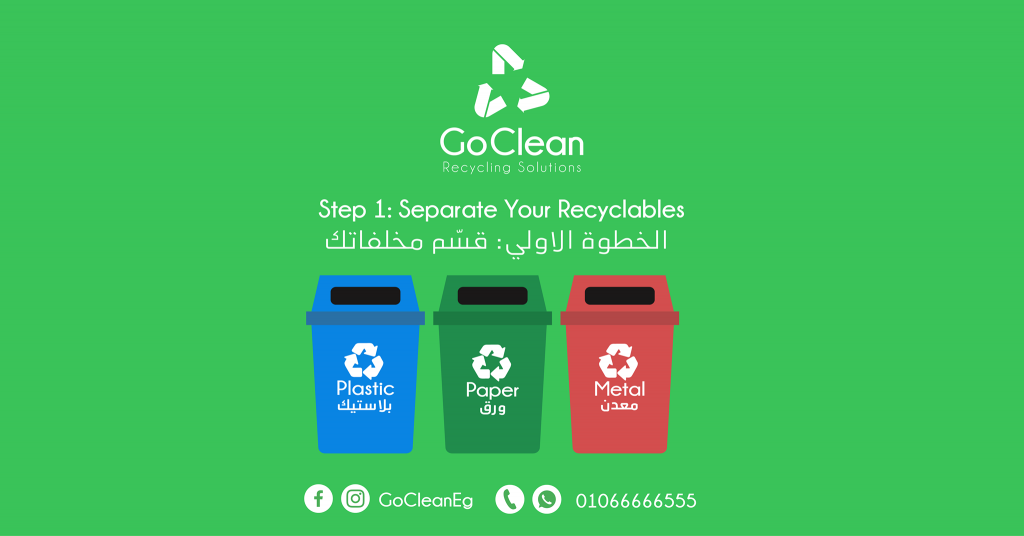 The challenges are logistics and the drivers; we have to teach them how to interact with WhatsApp and locations, how to go up to the customer and give them a good service. We also have to convince the driver of the reason he doing this because, of course, it is a job but also an incentive to save the environment by himself as well.
What is Go Clean's next step after the final stage (rewarding the consumer)?
Basically, we collect three things: plastic, paper, and metal. First of all, everything is taken back to our warehouse. There, everything is separated and when we separate them, they are re-sent to specific destinations which are certified by the government and the ministry of environment.
Metal is sent to a specific factory where it gets melted down and turned back into metal – metal is the easiest thing to recycle. Then plastic; there are two types of plastics; there's light plastic and there's heavy plastic. Heavy plastic would be the plastic bottle itself and the bottle cap. While light plastic could be the thin plastic paper that is found around the bottle which has the brand name on it.
The heavy plastic is broken down and then it is turned into powder and then this powder is turned into "Polypropylene" or "PET" in order to resume it again into plastic and not be thrown in the sea and then swallowed by sea creatures which result in their death. The same thing goes for light plastic; the factory that takes the heavy plastic also takes the light plastic and both of them end up in the same way. it is just a different grade as one of them is used lightly and the other is used heavily.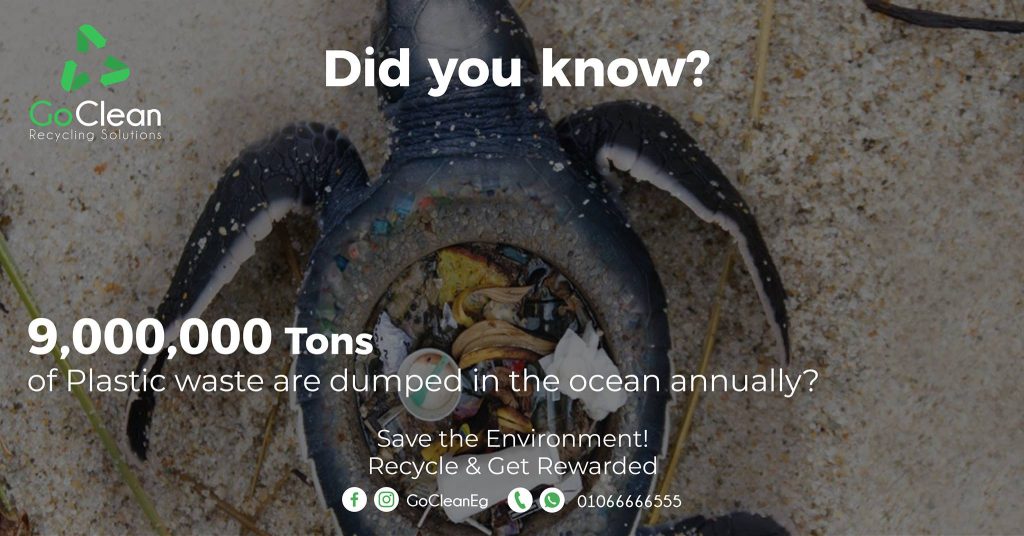 The third element is paper and carton; for the paper there is a chemical that is added to it so that the ink is removed, and then the paper is converted into a lesser grade of paper or carton like a refrigerator carton or a plastic carton bag.
What are the achievements so far?
We have covered, in the past two weeks alone, more than one hundred and fifty clients in Masr El Gedida, Nasr City, New Cairo, Madinaty, Sheraton, Oubour, Maadi, Zamalek, 6 October, Mohandeseen, Downtown etc.
We have covered a lot of customers in the past two weeks. I'm actually happy that we have increased our drivers, cars and call collectors in order to maintain the best service for our clients.
We have also dealt with many schools like the Dutch School and Hayat School and universities like MIU University; we have also dealt with many big companies and with many celebrities, we have either gone to their houses or to their studios to pick up their recyclables.
What are Go Clean's upcoming plans in 2019?
More expansion definitely. We want everyone to know Go Clean, we want everyone to call us, and to reach everywhere in Egypt so that we can have a better impact on the environment and to the Egyptians by giving them incentives in return.
From your own point of view: what should the Egyptian government do to raise more awareness on the environment and the idea of recycling?
They should impose fines on people who throw garbage on the streets, who throw garbage from their car window, who burn the garbage and fill our air with polluted smoke. On the other hand, they should give incentives to the people who recycle.
---
Subscribe to our newsletter
---