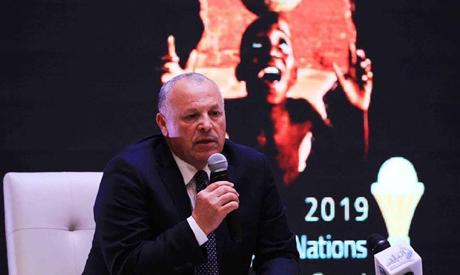 The chairman of the Egyptian Football Association (EFA) Hany Abo Rida revealed that for the first time in history of the African Cup of Nations, the upcoming edition will host 24 teams rather than the usual 16.
In an interview with CAFOnline, the association's chairman said "Now we are making history as host of this exceptional edition with 24 teams, instead of 16. For the first time in the history of the Africa Cup of Nations, the tourney will be held in the summer instead of the traditional January-February schedule. It's an exceptional tournament and we pray God will grant us success that will make every African proud."
Egypt is planning to celebrate its history along with its modern civilization through football. "We have decided on a venue next to the globally acclaimed Giza Pyramids, as it gives a clear picture of Egypt's role in history and human civilization," Abo Rida added.
The Confederation of African Football (CAF) announced that Egypt has been granted the hosting rights of the 2019 African Cup of Nations after winning the majority of votes in early January.
After Cameroon was stripped of the right to host in December due to delay in the preparations, the remaining spot was given to Egypt and South Africa.
In an effort to convince the Executive Committee members to vote for Egypt, the Egyptian delegation created a promotional video that highlighted Egypt's ability to host as well as its various stadiums such as the Port said, the Ismailia, Al Salam, Alexandria, Suez and Cairo stadiums.
Abo Rida highlighted that the preparations for the tournament are going as planned. Egypt previously hosted the African Cup of Nations in 1959, 1974, 1986 and 2006, and claimed seven AFCON victories.
---
Subscribe to our newsletter
---