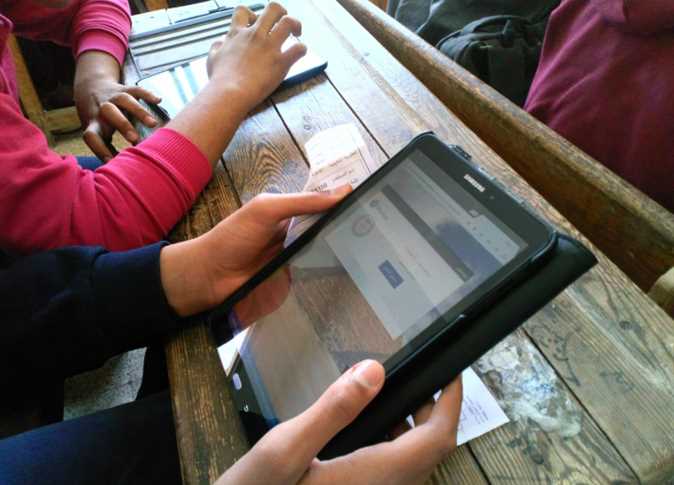 As a result of a system malfunction in the new examination tablets, 600,000 Egyptian students in secondary school failed to sit for their experimental exams on Monday causing the exams to be canceled for the second day in a row.
Tarek Shawky, Egypt's Minister of Education released a statement on his personal Facebook profile saying "we expected challenges in the early days and we will overcome them before the end of the week."
He stressed that "the goal of the experimental tests was to introduce students to new types of questions ahead of the end-of-year exams," rather than familiarize the student to the new technology.
"We use the technology for two main purposes; provide access to the additional digital content prepared by the Egyptian Knowledge Bank to enrich understanding of the materials, as well as prevent fraud and manual correction errors," the minister added.
Accordingly, Shawky explained that the end-of-year examination will not incorporate the use of tablets unless they are sure that no technical difficulties will be encountered.
"We will notice a great improvement every day, we are working on fine-tuning the electronic system to avoid any problem," the minister clarified. One way of "fine-tuning" the system is giving it a test run before the end-of-year examination.
Egypt introduced a new education system in August 2018, with the beginning of the new school year. Part of the reviving the curriculum is introducing a digital system to replace the old paper-based examinations. This move comes in an attempt to prevent manipulation of grades.
Instead, the exam will be sent directly to the student's digital device, and the result will be sent after completion of the exam.
Students are also trained to use educational online platforms like Bank of Knowledge, York Press and Encyclopaedia Britannica aims to achieve the goal of comprehension rather than memorization which the Egyptian national educational system has been consistently accused of.
Most students in public or semi-private schools resort to memorization whole chunks of answers that they have to use in their exams even if the answer is incorrect.
The upgrade of the educational programme comes after Egypt received a $500 million loan from the World Bank last April to help revamp the system. This is also inline with Egypt's '2030 Vision' development plan that emphasized the importance of educational reform to achieve social development in the country.
---
Subscribe to our newsletter
---